---



A-Z Artist Index
Compilations
Record Labels
Media
Help Needed
Contact Us
Resources
Timeline
---
Mulligan Records
last updated 13 July 2016
last updated 16 Feb 2016
last updated 19 Aug 2015
last updated 1 Jan 2015
last updated 13 Nov 2014
last updated 15 October 2014
last updated 25 March 2014
last updated 11 Feb 2014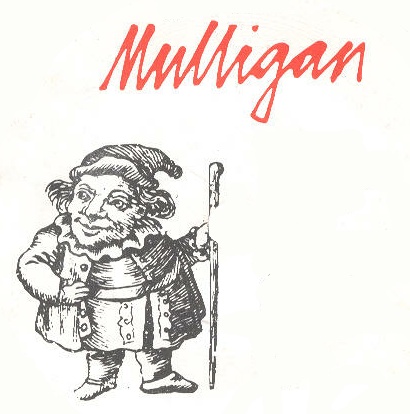 Mulligan Records was started by Donal Lunny in 1976 and was one of the most important Irish independent labels. MD was Seamus O'Neill, the father of Blue In Heaven's Shane O'Neill.

Most of the label's output is traditional or contemporary folk, but it also released a number of new wave singles during the late 70s and early 80s. Mulligan was inactive after 1982 until a flurry of releases in the early 90s (and a website www.mulligan.ie).

In a letter enclosed with a promo copy of LUN 053 (Jimmy MacCarthy's Song of the Singing Horseman) in 1991, the author states the album "...is the last Mulligan album to be released on vinyl. Regrettably, there is no longer a sufficient market for vinyl to warrant the origination costs for this format." The remaining titles were CD (or cassette) only. I have not explicity listed cassettes but Mulligan did issue them.

The 'Sráth' series [LUNA 000] consists of field recordings of unaccompanied singing collected by Diane Hamilton for the most part.

The retail shop in Galway continued to operate well into the 1990s but the vinyl archives had long been cleaned out by then. None of these releases are available on vinyl anymore. The Mulligan catalogue is currently owned by a US label.

The Mulligan label is crying out for a high quality reissue program.




Singles (LUNS Series) 

All 7" singles unless otherwise stated.

LUNS 1	Nightbus - Face Down in the Meadow / Sweet Tastin' Moonshine [1976]
LUNS 2	Pumpkinhead - Are You Ready For The Country / Castle Kelly [1976]
LUNS 3	Nightbus - Sing Harmony / I'm Comin' Home [1976]
LUNS 4	Pumpkinhead - Pretend It Never Happened / Cowboy Waltz [1976]
LUNS 5	Sonny Condell - Skiddy Who / Sail On [1976]
LUNS 6	Bothy Band - Fionnghuala Music in the Glen / The Ballintore Fancy [1976]
LUNS 7	Stepaside - Good Morning Little Schoolgirl / Deep Feeling [April 1977]
	copies were also givenaway with some copies of Deke O'Brien's Nightbus LP.
LUNS 7*	LUNS 007 was originally allocated to a single by Andy Irvine & Paul Brady - Arthur McBride / Autumn Gold - in 1976-77.
	A 33rpm white label test pressing exists. Thanks to the Failed Bohemian for bringing this rarity to our attention.
LUNS 8	Andy Irvine & Paul Brady - A Merry Christmas / A Merry Christmas [1977]
LUNS 9	Sonny Condell - Down in the City / Roll On Forever [1977]
LUNS 10	unreleased Stepaside single
LUNS 11	The Boomtown Rats - Looking After Number One // Born To Burn / Barefootin' [12"] [August 1977] (PS)
LUNS712	The Boomtown Rats - Mary of the Fourth Form / Do The Rat [1977]
LUNS713	Gay & Terry Woods - I've A Lady / The Reward [1978]
LUNS714	Gay & Terry Woods - We Can Work This One Out / Piece of Summer [1978]
LUNS715	The Boomtown Rats - She's So Modern / Lyin' Again [1978] (PS)
LUNS716	The Boomtown Rats - Like Clockwork / D.U.N.L.A.O.I.R.E. [1978]
LUNS717	The Boomtown Rats - Rat Trap / So Strange [1978]
LUNS718	The Vipers - I've Got You / No Such Thing [1978] (PS)
LUNS719	Bothy Band - Death of Queen Jane (live) / Slides (live) [1979]
LUNS720	Agnes Bernelle - Kitty Rickets [with The Radiators] / Things [1979] (PS)
LUNS721	Jimmy Crowley - Do You Want Your Old Lobby / The Meek Was At Mither [1979]
LUNS722	The Radiators - Let's Talk About The Weather // The Hucklebuck / Try And Stop Me [1979] (PS)
LUNS723	Girlschool [UK] - Take It All Away / It Could Be Better [red vinyl] [1979]
LUNS724	Barry Moore - Danny Boy / Girl [1979] (PS)
LUNS725	Michael O'Domhnaill & Kevin Burke - Lord Franklin / Jigs (The Reverend's Brother / Sean Ryan's) [1979] (PS)
LUNS726	The Atrix - The Moon Is Puce / Wendy's In Amsterdam [1979] (PS)
LUNS727	The Boomtown Rats - I Don't Like Mondays / It's All A Rage [1979]
LUNS728	Spud - Come All Ye Fair and Tender Ladies / Darbys Chair [1979] (PS)
LUNS729	Bothy Band - Casadh an Tsugain [1979]
LUNS730	Jimmy Crowley - I Know My Love [1979]
LUNS731	Don Baker - Inner City / The One You Wrote Yourself [1979] (PS)
LUNS732	The Radiators - Kitty Rickets / Ballad of the Faithful Departed [1979]
LUNS733	The Boomtown Rats - Diamond Smiles / Late Last Night [1979]
LUNS734	Hot Press & The Silent Knights - The Gobbling Sone // Born To Roast +1 [1979] (PS)
LUNS735	Tony Koklin - Cinderella / Living with the Times [1979] (PS)
LUNS736	The Boomtown Rats - Someone's Looking At You / When The Night Comes [1979]
LUNS737	Scullion - John the Baptist / Peelo [1979]
LUNS738	Scullion - The Cat She Went A Hunting / Flight of the Pretenders [1980]
LUNS739	Jimmy Crowley - Ain't Every Chap Doin' It But You / Johnny Jump Up [1980] (PS) postcard
LUNS740	Soul Survivors - Move On / Done Stayin' Around [1980] (PS)
LUNS741	The Radiators - Stranger Than Fiction // Paddy Guitar / Who Are the Strangers [1980] (PS)
LUNS742	The Radiators - The Dancing Years // Enemies / Sunday World / Electric Shares [1980] (PS)
LUNS743
LUNS744	New Versions - Like Gordon of Khartoum / What Do You Want [1981] (PS)
LUNS745	The Fuze - Stone Age Man / Zealano [1981]
LUNS746
LUNS747	The Boomtown Rats - Banana Republic / Man At The Top [1981]
LUNS748	Jimmy MacCarthy - Miles of Eyes / Shuffle of the Buckled [1981] (PS)
LUNS749	Jimmy Crowley - If I Didn't Have A Dime / The Breathalyser [1981]
LUNS750	Freddie White - Tenderness on the Block / Ol' Buttermilk Sky [1981]
LUNS751	Jimmy MacCarthy - Like in the Movies / Cherry Blossom Blue [1981]
LUNS752	Jimmy Crowley - The Fox And The Hare / Postcards [1981]
LUNS753	Sonny Condell - The Fruit Smelling Shop / Down In The City [1982] (PS)
LUNS754
LUNS755	Jimmy Crowley and The Electric Band - The Boys from Fairhill / So Scared [1982]
LUNS756	Freddie White - Just Another Town / She's Got Aces [1982]
LUNS757	Jimmy Crowley - Salonika / Reels [1982]

  

LUNSCD911	Jimmy MacCarthy – Mystic Lipstick / On My Enchanted Sight / A Hard Man To Follow CDS [1991]

Albums (LUN series):

LUN 001	Pumpkinhead [1976]
LUN 002	The Bothy Band - s/t [1976]
LUN 003	Deke O'Brien - Nightbus [1976]
	some copies included a free copy of LUNS 007.
LUN 004	Matt Molloy - s/t [1976]
LUN 005	Mick Hanly – A Kiss In The Morning Early [1976]
LUN 006	Liam Weldon – Dark Horse on the Wind [1976]
LUN 007	The Bothy Band – Old Hag You Have Killed Me [1976]
LUN 008	Andy Irvine & Paul Brady - s/t [1976]
LUN 009	Supply Demand & Curve - s/t [1976]
LUN 010	Sonny Condell – Camouflage [1977]
LUN 011	Midnight Well - s/t [1977]
LUN 012	The Boomtown Rats - s/t [1977]
LUN 013	The Bothy Band – Out of the Wind, Into the Sun [1977]
LUN 014	Jimmy Crowley – The Boys of Fair Hill
LUN 015	The Woods Band - s/t (orig:1971) [1977]
LUN 016
LUN 017	Matt Molloy, Paul Brady & Tommy Peoples - s/t [1977]
LUN 018	Bobby Casey – Taking Flight [1979]
LUN 019	Denis Doody – Denis Doody Plays Kerry Music [1977]
LUN 020	Gay & Terry Woods – Tender Hooks
LUN 021	Kevin Burke – If the Cap Fits [1978]
LUN 022	Barry Moore – Treaty Stone [1978]
LUN 023	Various – The Pipers Rock [1978]
LUN 024	Paul Brady – Welcome Here Kind Stranger [1978]
LUN 025	Frank Harte – And Listen to My Song [1978] stickered copies of unsold Ram Records release (RMLP 1013) from 1974-75.
LUN 026	The Boomtown Rats - A Tonic for the Troops [1978]
LUN 027	Máirtín O'Connor – The Connaughtman's Rambles [1979] [Irish melodeon player, with Donal Lunny]
LUN 028	Kevin Burke & Micheál Ó Domhnaill – Promenade  [1979]
LUN 029	Alison Kinnaird - The Harp Key [1979] licensed from Shillinghill Records (Scotland), housed in a stickered Shillinghill sleeve
LUN 030	The Bothy Band – After Hours: Live in Paris [1979]
LUN 031	Jimmy Crowley – Camp House Ballads [1979]
LUN 032	Freddie White – Live Tour 1978 [1979]
LUN 033	Reel Union with Dolores Keane & John Faulkner – Broken-Hearted I'll Wander [1979]
LUN 034	Jim Donoghue - s/t [1980] *unreleased*  (source: P.J.Curtis)
LUN 035	Fred Finn - s/t [1979] *unreleased* test pressings exist (source: P.J.Curtis)
LUN 036	The Radiators - Ghostown [1979]
LUN 037	Scullion - s/t [1979]
LUN 038	The Boomtown Rats - The Fine Art Of Surfacing [1980]
LUN 039	Jackie Daly & Kevin Burke – Eavesdropper [1980]
LUN 040	Mick Hanly – As I Went Over Blackwater [1980]
LUN 041	The Bothy Band – The Best of ...
LUN 042	Various – Irish Festival
LUN 043	Dolores Keane, John Faulkner & Éamonn Curran – Farewell to Éirinn [1981]
LUN 044	Freddie White – Do You Do [1981]
LUN 045	Jimmy Crowley – Some Things Never Change [1981]
LUN 046	Kathleen Behan – When All the World Was Young [1981]
LUN 047	Matt Cranitch/Dave Hennessy/Mick Daly - Any Old Time [1982]
LUN 048
LUN 049
LUN 050	Vinnie Kilduff – The Boys from the Blue Hill
LUN 051	Gerry O'Connor – Time to Time [1991] also on CD
LUN 052	Tommy Keane – The Piper's Apron [1992]
LUN 053	Jimmy MacCarthy – Song of the Singing Horseman [1991]
LUN 054
LUN 055	Tommy Hayes – An Rás [1992]
LUN 056	Brendan O'Regan – A Wind of Change [1992]
LUN 057	Fisherstreet
LUN 058	The Texas Kellys – Stay All Night
LUN 059	Gerry Harrington and Eoghan O'Sullivan – Scéal Eile
LUN 060	Seán Smyth – The Blue Fiddle

???	LUN 053	Jimmy MacCarthy – Mystic Lipstick / On My Enchanted Sight / Hard Man to Follow CDS [1991]

LUNA 001	Various – Songs from Ulster [1977]
LUNA 332	Virginia Stevens - Tiocfaidh an Samhradh [1978] [originally planned as LUN 016 ??]
LUNA 333	Sinéad Caher – The Flower of Magherally [1978]
LUNA 334	Paddy Tunney – Lough Erne Shore [1978]
LUNA 335
LUNA 336	David Hammond – The Singer's House [1978]

See also Harp HPE 607.





Thanks to Alistair Banfield & John Byrne for their help.


---


A-Z Artist Index
Compilations
Record Labels
Media
Help Needed
Contact Us
Resources
Timeline
---