---


A-Z Artist Index
Compilations
Record Labels
Media
Help Us!
Contact Us
Resources
Timeline
---
From: Dublin

Active: 1978-1982

Style:

Lineup:
Ingmar Kiang AKA Iggy Kiang - vocals & guitar
Regine Moylett - keyboards
Johnny Byrne - bass
Paul Bibby - drums
| | |
| --- | --- |
| | |
| As a trio, 1978: Byrne (top), Bibby, Kiang | As a quartet, 1978 L-R: Bibby, Moylett, Kiang & Byrne |
Bio:

The New Versions were one of the early Irish punk/new wave bands who were active for a number of years, from 1978 to 1982. During this time they played live regularly, supported visiting bands from the UK, appeared regularly in the press, appeared on TV(?), etc, and yet their recording legacy is one track on a sampler LP in 1979 and one single release in 1981. There must be more recordings somewhere?! They played both as a trio of Kiang, Byrne and Bibby but as a quarter with Regine Moylett on keyboards.

The band supported the Count Bishops on their Irish tour in 1978; toured with Berlin on the Streets Ahead Tour '78, one of the first punk/new wave tours through Ireland. Regine's sister Susan sang vocals in that 1978 lineup while brother Pat was drummer/manager. All are siblings of John Moylett AKA Johnny Fingers of the Boomtown Rats. Regine and Susan also owned a punk clothing/accessories shop called No Romance in the Dandelion Market.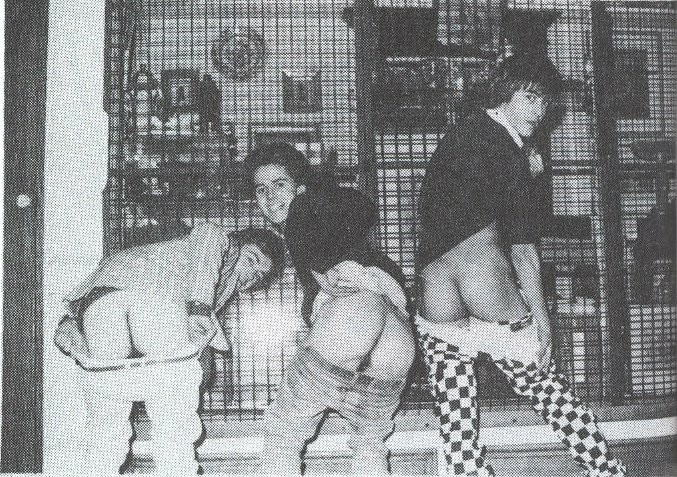 New Versions L-R: Byrne, Bibby, Kiang

The New Versions were one of the first bands to play weekend gigs at the Dandelion Market in 1979, on Sunday 29 July (with The Blitz), Saturday 4th August and Saturday 8th December. Ivor Rowan replaced Johnny Byrne on bass at some point. Johnny Byrne became resident engineer at Keystone Studios and his name appears in the credits on many records.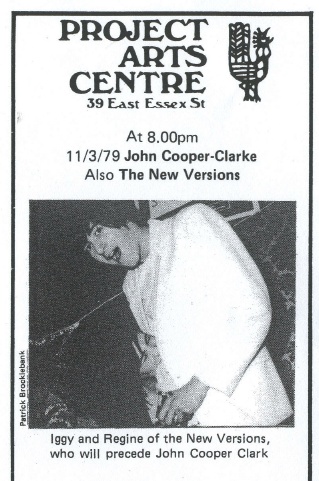 Advert Project Arts Centre 11 March 1979




They took part in the Tramore Band Competition in August 1980. First prize was £1000 plus a recording contract for one single on Mulligan Records. Though they didn't win the competition - the prize went to The Fuze -- they must have impressed someone at the record label because they also signed a one single deal with Mulligan. "Like Gordon of Khartoum" / "What You Want" is one of the essential Irish new wave singles. It was released in 1981.

The band appeared on SBB Ina Shui in early summer 1982 playing two new recordings, 'The Only Cure' and the far better 'Around The Corner', but neither was released on vinyl. They split sometime after.

When the band split in 1982, Regine moved to London where she worked as a music journalist and record label press officer before finally becoming U2's press officer which she has been for many years now. Ingmar Kiang and Johnny Byrne formed Max and collaborated with Mannix Flynn in The Corporation. Paul Bibby was later in Some Kind Of Wonderful.





Discography

• various artists - Just For Kicks
LP - Kick Records - KK-1 - IRL - 1979
See Compilations section for full track listing.



tracks: Tango of Nerves


• Like Gordon of Khartoum / What You Want
7" - Mulligan Records - LUNS 744 - IRL - 1981 - PS - lyric insert
Produced by Donal Lunny.


Notes: The insert reprinted the lyrics of the "Like Gordon of Khartoum" with the message 'What do you think of the single? Make up a fifth verse - and send it to the New Versions' (c/o Mulligan Records address)




Help!


We need your help to correct and/or complete this entry. If you can provide more information about this band, have scans, photos or any other memorabilia we can use, or spare copies of any releases, then please get in touch.



---

See Also: The Corporation, Max, Some Kind Of Wonderful

External Links: The Only Cure (video)


---

A-Z Artist Index
Compilations
Record Labels
Media
Help Us!
Contact Us
Resources
Timeline
---