---


A-Z Artist Index
Compilations
Record Labels
Media
Help Us!
Contact Us
Resources
Timeline
---
From: Dublin

Active:

Style:

Lineup:
Marian Woods - vocals
Conor Kelly - guitar
Ingmar Kiang - bass
John Byrne - drums


Max in 1983, left-to-right: Conor Kelly, Marian Woods, John Byrne, Ingmar Kiang
Bio:

Max was originally a trio of Marian Woods (ex Soulmates) on vocals, Conor Kelly (ex Deaf Actor) on guitar and Ingmar Kiang (ex New Versions) on bass. The lineup was completed by a korg 65 drum machine which was usually operated by Johnny Byrne (ex New Versions drummer) who later became a full member. Max were voted Best Unrecorded Act in the 2nd Stag/Hot Press Awards in 1983, the prize for which included a contribution towards recording a debut single. This was presented by Phil Lynott on the Late Late Show, during which the band performed "East West" (AKA "East To West"). A contract was signed with CBS Records with a nominal fee of 50p.

The CBS single was recorded but never released. Following this and other frustrations with management, etc, Ingmar left for London in 1983, eventually joining Yes Let's. He is now best known as a producer/remixer and manager. The band continued with another bassist for several gigs.

Conor Kelly left for London in 1985 and eventually formed Bell Helicopter with Bristol based Sam Park and other occasional musicians. Max performed as a duo of Conor on guitar and Marian on vocals at an event organised by Bill Furlong of Audio Arts magazine at the SFX in Dublin in February 1985. Marian Woods formed a duo called Snow in the Saharah with another female singer (anyone know who?). They made a very atmospheric and melodic demo.

There must be many recordings out there somewhere, waiting to be compiled. If anyone can supply a recording history, I'd love to include it here. I'd also like more details about the aborted CBS single. For a band that was around for so long in Dublin during the 1980s, there is little trace of the band now.

Another early member of the band was percussionist Oliver Whelan, who co-wrote "East To West" and who'd previously been in a band called Agent Orange - more details needed please.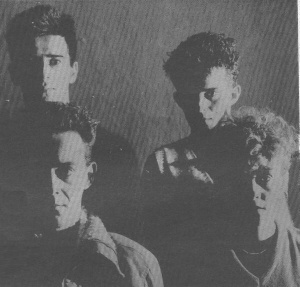 Discography

• title?
7" - CBS Records - ??? - 1983 - unreleased


• various artists - Audio Arts Volume 7 Number 4
K7 - Audio Arts - UK - 1985
See Compilations section for full track listing.
Recorded live at SFX on 17 February 1985.
Max on this recording is Marian Woods & Conor Kelly



Help!


We need your help to correct and/or complete this entry. If you can provide more information about this band, have scans, photos or any other memorabilia we can use, or spare copies of any releases, then please get in touch.



---

See Also:


---

A-Z Artist Index
Compilations
Record Labels
Media
Help Us!
Contact Us
Resources
Timeline
---