---


A-Z Artist Index
Compilations
Record Labels
Media
Help Us!
Contact Us
Resources
Timeline
---
From: Dublin

Active: 1973-1980

Style: folk rock / celtic rock

Lineup:
Don Knox - fiddle, viola, harmonica, vocals
Austin Kenny - mandolin, banjo, acoustic guitar, recorder
Dermot O'Connor - vocal, electric guitar, mandolin, jews harp
Michael Smith - bass, vocals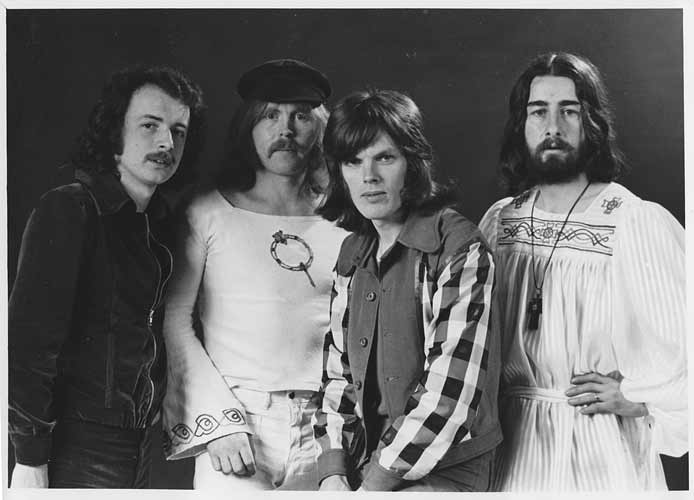 l-to-r: Austin Kenny, Michael Smith, Don Knox, Dermot O'Connor
Bio:

Spud were a four piece electric folk outfit active in the 70s who never achieved the recognition they deserved outside Ireland. Less rock oriented than Horslips, less trad than Planxty, Spud's chief influence was Steeleye Span but they quickly developed their own style, drawing on Irish and English traditional folk music as well as American country and bluegrass. Their set was a mixture of covers, traditional tunes and original material.

Spud were formed in January 1973 in Dublin by Dermot O'Connor (vocals, guitars), Austin Kenny (guitars), Don Knox (fiddle) and Michael Smith (bass). Some had previously played together in the trad folk group Thatch. Knox had been with The Weavers. They were managed initially by PJ O'Sullivan, later by Earl Gill. They made a big impact on the Irish scene right from their inception and were heavily plugged by Pat Egan in his column in Spotlight. They supported Steeleye Span at the State Cinema in July 1973 and Alan Stivell at the National Stadium.

Following a self-released single in 1973, Spud signed a 3 year deal with Polydor International the next year. They chose "Blackleg Miner", a song strongly associated with Steeleye Span, as the A-side of their first Polydor single (released on Philips in Ireland). The next single was "The Wind in the Willows", a surprising and somewhat unrepresentative choice which was an Irish chart hit. Finally their debut album A Silk Purse came out in December 1974. Produced by Donal Lunny, the sound is of crisply recorded electric and acoustic stringed instruments playing riff-laden folk tunes with all members supplying vocals in unison. The most Horslips-like track was a riff-heavy version of "Brian Boru's March". Overall the album suffers slightly from a lack of diversity but it's a very useful addition to the Irish electric folk canon.

The band toured Ireland, the UK and Europe in 1974 and 1975 (there was also talk of a tour of Canada -- did this occur?), building a strong live reputation. They appeared at the Cambridge Folk Festival in 1975 and toured the UK the same year supporting Richard and Linda Thompson. Their second album "The Happy Handful" came out in 1975. It was produced by Simon Nicol, most famous for his work with Fairport Convention. It builds on the debut without offering any dramatic new departures.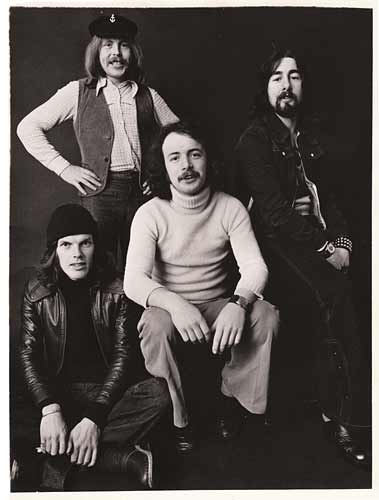 l-to-r: Knox, Smithy, Kenny, O'Connor
The band parted company with their label in 1976 for reasons unknown, presumably lack of success. Don O'Connor left to form The Permanent Cure in 1976. He was replaced by two musicians, multi-instrumentalist / lead guitarist Ken Wilson and drummer Dave Gaynor (brother of Jimmy Gaynor, ex Skid Row, Rob Strong Band, Angel). The addition of a drummer signalled the bands decision to pursue a full folk-rock direction.

On 4 July 1976, to mark the American bicentennial celebrations, RTE aired a musical drama called The Greening Of America. Spud plus Dick Keating on keyboards provided the music for this production which now has a permanent place in the museum of broadcasting in New York.



Turn of the Century, Galway 21 April 1973 and
Teach Furbo Galway 25 July 1976.
Teach Furbo Galway 1 August 1974.
Bonapartes, July 1979
Tour news, 1978. "First for some time".



Don Knox then invited Paul McGuinness, who he'd known at Trinity College, to manage the band. McGuinness had been taking notes on how Horslips had gone about managing their career and was looking for a band to manage at the time. So he became Spud's manager for a year spanning 1976-77. He organised the self-released single "Kitty", got the band good publicity in Scene magazine through journalist Bill Graham, and landed an album contract with Sonet Records.

Spuds third and final album "Smoking On The Bog" was released in the Autumn of 1977. Recorded at Sawmills Studios in Cornwall in May/June 1977, it was produced by Tony Cox, producer of the Trees acid-folk classic "On The Shore", and engineered by Gerry Boys who'd earlier worked with Steeleye Span.

"Smoking On The Bog" is a far rowdier and far more rockin' album than the first two. It features great lead guitar playing throughout by Ken Wilson and a excellent cover of Richard Thompson's "Shame Of Doing Wrong". Some consider it their best album. Internal disagreements over the bands direction led Paul McGuinness to quit. He later found a new young band to manage named U2.

Spud's final release was a fine single recorded by a revamped lineup for Mulligan Records in 1979. Don Knox and Michael Smith were joined by Bal Kennedy (mandolin, autoharp, vocals), Jimmy Gibson (guitars, vocals) and Don Harris (drums, vocals). The band split soon after it's release. Knox and Kennedy continued as Bloom, who released a single in 1980. Was Austin Kenny involved in The Irish Travellers?

The UK specialist reissue label Kissing Spell announced CD editions of all three albums in 2007.





Discography:

• Blubber's Mother / Kitty Lie Over
7" - Ros Records - ROS.1201 - IRL 1973 - no PS, mono
Both sides trad arr; Recorded at Eamonn Andrews Studios.



• Blackleg Miner / Hesitation Blues
7" - Philips Records - 6156 006 - IRL - July 1974
Non-LP B-side


• Wind in the Willows / Arais Aris
7" - Philips Records - 6156 007 - UK/IRL - December 1974
A-side by Alan Bell. Non-LP B-side
Produced by Donal Lunny
Spent 11 weeks in the Irish charts, peaking at #5.



• A Silk Purse
LP - Philips Records - 9108 002 - UK/IRL - December 1974 - insert
CD - Kissing Spell Records - KSCD??? - UK 2008
Produced by Donal Lunny






side one:
Tenpenny Piece
Blackleg Miner
Brisk Young Widow
Open The Door Softly
For The Love Of Sarah
Lucan Dairy

side two:
Wind In The Willows
Brian Borus March
Crow On The Cradle
Nancy Brown
Newry Highwayman
A Sows Ear




Notes: All tracks Trad. arr. Spud except "For The Love Of Sarah" (O'Connor/ Kenny), "Wind In The Willows" (Bell), "Crow On The Cradle" (Carter) and "Nancy Brown" (O'Connor/ Higgins). Producer Donal Lunny added bodhrán and moog. The cover artwork is by Bad Taste Productions, i.e. Tim Booth of Dr.Strangely Strange.




• The Wild Rover / Finder's Favourites
7" - Philips Records - 6156 010 - IRL 1975
Both tracks taken from the "Happy Handful" LP.



• Happy Handful
LP - Philips Records - 9108 003 - UK/IRL 1975
CD - Kissing Spell Records - KSCD954 - UK 2008
Produced by Simon Nicol




side one:
A Sailors Wife
TWA Corbies
Madrigillicuddy
He Rolled Her To The Wall
Deire Taobh Ahaon

side two
Whip Jamboree
Down By The Glenside
Finders Favourites
All The Dancing Ladies
The Wild Rover


• Kitty / Scarlet
7" - Break Records - BKS 001 - IRL 1976 - PS
Recorded at Miracle Studios, Dublin in November 1976.
Produced by Shaun Davey.



Notes: First self-released single after the band was dropped by Philips. Non-LP A-side, but the B-side later turned up on the third LP.



• Anna Livia / Gutsy Frolics
7" - Release Records - RL887 - IRL 9/1977
Spent 3 weeks in the Irish charts in September 1977, peaking at #16.


• Smoking On The Bog
LP - Release Records - XRL 5004 - IRL 1977 - insert
LP - Sonet Records - SNTF 742 - UK 1977 - lyric insert
LP - Sonet/Metronome Records - 0069.073 - Germany 1977
CD - Kissing Spell Records - KSCD955 - UK 2008
Recorded at Sawmills Studios Cornwall in May/June 1977.
Produced by Tony Cox.


side one:
Tickle Your Fancy
Anna Livia
Nothing's Gonna Stop Us Tonight
The Farmer's Cursed Wife
Scarlett
side two
The Nine Points Of Roguery
Full Scale Love
Gusty's Frolics
Waves Rise And Fall
For Shame Of Doing Wrong (Fool For You Again)


• Molly Malone (live) / Nine Points Of Roguery
7" - GI Records - G.I. 101? - IRL 1978 - PS?


NotesM: The A-side is a studio recording with live audience overdubbed. The B-side was subjected to the same overdubbing even though it's taken straight from the third album and there's no 'live' added to the title on the label -- a case of crossed wires somewhere, I suspect.



• Come All Ye Fair And Tender Ladies / Darby's Chair
7" - Mulligan Records - LUNS 728 - IRL 1979 - PS
Recorded in Lombard Sound Studios.
Produced by Earl Gill.



Notes: non-LP single.
---
From: Dublin

Active: 1980-

Style: Folk rock

Lineup:
Don Knox - fiddle, vocals
Bal Kennedy (Liam Kennedy) - mandolin, autoharp, vocals
Pat Armstrong - guitar
Matt Manning

l-to-r:
Bio:

Don Knox had earlier been in Spud. Bal Kennedy was in the final line-up of Spud that recorded a single for Mulligan in 1979. Bloom released at least one single and were active on the live circuit for a couple of years. Bal Kennedy joined the Sackville String Band in 1982.

Pat Armstrong had previously been a member of the Somertons, a Dublin based 60s/70s folk trio consisting of Pat, singer Paul Ward and singer/songwriter Kieran Halpin. The Somertons won the Letterkenny Folk Festival in the mid-70s. Kieran Halpin later pursued a successful solo career.



Discography:

• For Those That We'd Left Behind / Miss The Mississippi
7" - Bloom Records - BL001 - IRL 1980 - PS


Notes: Recorded at Lombard Sound Studios, produced by Philip Begley.




---
From: ?

Active: 1980

Style: Folk rock

Lineup:

Bio:

A lone single on AART (via Polygram) credited to A.Kenny . . . is this Austin Kenny?



Discography:

• The Traveller / Failte
7" - AART Records - AART 2001 - IRL 1980 - no PS





See Also: The Permanent Cure



Help!: We need your help to complete this entry. If you can tell us more about this band then please do! We welcome any corrections, missing details, connections to other bands, where are they now, etc. We also need photos, scans, copies of releases or live or demo recordings, and any other memorabilia gathering dust in the attic. If you can help, then please get in touch.


Thanks to Mark Brady for his help.
---

A-Z Artist Index
Compilations
Record Labels
Media
Help Us!
Contact Us
Resources
Timeline
---