---


A-Z Artist Index
Compilations
Record Labels
Media
Help Us!
Contact Us
Resources
Timeline
---
From: Dublin

Active: 1973-

Style: Rock

Lineup:
Fran Heaton - vocals
Jimmy Gaynor - guitar, vocals
Donald 'Doish' Nagle - bass
Dave Gaynor - drums
Bio:

Angel began as Fantasy circa 1971, before changing their name to Angel around 1973, by which time they were a trio of Jimmy Gaynor (guitar, vocals), Doish Nagle (bass) and Jimmy's brother Dave Gaynor (drums). They were managed by Pat Maguire. At one point they had a singer named Fran Heaton. I need much more info about this band please!

Angel played the free Phoenix Park free concert on Sunday July 1st 1973. There are no known recordings.

The existance of this band is undoubtedly the source of the commonly repeated error that the mid-70s UK glam band Angel who recorded a couple of singles under the patronage of The Sweet were Irish. The bands are unrelated. There is also no link to the American glam-metal band on Casablanca Records.

Jimmy Gaynor later fronted the East Coast Angels [1975-78], The Romantiks [1978] and The Shy [1981] as well as his own Jimmy Gaynor Band. Dave Gaynor joined the Rob Strong Band for about 18 months in 1974-75, followed by a couple of years in Skid Row [1975-76], then Spud [1976-77, appearing on their "Smoking On The Bog" LP], played on the Village Green LP, and joined the Eric Bell Band [1979] with ex Radiator Mark Megaray on bass. Megaray and Gaynor were then in UK NWOBHM act Girl. Donald 'Doish' Nagle was later in the Bogey Boys.

There was an unrelated outfit called Fantasy active in the late 70s, an extremely geeky looking pop/showband.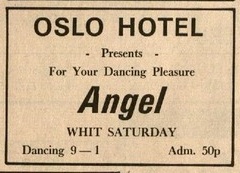 Oslo Hotel, Galway, 1 June 1974
Same Angel?





See also: Bogey Boys, East Coast Angels, The Romantiks, The Shy, Spud, Rob Strong Band




Help!: We need your help to complete this entry. If you can tell us more about this band then please do! We welcome any corrections, missing details, connections to other bands, where are they now, etc. We also need photos, scans, copies of releases or live or demo recordings, and any other memorabilia gathering dust in the attic. If you can help, then please get in touch.



---

A-Z Artist Index
Compilations
Record Labels
Media
Help Us!
Contact Us
Resources
Timeline
---