---


A-Z Artist Index
Compilations
Record Labels
Media
Help Us!
Contact Us
Resources
Timeline
---
From: Dublin

Active: 1976?-78

Style: Rock/Punk/Pub Rock

Lineup:
Jimmy Gaynor - guitar & vocals
Ben Hannigan - guitar
Dave Flanagan - bass
Henry 'Tolan' Winter - drums


Bio:

Dublin rock quartet fronted by Jimmy Gaynor ex Angel. Their sole single is the only release of real interest on the Ruby label. The lineup listed above is the one that played on the single. Original bassist Brendan from Finglas (and not 'Brendan Finglas' as previously reported, a mistake repeated in 45 Revolutions -- my apologies!), whose surname is not recorded anywhere, left the band after a few weeks and was later to join Dublin blues/R&B band The Business.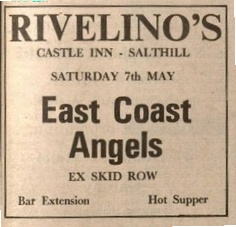 Ex Skid Row?? Live listing for Rivelino's in Galway, 7 May 1977.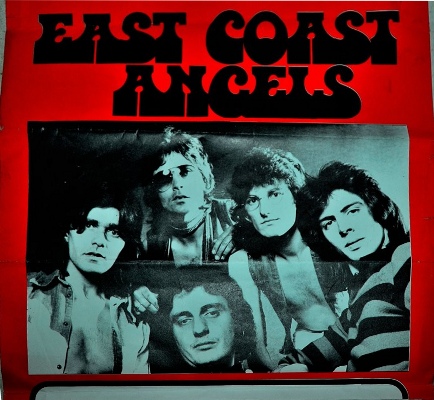 1978 Poster.

"Punk Rockin'" is the standout single among the revived Ruby label releases of 1977. It is the only one to make it into Henrik Poulsen's book 77: The Year of Punk and New Wave. The A-side is good pub-rock style punk rock, the B-side pubrock.

The E.C.Angels were finalists at the Limerick Civic Week Pop '78 competition which was eventually won by U2. In 1978 the band added lead singler Dave Lee and Shay McCafferty replaced Dave Flanagan on bass and the band became The Romantiks. Dave Flanagan would play with Jimmy Gaynor again in The Shy. Gaynor also fronted The Takeaways during 1980.


Discography


• Punk Rockin' / To-nite's The Nite
7" - Ruby/EMI Records - RUB 207 - June 1977 - no PS, 500 copies pressed


Help!


We need your help to correct and/or complete this entry. If you can provide more information about this band, have scans, photos or any other memorabilia we can use, or spare copies of any releases, then please get in touch.



---

See Also: Angel, The Business, Jimmy Gaynor Band, The Romantiks, The Shy


---

A-Z Artist Index
Compilations
Record Labels
Media
Help Us!
Contact Us
Resources
Timeline
---