---


A-Z Artist Index
Compilations
Record Labels
Media
Help Us!
Contact Us
Resources
Timeline
---
From: Dublin

Active: late 1969-1970; 1973-

Style: Rock

Lineup: (1969-70)
Phil Lynott - vocals/rhythm guitar/occasional bass
Joe Staunton - lead guitar
Pat Quigley - bass/vocals
Brian Downey - drums
occasional member:
Terry Woods (then with Sweeneys Men) - guitar


Orphanage Mk.I circa 1969, l-to-r: Downey, Staunton, Quigley, Lynott
Lineup: (1973)
Robbie Walsh - vocals
Joe Staunton - lead guitar
Scott Mulvey - piano
Carl Geraghty - sax
Jimmy Lambert - bass
Tim Creedan - drums


Orphanage Mk.II in 1973, l-to-r: John, Paul, George....hang on that's not right!!...
Bio:

Orphanage was formed in late 1969 by Phil Lynott (ex Black Eagles, Kama Sutra, Skid Row) and Brian Downey (ex Black Eagles, Sugar Shack). Downey's band Sugar Shack had split up due to the pressures of commercial success following their 1968 hit single. Lynott had been let go by Skid Row when Brush Shiels decided they sounded better without him during his temporary absence to have his tonsils removed. Lynott had acquired a bass guitar from Robert Ballagh (ex Chessmen) and Shiels gave him some lessons to help him on his way.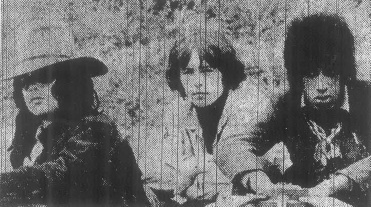 Staunton, Downey, Lynott ca January 1970





They were joined by Pat Quigley (ex Movement, Macbeth) and Joe Staunton (ex Macbeth). Pat Quigley was equally important in Lynott's development as a bass player. Pat's brother Fran Quigley was the band's roadie (another brother Gerry Quigley played in Raw Deal).

The name Orphanage had several meanings but the most obvious reference was to the house in Sandymount occupied by Dr.Strangely Strange which was nicknamed The Orphanage, where beat and folk musicians would come and go. Lynott's vision for Orphanage was a loose lineup with floating members coming and going. One such floating member was Terry Woods of Sweeney's Men, who played regularly with the band. Joe Alexander also played with the band on occasion.

In their brief lifetime Orphanage made some recordings which were presumed lost until a tape was found in 2006. The songs on the tape included "Step Into Your Shoes", "You Fool, You", "St Stephens Green" and "The Friendly Ranger". According to Staunton, "You Fool, You Fool" is a blues track recorded on 4-track at a studio in Dominic Street. The lyrics of "Step Into Your Shoes" are by Brush Shiels. They were published in a book of poetry (by Mick Flanagan?) in the late 60's. A couple of Skid Row recordings (incl "Notion In Motion") with Phil Lynott were found in the same cache, all recorded at Avondale Studios . There may also a demo of a track called "Donnybrook Fair" which Lynott co-wrote with some of the guys from Dr.Strangely Strange. It was demoed but the tapes were assumed lost. Apart from a radio broadcast in 2007, there has been no sign of these tapes since news of the find first emerged.

Orphanage were seen one night in 1969 by Eric Bell (ex Them, Dreams) and Eric Wrixon (ex Them, People, Wheels, Trixons), two escapees from the showband circuit looking to start a band in the Dublin group scene. They approached Orphanage after the gig which eventually led to Phil and Brian leaving. Thus the original Orphanage split after about 8-10 months together in 1970 with Lynott and Downey forming Thin Lizzy with Eric Bell and Eric Wrixon. Staunton & Quigley may have revived the Macbeth name at this point.

Joe Staunton revived Orphanage in 1973 forming an entirely new band with Robbie Walsh (vocals, ex Adolf J.Rag) Jimmy Lambert (bass, ex Moby Dick), Scott Mulvey (piano, ex Gentry), Carl Geraghty sax (ex Victors, The Urge & Bananas) and Tim Creedan (drums) who'd played with the Ranchers showband among others.






See also: Adolf J.Rag, Black Eagles, Macbeth, The Movement, Sugar Shack, The Urge




Help!: We need your help to complete this entry. If you can tell us more about this band then please do! We welcome any corrections, missing details, connections to other bands, where are they now, etc. We also need photos, scans, copies of releases or live or demo recordings, and any other memorabilia gathering dust in the attic. If you can help, then please get in touch.



---

A-Z Artist Index
Compilations
Record Labels
Media
Help Us!
Contact Us
Resources
Timeline
---