---


A-Z Artist Index
Compilations
Record Labels
Media
Help Us!
Contact Us
Resources
Timeline
---
From: Dublin

Active: 1965-67

Style: beat

Lineup:
Phil Lynott - vocals
Alan Sinclair - lead guitar
Frankie Smith - rhythmn guitar
Danny Smith - bass
Brian Downey - drums


The Black Eagles in 1966, left to right: Frankie Smith, Danny Smith,
Alan Sinclair, Brian Downey and Phil Lynott.
Bio:

The Black Eagles was were a covers band from the Crumlin area of Dublin. They are rememberd nowadays as the first band of Phil Lynott and Brian Downey, who would go on to form Thin Lizzy with Eric Bell in 1970.

The band was managed by Joe Smith, father of brothers Frankie and Danny. Joe reputedly tried to enlist Phil Lynott's uncle Peter Lynott, who played in a band called The Sundowners, in the Black Eagles and failing this recruited Phil. Brian Downey replaced the original drummer Nick Higgins.

The Black Eagles are usually described as beat, but basically they played the chart hits of the day including pop, soul and R&B, and also included songs like Ray Charles "Crying Time" and Mose Allisons "Watermelon Man", as well as covers of the Faces, Stones and Yardbirds. Phil Lynott was considered among the coolest of frontmen in Dublin at that time, something that wasn't lost on Brush Shiels.

The Black Eagles split in 1967 when Brian joined Sugar Shack. Frankie Smith formed a new band Kama Sutra which briefly included Phil Lynott on vocals before he joined Brush Shiel's band Skid Row after about 3 months.

There are no recordings. Incredibly, (silent) footage of the band shot on the street in Crumlin by a friend of the band in 1965 has survived. It can be viewed on youtube. It's listed in the irishrockorg favourites or simply search for the username MsRiposte and you'll find it.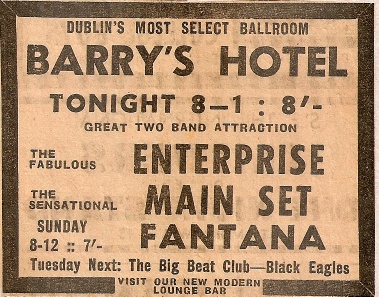 Above: Advert for the Black Eagles appearance at the Tuesday night Big Beat Club at Barry's Hotel in Dublin in 1966. Note also the Fantana (sic) playing the preceeding Sunday night, presumably a reformed lineup of the Fontana Showband, who'd included Rory Gallagher on lead guitar during 1963-65, had changed their name to The Impact, moved to London and then split in 1965.

Below: still from some vintage cine camera footage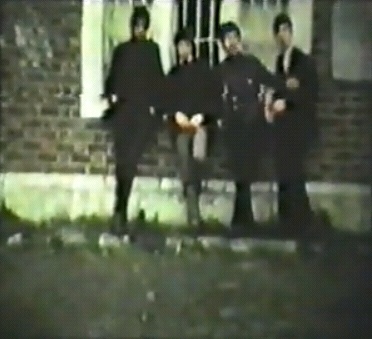 See also: Skid Row, Sugar Shack, Thin Lizzy



Help!: We need your help to complete this entry. If you can tell us more about this band then please do! We welcome any corrections, missing details, connections to other bands, where are they now, etc. We also need photos, scans, copies of releases or live or demo recordings, and any other memorabilia gathering dust in the attic. If you can help, then please get in touch.

thanks to T.P.McLaughlin


---

A-Z Artist Index
Compilations
Record Labels
Media
Help Us!
Contact Us
Resources
Timeline
---