---


A-Z Artist Index
Compilations
Record Labels
Media
Help Us!
Contact Us
Resources
Timeline
---
From: Dublin

Active: 1963-71

Style: beat group / showband

Lineup:
Alan Dee (AKA Alan Donaldson) - vocals/organ
Willie Halpin - lead guitar
Terry Byrne - piano
Robert Ballagh - bass
Terry Brady - drums

The Chessmen
Bio:

The Chessmen were a Dublin beat band who crossed over into the showband scene early at the behest of their manager Noel Pearson, a well known figure in Dublin theatre circles. Some consider some of their singles innovative, and they certainly recorded more original compositions than was normal for a showband, but main songwriter Alan Dee left in frustration at the end of 1966 and the character of the band changed thereafter.

The Chessmen were formed in the early 1960s by a trio of Synge Street students, Willie Halpin (guitar), Terry Byrne (piano) and Terry Brady (drums). They were joined by Alan Donaldson better known as Alan Dee, a sax player with the Belmont Quintet who'd switched to organ (a Vox Continental, reputedly the first sold in Ireland) after suffering problems with his tonsils. Robert Ballagh completed the lineup on bass. They were often billed as Alan Dee & The Chessmen.

Although initially a beat group covering American and British beat singles, they began to play the showband circuit as early as 1965, playing top 20 covers with an augmented lineup of Paschal Laverty (tenor sax), John L.Sullivan (baritone sax) and Davey Martin (trumpet). This made it financially viable for the band to turn professional in 1965.

The band became very popular in a short period of time and released their debut single through Decca subsiduary Rex in April 1965. The A-side was a cover of the film theme "Exodus" which went down a storm when performed live in the ballrooms but it was panned by the panel on RTE's Pickin' The Pops. Noel Pearson managed to get them on the following weeks show where they performed the B-side "The Fightin'", an Alan Dee original, which proved to be a hit. The next year was a very busy time for the band with support slots for visiting artists such as Manfred Mann, The Searchers and Lulu and more singles. They continued to play the ballroom circuit and it's often suggested that their biggest hit, the sentimental ballad "Michael Murphy's Boy" was aimed at their more rural fanbase and in fact it proved to be their biggest hit, peaking at #5 during the summer of 1966.

All Dee was becoming increasingly unhappy with the restrictions imposed by the showband circuit and he quit towards the end of 1966 to form Alan Dee & The Light. Bassist Robert Ballagh soon followed Dee when he realised not a single tune in the band's set interested him. He was set to join Dee's new venture but ended up pursuing painting and is now a world-reknowned artist. He is reputed to have sold his bass guitar to Phil Lynott, or at least it was the instrument used when began to learn in 1969.


Gig in Limerick in March 1968 with new frontman Mike Monroe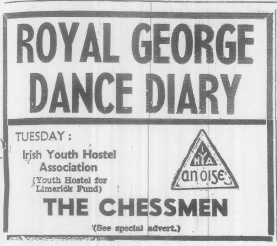 Same venue in Limerick, 10 September 1968.




The Chessmen contined on without Dee for a number of years. Management promoted John L.Sullivan from the ranks to become the new frontman. Welsh singer Ricky Valance (of "Tell Laura I Love Her" fame) became lead singer for a period and the band re-recorded his 1960 UK #1, one of five singles released on Noel Pearson's Tribune label between 1967-69. Mike Munroe became the singer in 1968 and featured on the cover of "Bang-Shang-A-Lang". They finally called it a day in 1971.





Discography:

• The Fightin' (A.Dee) / Exodus
7" - Rex Records - R 11004 - IRL - April 1965


• There's Nothing To It / What In The World's Come Over You?
7" - Pye Records - 7N 15976 - IRL - November 1965
Both sides by Alan Dee.
Reached #7 in the Irish charts.


• Michael Murphy's Boy (A.Dee) / An Ordinary Fellow
7" - Pye Records - 7N.17142 - IRL - August 1966
Reached #5 in the Irish charts.


• Come To The Bower / Here I Go
7" - Major Records - MJS 105 - IRL - 1966
The A-side is reputedly rubbish but the B-side was described on ebay (so caveat emptor!) as good beat.


• Ricky Valance and The Chessmen - Tell Laura I Love Her / 24 Hours From Tulsa
7" - Tribune Records - TRS101 - IRL - 1967
Re-recordings of Valance's 1960 hit, backed by The Chessmen.


• Cryin Time / Billy Jones
7" - Tribune Records - TRS111 - IRL - 1968


• Up and Down / Loving You
7" - Tribune Records - TRS118 - IRL - 1968


• Bang Shang A Lang / Billy Jones
7" - Tribune Records - TRS123 - IRL - 1968


• Swan Song / When The Swallows Fly
7" - Tribune Records - TRS126 - IRL - 1969


Compilation appearances:

• v/a - The Showband Special
LP - Tribune Records - TRLP 1007 - IRL - 1969
LP - Capitol Records - SQ80.007 - Canada - 1969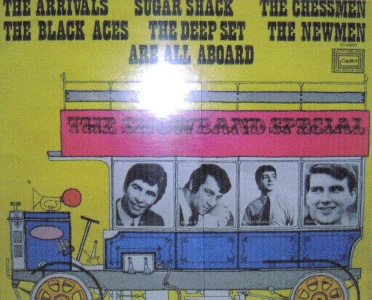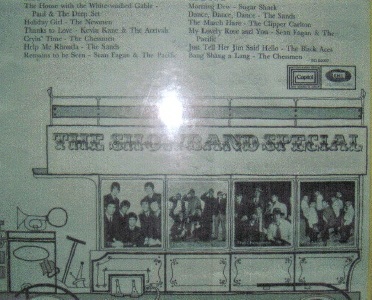 tracks:
Cryin Time
Bang Shang A Lang



See also: Alan Dee




Help!: We need your help to complete this entry. If you can tell us more about this band then please do! We welcome any corrections, missing details, connections to other bands, where are they now, etc. We also need photos, scans, copies of releases or live or demo recordings, and any other memorabilia gathering dust in the attic. If you can help, then please get in touch.



---

A-Z Artist Index
Compilations
Record Labels
Media
Help Us!
Contact Us
Resources
Timeline
---