---


A-Z Artist Index
Compilations
Record Labels
Media
Help Us!
Contact Us
Resources
Timeline
---
- under construction-
From: Dublin

Active: 1967-1971

Style: psychedelic folk-rock

Lineup:
Tim Booth - vocals, guitars, mandolin, bass, saxaphone & percussion
Tim Goulding - vocals, organ, harmonium, piano, recorders, violin, glockenspiel & stylaphone
Ivan Pawle - vocals, guitar, bass guitar, whistle, fiddle, melodica, recorder, piano, electric piano, Hammond b-3 organ, electric organ & percussion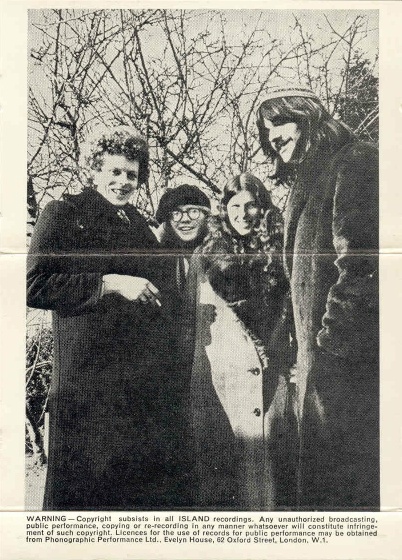 l-to-r: Tim Booth, Ivan Pawle, Linus, Tim Goulding
Bio:


"Often compared with The Incredible String Band, with whom they share the opportunism and wilful approach to folk music, this band managed to deliver two completely unique albums in a style of their own. The attitude towards making music is an altogether spontaneous one, which makes for both hilarious mistakes (not mixed away in the control-room, of course) and highly inventive half-improvised parts. Most readers will at least be acquainted with Stangely Strange But Oddly Normal from the first album, as this cut was included on the much cherished sampler Nice Enough To Eat from 1968, a track with an eerie beauty, which never managed to get clear outlines. More of the same, hardly rock music, but very psychedelic nonetheless, is featured on Kip. The lyrics are partly very wise, partly utter nonsense. (Which is which, is up to you). Unexpected twists and turns are scattered across almost all songs. The music is acoustic throughout, almost amateurish, but continuously charming."-- The Tapestry Of Delights
Dr. Strangely Strange are inevitably compared to the The Incredible String Band (ISB) (as well as Comus, Mellow Candle, The Trees and Forest). They engaged in the same type of psychedelic acoustic folk music as the ISB on their classic debut LP "Kip of the Serenes", but their second and final LP "Heavy Petting" is quite different.

The band was formed in Dublin in 1967 by Tim Booth (vocals and guitar) and Ivan Pawle (bass and keyboards). They became a trio with the addition of keyboardist/multi-instrumentalist Tim Goulding. They began living and rehearsing in a house owned by Goulding's girlfriend, backing vocalist Orphan Annie, which was nicknamed 'The Orphanage', which will be familiar to Thin Lizzy fans. Orphan Annie is also credited with photography on the bands second LP.

The were heavily influenced by the ISB with whom they became friends and supported them in Dublin in 1969 (1968?).

Robin Williamson of the ISB recommended the Strangelys to Joe Boyd and vice versa. Boyd was a potentially sympathetic producer having recorded both the ISB and Fairport Convention. The ISB were signed to his Witchseason management company and he was a producer at Island Records, one of the most progressive labels in England at the time. A demo was sent and Boyd travelled to Carlow to see the band perform (supporting Skid Row). The story goes that he wasn't completely convinced at first and it was only when Bernard Stollman of ESP Records offered the Strangelys a deal (after witnessing a performance in Dublin) that Boyd reconsidered and offered them a deal in 1969.

Kip of The Serenes was recorded in London in one and a half days. The credits list a similar array of acoustic folk instruments as found on the ISB recordings, including guitars, whistles, fiddles, harmonium and mandolin. They also shared a similar wide eyed and eccentic enthusiastic hippy vibe. But where the ISB sound rural the Strangelys sound urban, and the ISB are the more accomplished musicians. The Strangely's music was more structured and melodic, and the lyrics carried more literary undercurrents. So they weren't simply ISB copyists and the album is an acid folk classic.

The inclusion of "Strangely Strange But Oddly Normal" on the Nice Enough To Eat budget sampler helped increase the bands exposure and they were extremely busy touring and recording during a two year perid spanning 1969-71. While on tour with Fotheringay, they enlisted drummer Neil Hopwood, and later in November 1969 they guested on the ISB's Changing Horses album. The second album "Heavy Petting" was released on the heavy progressive Vertigo label in the summer of 1970. It's a different kettle of fish, featuring Skid Row's Gary Moore (guitar) and Brush Shiels (bass), Andy Irvine (ex Sweeney's Men, mandolin), Johnny Moynihan (Sweeney's Men, bouzouki), and Dave Mattacks (Fairport Convention, drums). Produced again by Joe Boyd for Witchseasons Productions. While still chaotic and folk-based, it has more of a rock pulse.

Tim Goulding left to get married and was replaced in early 1971 by Gay & Terry Woods, late of Steeleye Span. The Strangelys split in May 1971 following a gig at the Theatre Royal, Drury Lane on the 16th. Gay & Terry Woods went on to form The Woods Band.

In early 1972 the core trio, who were all living back in Ireland, reunited for a tour of Ireland with a couple of new musicians in tow. A new Strangelys lineup performed in 1973 with Tim Booth as the only original member in the lineup. They played the free concert at the Pheonix Park in July 1973 (Jonathan Kelly played drums!).

The band proper returned in 1997 -- claiming they'd never actually split up -- with a surprise third album "Alternative Medicine" with additional members Joe Thoma (fiddle), Bruno Staehelin (drums) and several guests including Gary Moore (guitar).

Ten years later, in 2007, a CD of 1969-70 era recordings called "Halcyon Days" was released on Hut Records. This CD includes CD re-recorded tracks and the band members played a number of live shows in June 2007.

A couple of low quality live recordings from circa 1970 also surfaced around this time, including a gig at Les Cousins in London. These are very lo-fi and not a good introduction to the band.






Advert for a gig in Limerick in May 1970


Discography:

• Kip of the Serenes
LP - Island Records - ILPS 9106 - UK - mid 1969
LP - Calendar Records - SR-669780 - Australia - 1969 - different back cover
CD - Island Records - 3D CID 1004 - France - 199?
LP - Timeless Records - Time 702 - Luxembourg - 2007? - limited edition of 500 copies
CD - Hux Records - HUX104 - UK - 24 February 2009


side one:
Strangely Strange But Oddly Normal
Dr. Dim And Dr. Strange
Roy Rogers
Dark Haired Lady
On The West Cork Hack

side two:
A Tale Of Two Orphanages
Strings In The Earth And Air
Ship Of Fools
Frosty Mornings
Donnybrook Fair

Hux CD bonus tracks:
Mirror Mirror (Kip version)
On The West Cork Hack (alternate take)
Strings in the Earth and Air (instrumental mix)
Strangely Strange but Oddly Normal (alternate take)
Notes: first Island pressing has the original pink label with orange+black eyeball and outline 'island' text matrix nbrs ILPS 9106 A1 / B1 - stamper codes 11 / 11. The rear cover of the Australian issue is completely different: a second photo is included and the liner notes of the original pressing are not used.



• Heavy Petting
LP - Vertigo Records - 6360 009 - UK - summer 1970 - gimmick foc, swirl label
LP - Vertigo Records - 6360 009 - Germany - 1970 - gimmick foc, swirl label
K7 - Vertigo Records - 7138 020 - UK - 1970? - resequenced
LP - FrizzBee Records - #5 - Netherlands - 1985 - single cover
LP - Tapestry Records - TPT 248 - UK? - 200? - gimmick foc, limited edition of 500
CD - Repertoire Records - ??? - Germany - 200? - gimmick foc
CD - Airmail Records - AIRAC-1048 - Japan - 2002 - gimmick foc
Recorded at Eamonn Andrews Studios & Sound Techniques Studios.
The Airmail CD claims to be a 24bit remaster.


side one:
Ballad Of The Wasps
Summer Breeze (Booth)
Kilmanoyadd Stomp
I Will Lift Up Mine Eyes (Goulding)
Sign On My Mind
side two:
Gave My Love An Apple
Jove Was At Home
When Adam Delved
Ashling (Booth)
Many Malone Of Moscow
Goodnight My Friends
Notes: Housed in a highly elaborate Roger Dean sleeve. There's a bootleg edition which reproduces the full gimmick sleeve but it's easily identifiable. It feel wrong and it does not stand up to close examination. The cassette edition is resequened to equalize playing time and suffers as a result.
The sleeve lists the lineup as: Tim Booth (vocals, guitar, keyboards), Tim Goulding (voc, keyboards), Andy Irvine (mandolin), Johanna (vocals, keyboards), Linus (vocals, percussion), Dave Mattacks (dr), Gary Moore (gtr), Johnny Moynihan (bouzouki), Jan Myrdal (glockenspiel), Ivan Pawle (vocals, bass, keyboards), Brendan Shields (bass), Heather Woods (vocals) and Annie Xmas (vocals, keyboards).



• Alternative Medicine
CD - Big Beat Records - CDWIKD 177 - UK - 1997



Notes: Surprise reunion album.



• Halcyon Days
CD - Hux Records - HUX092 - UK - 2007



CD tracklisting:

Cock A Doodle Doo
Existence Now
Good Evening Mr Woods
Going To Poulaphouca
Mirror Mirror
Sweet Red Rape
Horse Of A Different Hue
Lady Of The Glen
HMS Avenger
Halcyon Days
Invisible Kid
Le Le Rockin' Sound
Cock A Doodle Doo (Kip version)
Notes: Previously unreleased recordings. From the Hux Records site:

"We are proud to announce news of this previously unreleased album by Dr Strangely Strange, dating from their classic period, 1969/70. Halcyon Days will contain the following archive tracks (mostly produced by Joe Boyd) which were recently discovered in the Island vaults."
The originally announced track listing was slightly different, with tracks 10-12 originally described as bonus tracks.

Additional Personnel:
Linus - vocals, percussion & thumb piano
Joe Thoma - mandolin, fiddle
Jay Myrdal - glockenspiel
Neil Hopwood - drums, percussion


Compilation appearances:

• v/a - Nice Enough To Eat
LP - Island Records - IWPS6 - UK 1970 - foc



track: Strangely Strange, But Oddly Normal


• v/a - Vertigo Annual 1970
2xLP - Vertigo Records - 6657 001 - UK 1970 - foc



track: Summer Breeze





See also:



Help!: We need your help to complete this entry. If you can tell us more about this band then please do! We welcome any corrections, missing details, connections to other bands, where are they now, etc. We also need photos, scans, copies of releases or live or demo recordings, and any other memorabilia gathering dust in the attic. If you can help, then please get in touch.



---

A-Z Artist Index
Compilations
Record Labels
Media
Help Us!
Contact Us
Resources
Timeline
---