---


A-Z Artist Index
Compilations
Record Labels
Media
Help Us!
Contact Us
Resources
Timeline
---
From: Dublin

Active: 1976- December 1980

Style: Punk/New Wave

Lineup:
Damien Gunn - vocals/sax
Paul McGuinness - guitar
Brendan Gannon - keyboards
Brian Seales - bass
Ken Mahon - drums


Memorable cover photo for In Dublin magazine, March 1980.
l-to-r: Brian Seales, Paul McGuinness, Ken Mahon(?), Damien Gunn, Brendan Gannon(?)
Bio:

Named after the north Dublin city district (Dublin 9) which spawned them and in tribute to their German Musik influence (a mispelled 'nein'), DC Nien were unusual by 1977 standards, incorporating sax & synths and an unorthodox approach to songwriting, mixing elements of Hawkwind and Roxy Music in a sound which anticipated of post-punk, and were reputedly an awesome live band by 1978-79. By 1981 they had changed beyond recognition and become new pop new romantics Tokyo Olympics.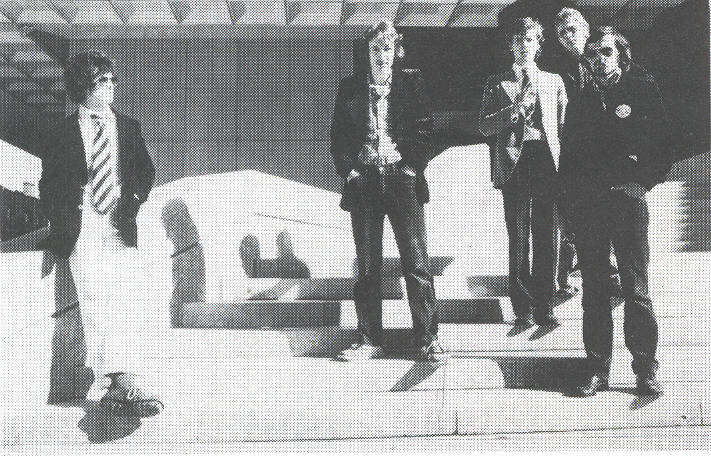 The original caption said "DC Nien in 1979" but it looks earlier, ca 1977; l-to-r, the Blondie drummer look, the tache's are never cool look, Damien Gunn, Paul McGuinness and wearing the big badge is early member Paul Duffy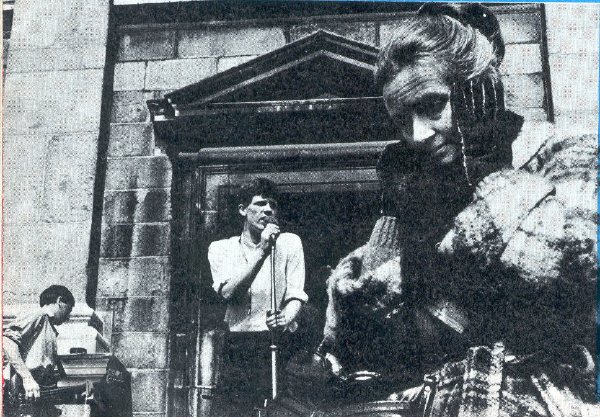 l-to-r: Brian Seales, Damien Gunn, an elderly fan
DC Nien were one of the big Dublin bands of their time, rivalling U2 and The Atrix in popularity. Guitarist Paul McGuinness had been a roadie for the Radiators From Space at their first gig in November 1976, by which time he'd already formed DC Nien and was full of confidence about the band. DC Nien supported Ian Gillan at UCD in 1978 (with Sonny Condell on the bill); toured Ireland as support to XTC in 1979; opened for AC/DC the same year; they were mentioned regularly in the UK music press' coverage of the Dublin music scene and were one of the main bands covered in Dave McCullough's "Coming Up For Eire" piece in Sounds magazine in September 1979; and they played the Dark Space (1979) and Sense of Ireland (1980) festivals; does anyone recall an outdoor performance in Mountjoy Square during the summer of 1980?; they also launched their own Nienteeneightease label in 1980.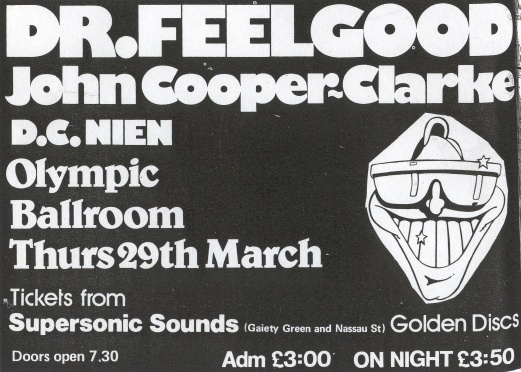 Supporting Dr.Feelgood, 29 March 1979

"Their music is black and doom-laden but as much a celebration of the nuclear age as it is it's castigation"--Sounds, 1979


Dave Fanning endorsement in In Dublin, December 1979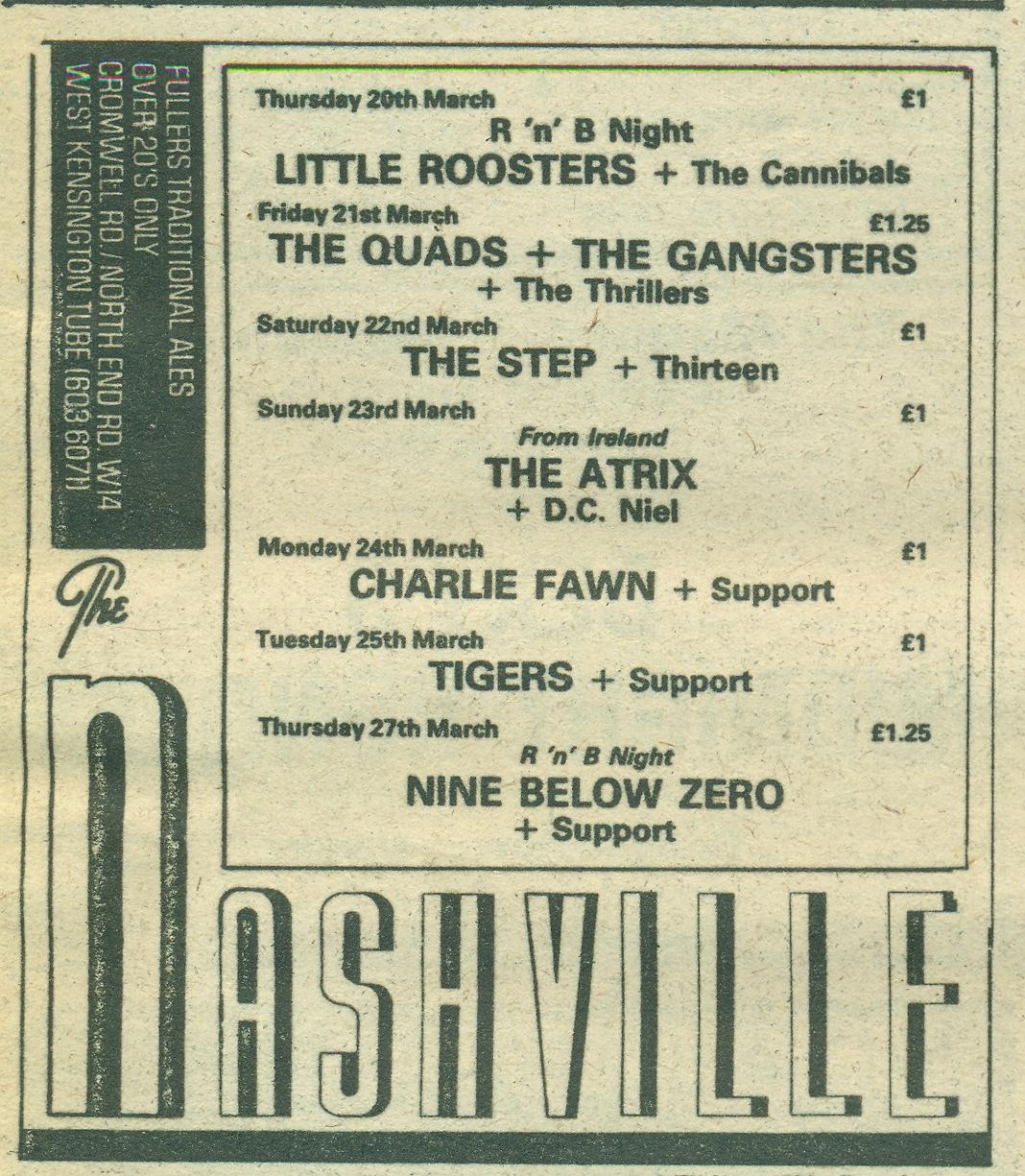 Supporting The Atrix at The Nashville in London on Sunday 23rd March 1980.
[thanks to Jeff Muir]

DC Nien made their vinyl debut in December 1979 on the Just For Kicks compilation LP and self-released their excellent single a couple of months later in February 1980. All three tracks ("Reptile", "Nightclub" and "Things Japanese") are highly recommended. This was followed by a cassette only release "The Red Tapes" containing live and demo recordings. Despite uneven sound, it is also excellent and well worth tracking down [if anyone has a copy for sale, please get in touch!]. All this material is ripe for CD reissue Paul! It was well received at the time and expectations were high.

But the expected breakthrough didn't happen. Punk became post-punk, new wave, new pop, new romantic... and DC Nien, with the addition of a couple of ex Fast Skirts (Joey Cashman on saxophone and John 'Sarge' O'Hara replacing Brendan Gannon on keyboards) became Tokyo Olympics, sometime around Christmas 1980.

Early member Paul Duffy was later in The Xn-trix.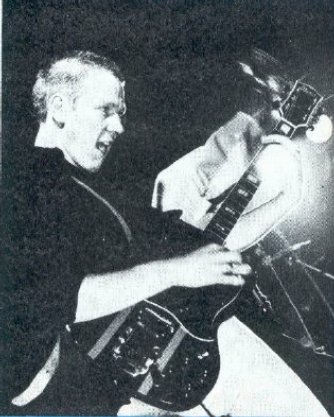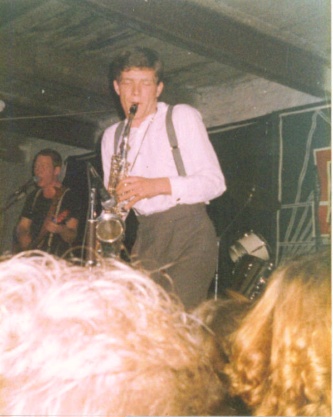 left, Paul McGuinness in action; right, live at the Dandelion in October 1979 [photo: Gerard McIver]




Dandelion Market gigs:
• Sunday 17 June 1979 - with The Modulators
• Saturday 1 September 1979
• Sunday 2 September 1979 - with Human Error
• Sunday 28 October 1979
• Saturday 24 November 1979
• Sunday 25 November 1979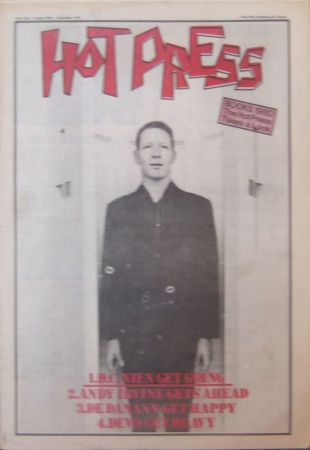 Hot Press cover 1980

Discography

• demos
There are undoubtedly several early demo tapes.
Details unknown; Hot Press mentions "Living At Risk", "Reverberation", "Master of the Universe"


• various artists - Just For Kicks
LP - Kick Records - KK-1 - IRL - December 1979
See Compilations section for full track listing.




tracks: Reptile


• Nightclub / Things Japanese
7" - Nienteeneightease Records - DC9-001 - IRL - February 1980 - insert


The recordings were made by October 1979 but the singlers release was delayed until 1980 due to "technical difficulties". The actual release date may be slightly later than show, March or April.




Notes:
Recorded at Windmill Lane Studios. Produced by Tony O'Meara and Donal Lunny with assistance from Ross Fitzsimons.
Excellent cover design by Rapid Exteriors AKA Steve Rapid. Approx 1500 copies sold.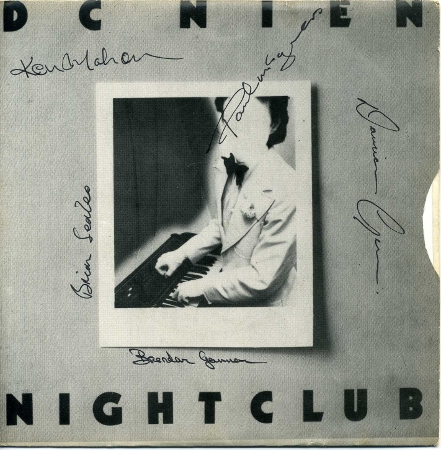 Autographed copy of the sleeve



• The Red Tapes
K7 - Nienteeneightease Records - DCMC 01 - IRL - 1980 - no cover, with poster
10 track cassette released before the end of 1980

side one:
1. Black Jet
2. Modern Disgrace
3. Reptile
4. Mutants
5. Nightclub

side two:
6. Things Japanese
7. Man In The Grey Suit
8. Pictures of You
9. Keeping Up With The Joneses
10. More Stories







Sources:
1-2 recorded 26 June 1978 at Cuckoo's Nest Studio, engineered by Philip Begley.
3-4 recorded 12 February 1979 at Keystone Studio, engineered by John Burke.
5-6 recorded 9 February 1980 at Windmill Lane, engineered at Paul Thomas.
7-8 recorded in May 1980 at Porcupine, engineered by Jim Breen.
9 recorded 22 March 1980 live at RTE studios.
10 recorded 20 October 1980 at Windmill Lane, engineered by R.Kennedy.

Track 9 was broadcast during an episode of Ireland's Eye on RTE 2 in October 1980. Track 10 was planned as a B-side for a single which never came to pass.

From the sleeve notes...
Tracks 1-4 represent a DC Nien as different from the present band in attitudes and awareness as much as in musical proficiancy. The one dimensional production of these first tracks matched the one dimensional songs; what you're hearing are relics of a time when the bands awareness on all levels was much less than it is today. "Black Jet" was quickly dropped from the set, tracks 2-4 surviving in the present set only in heavily modified form, their sparse outlines fleshed out and revamped to match the 'demanding' standards set by the latest material. "Mutants" especially is presented here in a form unrecognisable as the precursor of the song as performed today on stage, generally played as an encore as an extended piece heavy on mood and improvisation, it's purpose is to turn the accepted nature of "the encore" on it's head, the band refuising to come on stage and "rock out".
Should the fact that these tracks as presented here are in many ways now obsolete annoy you, make you feel cheated, then you're missing the point of this tape. This is no slick PR job. It's a point of reference for the changes that have been effected. And those that are coming. Think of this compilation as being like a photo of a city street befote the "developers" move in; things will change so fast that you'll lose all bearings as landmarks are obliterated and new patterns emerge. Unless you've got a fixed point or idea of the original pattern.
And changes are coming. These are new ideas, new directions and new influences being drawn in and discussed by the band and their eventual impact on the current "DC Nien Sound" can at this stage only be guessed at. So keep guessing. DC Nien won't keep you waiting.
-- Shane McElhatton.
Compilation tape released shortly after the Nightclub single, featuring recordings spanning the bands career. Over 500 copies were sold by April 1981 and it remained available at least during the lifetime of Tokyo Olympics. When the original 500 sold out, copies on branded blanks were made available. As far as I know the tape never came with a normal ("j-card") cover. Initial copies came with an envelope containing a folded giant black & white two-sided poster containing song titles, credits, lyrics, photos, band info, etc, etc. I'm looking for a copy of this tape, preferably an original, and preferably with the poster; if you have one please get in touch

Help!
We need your help to correct and/or complete this entry. If you can provide more information about this band, have scans, photos or any other memorabilia we can use, or spare copies of any releases, then please get in touch.
---

See Also: Fast Skirts, The Mod-Ls, Tokyo Olympics

Thanks to John Dundon
---

A-Z Artist Index
Compilations
Record Labels
Media
Help Us!
Contact Us
Resources
Timeline
---