---


A-Z Artist Index
Compilations
Record Labels
Media
Help Us!
Contact Us
Resources
Timeline
---
From: Cork

Active: 1984-89 (possibly longer)

Style: punk pop

Lineup:
Ruth Beecher - vocals
Dave O'Connell - guitar
Jerry Buckley - bass
Paul Prior - drums


LR: Ruth Beecher, Dave O'Connell, and then Buckey & Prior or vice versa
[photo courtesy Paul Prior]


Lineup (circa 1986-88):
Ruth Beecher - vocals
Dave O'Connell - guitar
Caroline Parr - bass
Morty McCarthy - drums


The 1986-87 band onstage at Mojos. LR: Dave O'Connell, Ruth Beecher, Morty McCarthy, Caroline Parr.
[photo courtesy Caroline O'Connell]

Bio:

Formed in 1984 by guitarist David O'Connell, who'd previously been in Urban Blitz, the 3355409s were a spikey pop band who were active on the Cork scene for a number of years and underwent numerous lineup changes. Jerry Buckley had previously been in Real Mayonnaise. Buckley, Beecher and O'Connell had all been in punk band Denis & The Dinmakers Anne O'Halloran played drums for a period before Paul Prior.

Jerry Buckley was replaced by Australian bassist Caroline Parr, who played with the band during 1986-88. Paul Prior was replaced by an unnamed drummer before Morty McCarthy, later of the mighty Sultans of Ping became the drummer circa 1986.

The Beecher/O'Connell/Parr/McCarthy lineup made several recordings at Ger O'Leary's studio in Cork. Parr left in 1988. The band split when Dave O'Connell emigrated to Australia with Caroline Parr (who was or was soon to become his wife), followed by Paul Prior.

Other band members include Stephanie Vink, who left to return to Holland. Contrary to the Cork Rock book, Paul Linehan of The Franks & Walters fame was never a member of the band.

There are numerous recordings. The 1986-88 band recorded many demos including 'Blood on Your Face', 'Hairdressers Blues', 'Black and Blue' and 'Lout Love'. The first demo tape included 'Celebrity Blackout' which received lots of good press. Another track 'Barbarous' appeared on the second Comet compilation LP, and another, 'Fast Friends' was entered in an RTE Video competition. Unfortunately the band never managed a release of their own despite their relatively long lifespan.

Dave O'Connell and Caroline Parr moved to Australia. Paul Prior also went to Australia where he played with VRAG, a predecessor of Machine Gun Fellatio. Ruth Beecher later married Ian Olney (Cypress Mine, Power of Dreams). Morty McCarthy later became one of the exalted Sultans of Ping. Anne O'Halloran later went into photography.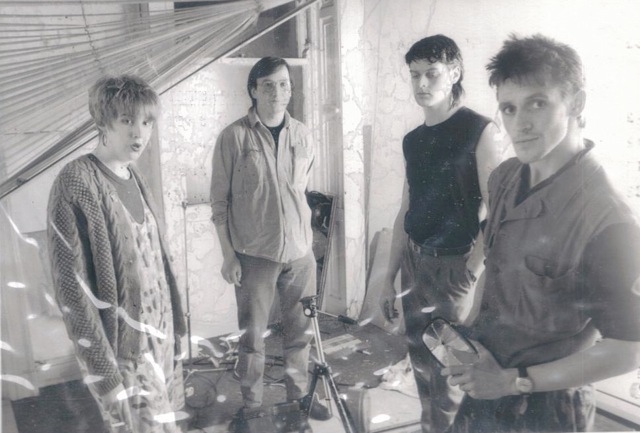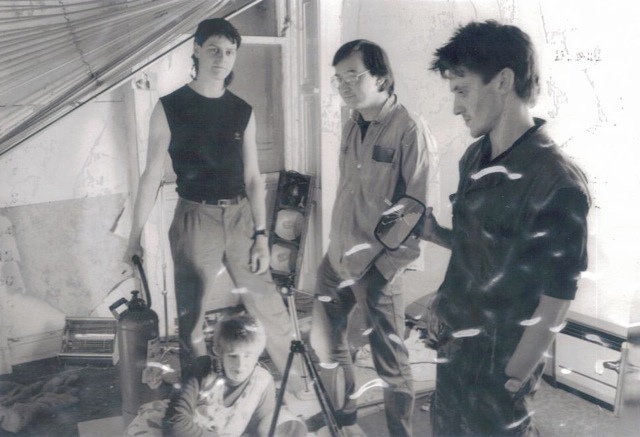 [photo courtesy Paul Prior]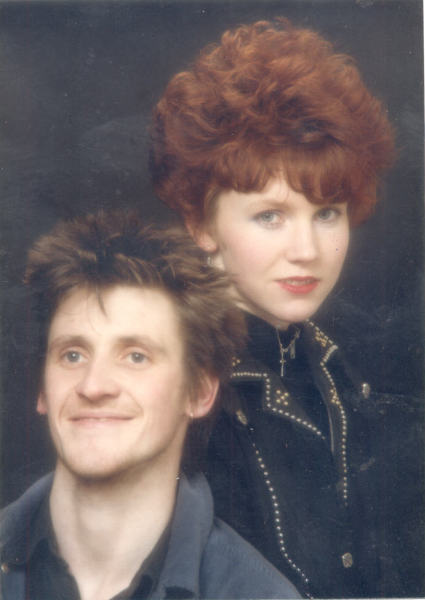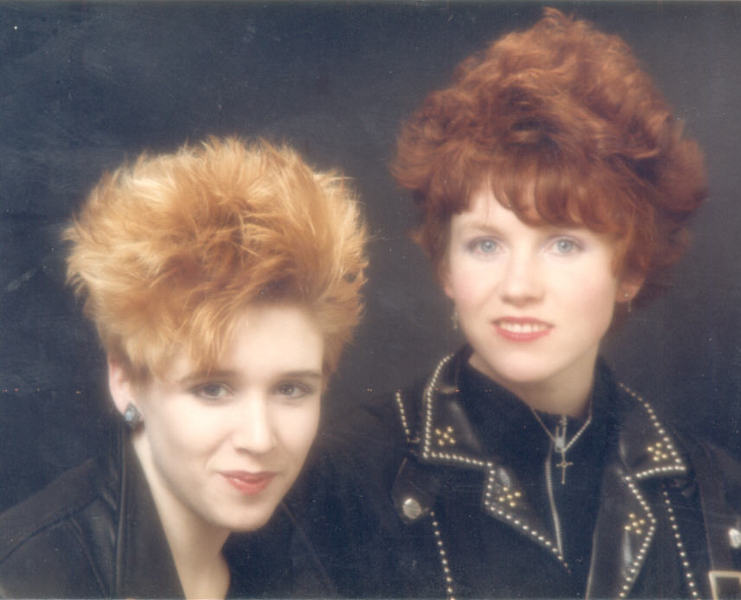 LR: Dave & Caroline and Ruth & Caroline
[photos courtesy Caroline O'Connell]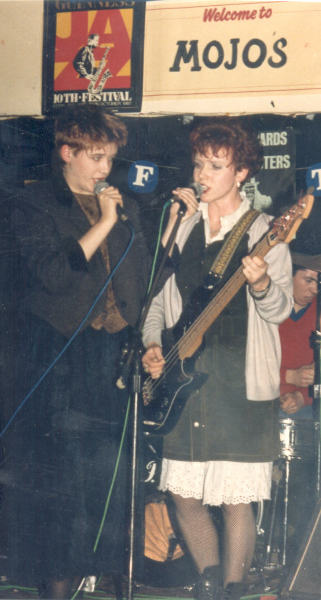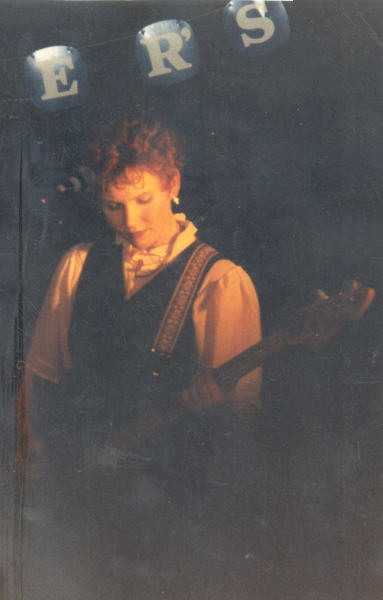 LR: Ruth & Caroline at Mojos
[photos courtesy Caroline O'Connell]


Discography

• various artists - Comet LP Two
LP - Comet Records - COME 2 TP - IRL - 1987?
See Compilations section for full track listing.




track: Barbarous

Recorded at Elm Tree Studios, Mardyke Walk, Cork.
Engineered by Ger O'Leary and Produced by the 33554O9's and Ger O'Leary.
Introduction and Conclusion: Caroline Parr.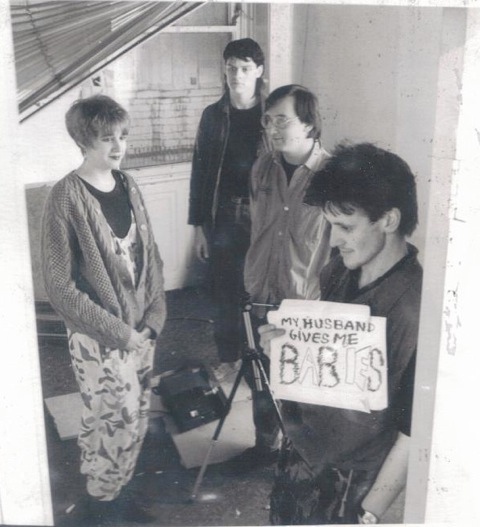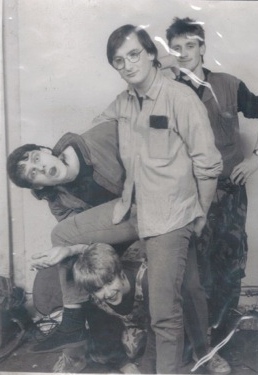 [photo courtesy Paul Prior]



Help!


We need your help to correct and/or complete this entry. If you can provide more information about this band, have scans, photos or any other memorabilia we can use, or spare copies of any releases, then please get in touch.


Last update: 5 April 2013.


---

See Also: Denis & The Dinmakers, Real Mayonnaise, Urban Blitz


---

A-Z Artist Index
Compilations
Record Labels
Media
Help Us!
Contact Us
Resources
Timeline
---