---


A-Z Artist Index
Compilations
Record Labels
Media
Help Us!
Contact Us
Resources
Timeline
---
From: Cork

Active: 1976-82; 1986

Style:

Lineup:
Dave Sullivan AKA Skully - guitar, organ
Jerry Buckley - bass, cello
Dave Rudd - drums


LR: Skully, David Rudd, Jerry Buckley
[Photo by Ciaran O'Tuama, used without permission]

Bio:

Real Mayonnaise formed as a trio in 1976 led by Dave Sullivan AKA Skully. They had a punky sound early on and by 1980 were a 'futuristic' synth band with a real rhythm section a la Tubeway Army and Kraftwerkian manmachine vocals. Their demos were played on local radio but they never released anything and split in 1982. They reformed briefly mid-decade, recording one single produced by Ger O'Leary.

Dave Rudd died in Saudi Arabia where he had gone as part of his apprenticeship training. His replacement was Paul Moore.

Skully formed The Chapterhouse with Ann Redmond of Porcelyn Tears and later fronted Metisse. Jerry Buckley was also in Denis & The Dinmakers and The 3355409s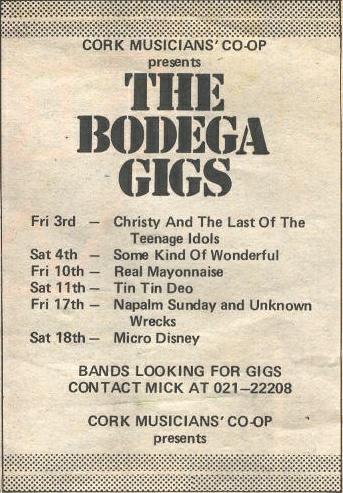 Bogeda gigs December 1982



Discography

• Framework / Breakfast Man
7" - Nouveau Wax - NW 001 - 1986 - PS



Help!


We need your help to correct and/or complete this entry. If you can provide more information about this band, have scans, photos or any other memorabilia we can use, or spare copies of any releases, then please get in touch.



---

See Also:

External Links: Metisse


---

A-Z Artist Index
Compilations
Record Labels
Media
Help Us!
Contact Us
Resources
Timeline
---