---


A-Z Artist Index
Compilations
Record Labels
Media
Help Us!
Contact Us
Resources
Timeline
---
From: Mayo

Active: 1972-74

Style:

Lineup (1972):
Sean Holleran - lead guitar
Gerard McLoughlin - bass
Joe Joyce - drums

Lineup (1973):
Pat Savage - lead guitar
Sean Creighton - bass
Derek Teeling - drums
Bio:

Early 1970s rock trio from Mayo who released two singles by two completely different lineups. The first single is outstanding. The A-side is a Status Quo cover and is a great rock track but the B-side, a cover of Don Nix's "Going Down Down Down" is fantastic, a raw recording with heavy effect guitar and a superb solo. All in all this is single is an essential post-psych, pre-metal heavy rock artefact.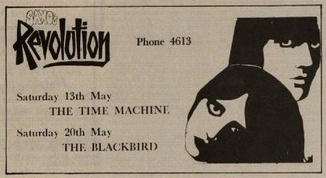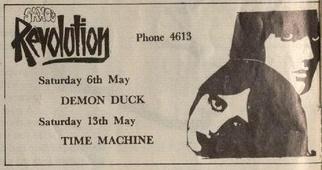 Time Machine at Revolution, Galway 13 May 1972





Supporting the Gary Moore Band at the Royal George Ballroom, Limerick on 8 Feb 1972

Gerard McLoughlin left in late 1972 or early 1973 and the band decided to fold. Their manager at this point was future boyband impressario Louis Walsh. With a string of dates to fulfill, and unhindered by any sense of a band's identity or integrity, he persuaded up and coming band Freeway to change their name to Time Machine in exchange for his services as manager and a semi-established name. Pat Egan reported this change in his regular column in New Sportlight in January 1973: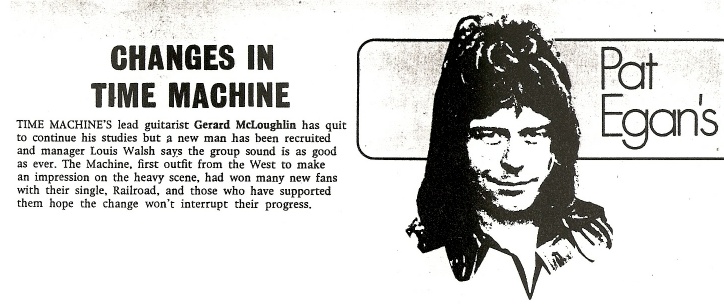 Freeway was Austin Smith (ex Fire Brigade, Clouds, vocals), Pat Savage (lead guitar), Kevin Jennings (ex Bernard Tormey Band, bass) and Derek Teeling (drums). Their first big gig was supporting Status Quo at the national stadium in Dublin on April 10th, when they were well received. Kevin Jennings had to be replaced by Sean Creighton following an accident, while Austin Smith left over musical differences and was not replaced. The resultant trio recorded the second Time Machine single, released in October 1973.

'New' Dublin group play The Hanger, Galway 7 July 1973




Advert for 2nd single, October 1973

Inspired no doubt by the success of Horslips, Thin Lizzy's "Whiskey in the Jar", Mushroom and possibly even the self-released Keltic Wine single from August, Louis Walsh decided that for his charges to make an impact they would need to record a similar Celtic Rock effort. It's a rocked up version of a traditional track "As I Roved Out", made popular at the time by the Woods Band. It's is not bad and is recommended to celtic rock fans, but it's nothing special either. Time Machine remained active until late in 1974 when gigs began to dry up. Many small bands in Ireland were forced by the economic realities of the times to choose between becoming a cabaret/covers/showband, emigrating to the UK in search of more receptive ears, or splitting up. Time Machine chose to split.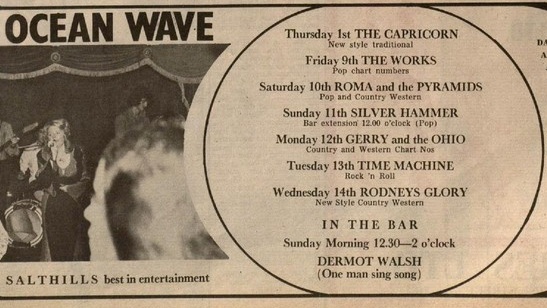 Gig at Ocean Wave, Galway, 13 August 1974.





Derek Teeling revived the Time Machine name when he assembled a completely new band in the mid-70s. Initially a cabaret style outfit, they would eventually 'go punk' (cough) in 1978 and release a single on Rip Off. They are listed separately here.

Meanwhile two members of the original Time Machine lineup re-emerged in late 1973 as Bratt with new frontman Tom Mylett. Bratt never recorded.





Discography:

• Railroad / Going Down, Down, Down
7" - Play Records - PLAY 41 - IRL - 1972
Produced by Bill Somerville Large; Arranged by Liam Hurley.



• As I Roved Out / Leaving Lady
7" - Play Records - PLAY 60 - IRL - October 1973






See also:




Help!: We need your help to complete this entry. If you can tell us more about this band then please do! We welcome any corrections, missing details, connections to other bands, where are they now, etc. We also need photos, scans, copies of releases or live or demo recordings, and any other memorabilia gathering dust in the attic. If you can help, then please get in touch.



---

A-Z Artist Index
Compilations
Record Labels
Media
Help Us!
Contact Us
Resources
Timeline
---