---


A-Z Artist Index
Compilations
Record Labels
Media
Help Us!
Contact Us
Resources
Timeline
---
From: Dublin

Active: 1970-75

Style:

Lineup:
Aonghus McAnally - guitars, recorder, tin whistle, vocals
Pat Collins - violin, electric mandolin, vocals
Michael Power (RIP) - organ, harpsichord, moog, vocals
Alan Brown - bass, 12-string guitar, vocals
Colm Lynch - percussion, wind and wood chimes, vocals


l-to-r: Michael Power, Alan Browne, Aonghus McAnally, Colm Lynch, Pat Collins.
Bio:

Often compared to Steeleye Span and Fairport Convention but mistakenly so, for Mushroom were a rock band employing folk and trad influences and are more properly seen as part of the "celtic rock" scene in Ireland in the mid-70s. Celtic rock was arguably kick-started by Horslips debut single "Johnny's Wedding", which was a big hit in Ireland in 1972, and their subsequent debut album "Happy To Meet...Sorry To Part" (1973) which sold by the truckload and was very influential in Ireland.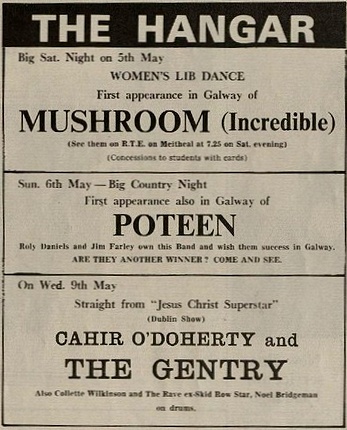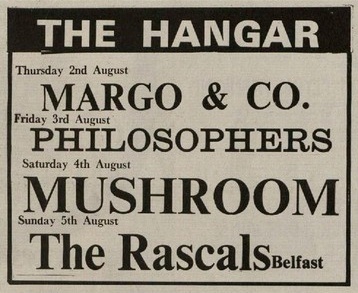 Listings for The Hangar, Galway in 1973

Mushroom's album was a landmark release in Ireland. It came out in time for Christmas 1973 and the band toured to promote it with the recently reformed Emmet Spiceland in support. The LP sold very well locally. Plans to release it in the UK through a major label never came to pass, though it did emerge in Canada in 1975 thanks to Hawk Records relationship with the Toronto based Boot label.

If you're looking for a reissue, try to find the Little Wing edition. The rest are all inferior, the Akarma being the best of a bad bunch. Avoid the Radioactive edition which sounds awful. I haven't heard the more recent issues (e.g. Phoenix Records) but these reissue labels tend to simply repackage clones of earlier discs, and given the existance of the Radioactive version I'd be wary of most of them unless they categorically state the material has been remastered. Ditto if their promo material regurgitates the errors of the Radioactive issue (e.g. describing Mushroom as a duo).

According to one of Ken Stewart's columns, Mushroom were chosen to represent Ireland at the Sopot Festival in Poland In August 1974. After this rush of blood to the head, the powers that be later saw sense and sent Joe Cuddy instead - he finished 9th with "Devil And Paradise".

The band appeared on RTE a number of times but it is not known if any of these shows survive. They appeared on 'Meitheal' (anyone remember this?) and "Sign Off" before the album release. Probably their last appearance was on 'Aimen High' in 1975 by which time McAnally, Collins & Brown were joined by lineup was Paul Moran (drums) Harry Colley (guitar).

The manager was Brian Molloy.

Multi-instrumentalist Joe O'Donnell was a member of the band before 1973. His replacement was Pat Collins who is listed in the lineup on the album although it is Joe who plays on it and the singles and he is thanked in the sleeve credits. Note this is not the same Joe O'Donnell who was a member of the Woods Band and East of Eden and recorded the solo LP "Gaodhal's Vision". This confusion first appeared many years ago and is repeated in several key sources (including Tapestry of Delights) but it is not true. If the Joe O'Donnell who played with Mushroom is out there reading this now, please get in touch.

Colm Lynch has lived in Denmark since 1975 where he's released 4 solo CDs.

Aonghus McAnally was later in the Starband, Crackers and released solo material before pursuing a career in television production.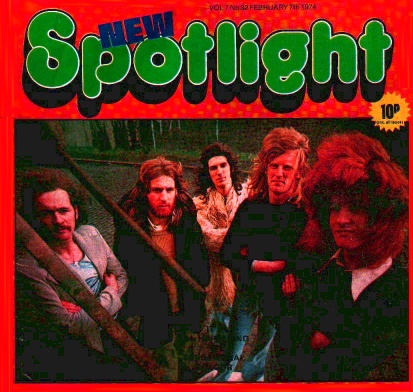 On the cover of New Spotlight, 7 Feb 1974
l-to-r: Michael Power, Alan Brown, Colm Lynch, Pat Collins, Aonghus McAnally



Discography:

• Devil Among the Tailors (single version) / Siuin Ni Dhuibhir / King of Ireland's Daughter
7" - Hawk Records - HASP 320 - IRL 1973 - PS
reached #2 in irish charts?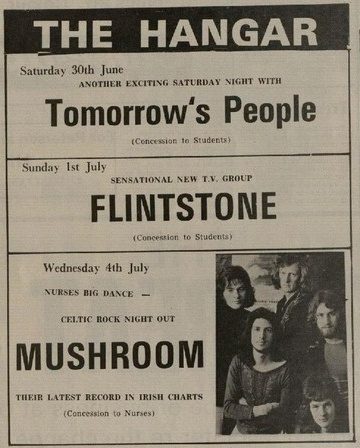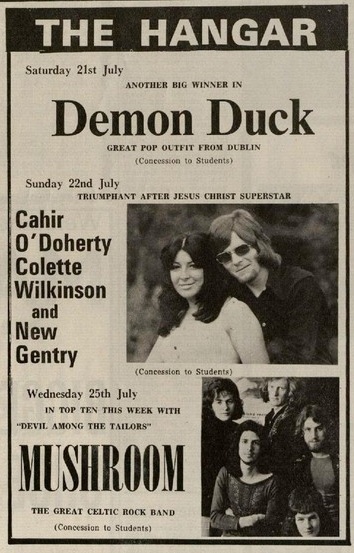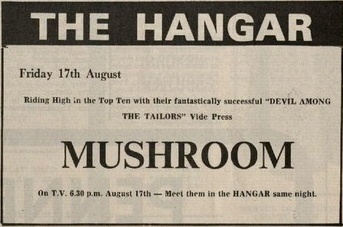 "Riding High in the Top Ten"
1973 gigs at The Hangar, Galway: July 4th & 25th and August 17th


• Early One Morning
LP - Hawk Records - HALPX 116 - IRL - 11/1973 - foc, inner sleeve, poster
LP - Boot Records - BOS. 7156 - Canada - 1975 - foc, no inserts
LP+7" - Little Wing Of Refugees - LWOR LW 2027/28 - Germany - 1992 - different cover, inner, poster, bonus 7"
CD - Little Wing Of Refugees Replay Series - LW 2043RP3 - Germany - 1996 - different (generic) cover, no bonus
LP - Akarma Records - AK 328 - Italy - 2005 - slightly different foc, 4 bonus tracks
CD - Phoenix Records - ASH 3015CD - UK - 2008 - card foc, numbered edition of 1000, no bonus tracks
LP+7" - Acme Records - ADLP 1078 - UK - 200? - 300 copies, bonus 7" with 5 bonus tracks (no PS)
bootleg editions:
LP - Kublai Khan Records - KKR 001 - 1989 - b&w cover, 300 numbered copies
LP - no label - 091331- EEC - 199? - red & white cover; back cover design based on inner sleeve
CD - Radioactive Records - RRCD053 - UK - 2004



side one:
Early One Morning
The Liathdan
Crying
Unborn Child
Johnny the Jumper
side two:
Potters Wheel
Standing Alone
Devil Among the Tailors
Tenpenny Piece
Drowsey Maggie
King of Alba
Little Wing & Akarma vinyl-only bonus tracks:
The King of Ireland's Daughter
Kings and Queens
Devil Among the Tailors [First Version]
Met a Friend
ACME vinyl single bonus tracks:
The King of Ireland's Daughter
Kings and Queens
Met a Friend
Unborn Child (demo)
Devil Among the Tailors [First Version]
Notes:
Recorded, mixed and re-mixed at Eamonn Andrews Studios, Dublin and Air Studios, London.
Produced by Martyn Ford.
Engineer Pat Morley; Studio technician Philip Begley.

A deal for a UK release was sought but with no luck.
The 24"x17" colour poster is the hardest item to find in good condition.
Hawk also issued the album on 8-track and cassete. Anyone have a copy of either?
The Canadian LP reverses the original sides.
The Little Wing of Refugees deluxe reissue from 1992 is a limited edition digitally remastered from original master tapes LP housed in new artwork that comes with a bonus single (LW 2028) containing the four single-only tracks. The CD edition in Little Wing's "Replay Series" makes no secret of the labels contempt for the CD format! It features one of their infamous 'wallpaper' sleeves and contains no bonus tracks.
Akarma added the four single tracks to the running order of the original LP without compromising noticeably on sound quality.
Neither CD issue contains the bonus tracks. The Radioactive CD contains entirely misleading information about the band and sounds awful: avoid.


• Kings & Queens / Met A Friend
7" - Hawk Records - HASP 340 - IRL 1974 - no PS



Notes:
The test pressing with handwritten labels was offered on ebay in January 2009.


• Crying / Unborn Child
7" - Hawk Records - HASP 347 - IRL 1974 (unreleased)
proposed follow up single, unreleased


• Devil Among the Tailors (LP version) / Drowsy Maggie
7" - Hawk Records - HASP 445 - IRL 1979 - no PS



• King of Irelands Daughter EP
7" - Little Wing Of Refugees - LW 2028 - Germany 1992- stamped white sleeve, some with postcard
loose copies of the free single that accompanied the LP reissue


side one:
The King of Ireland's Daughter
Kings and Queens
side two:
Devil Among the Tailors [single version]
Met a Friend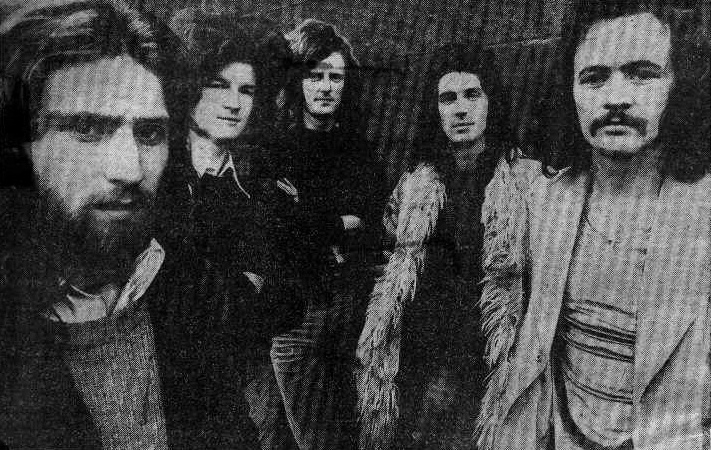 Compilation appearances:

• v/a - Come Back to the Hills
LP - K-Tel Records - KLP 3 - IRL - 1978
tracks: Potters Wheel / Devil Among The Tailors / Drowsey Maggie





Disambiguation:

No relation to the band Mushroom who released a single ("Where I Belong/Crying For You") on various Ariola imprints around Europe in 1971.









See also: Aonghus McAnally



Help!: We need your help to complete this entry. If you can tell us more about this band then please do! We welcome any corrections, missing details, connections to other bands, where are they now, etc. We also need photos, scans, copies of releases or live or demo recordings, and any other memorabilia gathering dust in the attic. If you can help, then please get in touch.



---

A-Z Artist Index
Compilations
Record Labels
Media
Help Us!
Contact Us
Resources
Timeline
---