---


A-Z Artist Index
Compilations
Record Labels
Media
Help Us!
Contact Us
Resources
Timeline
---
From: Dublin

Active: 4/1967 - 1970; 1973

Style: Harmony folk / ballad / Folk-pop group

Lineup (1967):
Donal Lunny
Michael Byrne
Brian Byrne
Brian Bolger


left to right: Donal Lunny, Brian Byrne, Michael Byrne


Lineup (1973-74):
Honor Heffernan
Brian Byrne
Paul Ashford
Dave Murphy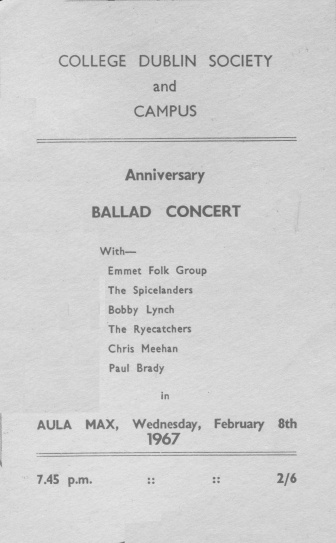 The Emmet Folk Group and The Spicelanders on the same bill
Bio:

In the mid-1960s, Donal Lunny and Brian Bolger were singing together in a group called The Emmet Folk Group with a banjo player named Mick Moloney. They came second to The Johnstons in the 1966 Wexford Ballad Contest. At that time there was a duo playing the folk clubs in Dublin called The Spicelanders, who were the Byrne Brothers from Sheffield, the sons of Irish emigrants. Both acts appeared on the same bill numerous times, including the February '67 Ballad Concert organised at UCD as advertised in the flyer shown above.

When Mick Moloney left the Emmett Folk to join The Johnstons in late 1966 or early 1967, the remaining two members, Lunny & Bolger joined forces with the Byrne brothers to form The Emmet Spiceland in 1967. The Emmet Spiceland won the Wexford Ballad contest in 1967 which led to a recording deal. Brian Bolger left in December the same year.

In February 1968 their debut single "Mary From Dungloe" topped the Irish singles chart. Their second single "Baidin Fheidhlimi" was another top 10 hit in Ireland in May, this time on the Irish-language oriented Gael Linn label. As neither of the Byrne brothers spoke Irish, they learned the words phonetically from Lunny. They signed To Page One Records and recorded their debut LP with Phil Coulter at the controls. The between song chat on the LP was instigated by Coulter. It was a source of some embarrassment to the band according to Donal Lunny. When Hawk Records reissued "The First..." in 1977 as "The Emmet Spiceland Album", they edited it out.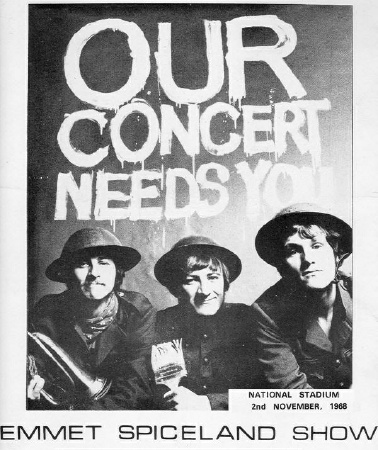 The Emmet Spiceland made a huge impact in Ireland, not least for their hip image. They were also hugely influential in the Irish folk scene. Lunny's arrangements of songs like "Reynard the Fox" were copied for some time after and there were many copycat groups formed in their wake.

Lunny left during the first half of 1969, claiming he was giving up music to concentrate on jewelry making. He was replaced by 19 year old Leo O'Kelly, who'd been playing with the Tropical Showband since he was 14 before graduating in 1967 to psychedelic band The Word. The new lineup did several tours. When Michael Byrne left in September 1969, Donal Lunny rejoined for the tour of the United States, which proved to be the band's final tour, after which they disbanded.

Leo O'Kelly formed Tír na nÓg in 1970 with Sonny Condell; Donal Lunny returned to jewelry making before turning up on Christy Moore's album Prosperous LP in 1972 which led to Planxty; Brian Byrne launched a solo career and achieved some fame in the London production of Jesus Christ Superstar; Michael Byrne left the music business.

A short-lived reformed line-up with Brian Byrne as the only original member released a single in October 1973 and toured with Mushroom before Christmas that year. They supported Roy Orbison during his two concerts at the Carlton in Dublin on October 30th. The other members of the reformed band were Honor Heffernan, Paul Ashford and Dave Murphy (not Mick Carass as previously suggested). Manager was Dave Pennefather.



Discography:

• Mary From Dungloe / Hava Nagila
7" - Inset Records - IN702 - IRL/UK - February 1968
7" - Homespun Records - HIS 25 - IRL/UK - 1981 - PS
Reached #1 in the Irish charts.
Recorded at Eamonn Andrew Studios, Dublin.




• Baidin Fheidhlimi / Nora Bheag
7" - Gael-Linn Records - CES002 - IRL 5/1968 - PS [500 copies?]
Reached #6 in the Irish charts.



• The First....
LP - Page One Records - POLS 011 - UK 1968 - stereo
LP - Ace Of Clubs Records - SCL 7515 - Canada 1968 - stereo
CD - Airmail - AIRAC-1211 - Japan 2006 - replica sleeve, vinyl transcription
• The Emmet Spiceland Album
LP - Hawk Records - HALP 166 - IRL 1977 - stereo
Reissue of the Page One LP with between song spoken-word links removed








side one:
Reynard The Fox
My Lagan Love
Stor Stor A Gra
Lovers Ghost
Jigs
Bunclody

side two:
Mary From Dungloe
Autumn Has Come
Pretty Susan
Slieve Gallion Braes
O'Carolan's Concerto
The Curragh Of Kildare
Notes: The Japanese CD claims to be a 24 bit remaster but I believe it's a vinyl transcription. All tracks trad.arr. arranged by Emmet Spiceland except Autumn Has Come written by Shay Healy.



• Lowlands Low / Bunclody
7" - Page One Records - POF 089 - IRL/UK - 6 September 1968
Produced by Bill Martin & Phil Coulter
Reached #8 in the Irish charts.



• So Long Marianne / In Search Of Franklin
7" - Page One Records - POF143 - IRL/UK - 30 May 1969



• Olaim Punch / Ta Na Baid
7" - Gael-Linn Records - CSE008 - IRL 1969 - PS
Recorded at Eamonn Andrews Studios with Bill Somerville-Large.
With Denis Mowatt (bass), Mairtin Fay.



• One Morning in May / The Willow
7" - Hawk Records - HASP 328 - IRL - October 1973


• Emmet Spiceland & Brian Byrne - Mary From Dungloe
7" - Outlet Records - OUT.047 - UK - 1973
Credit unclear, but this was released around the time of the reunion.



Compilation Appearances:

• v/a - Ballads for Drinking and the Crack
LP - Tribune Records - TRLP ??? - IRL 1967?
LP - Capitol Records - SQ 80006 - Canada 1967?
tracks: Babe, I'm Gonna Leave You / The Nightingale / Can't Help Wondering Where I'm Bound


• v/a - Mary from Dunloe and other Folk Hits
LP - Outlet Records - LP7006 - UK 1968?
tracks: Mary From Dunloe


• v/a - From Lagan To Lee
LP - Wavin Pipes Records - 006 - IRL 1975 - foc, 500 copies
See Compilations section for full track listing.
track: Baidin Fheidhlimi


• v/a - Stars and Songs of Ireland
LP - Hawk Records - HALP139 - IRL 1975
Also includes a Brian Byrne solo track.



track: One Morning In May





See Also: Brian Byrne, Johnstons, Donal Lunny, Tír na nÓg



Help!: We need your help to complete this entry. If you can tell us more about this band then please do! We welcome any corrections, missing details, connections to other bands, where are they now, etc. We also need photos, scans, copies of releases or live or demo recordings, and any other memorabilia gathering dust in the attic. If you can help, then please get in touch.



---

A-Z Artist Index
Compilations
Record Labels
Media
Help Us!
Contact Us
Resources
Timeline
---