---


A-Z Artist Index
Compilations
Record Labels
Media
Help Us!
Contact Us
Resources
Timeline
---
From: Dublin

Active: 1975-78

Style:

Lineup:
Annie More - vocals
Chris Hand - lead guitar
David Jameson - keyboards
Tommy Smyth - bass
Derek Teeling - drums


l-to-r: David Jameson, Derek Teeling, Tommy Smyth, Chris Hand, Annie More
Bio:

This band's history stretches back to the early 1970s when a band called Freeway were pursuaded to change their name to Time Machine to fulfill an earlier bands live bookings. During 1973-74 this trio comprised Pat Savage (guitar), Sean Creighton (bass) and Derek Teeling (drums). They released a single and enjoyed some success but split sometime in 1974. They are discussed further here.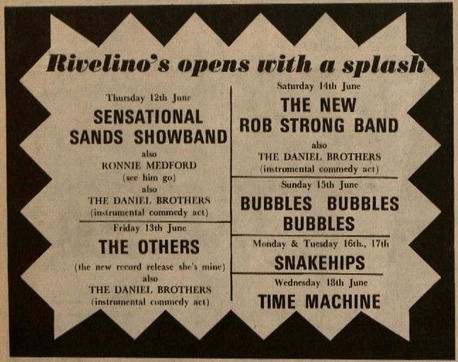 Opening week at another Galway club Rivelino's in June 1975

Derek Teeling revived the name in 1978. They were managed by Johnny Lappin and released a single on the legendary Rip Off label and toured a couple of times that year. A second single "Geordie" was planned but never came out. After a dormant period they returned as a quartet in October 1979 (In Dublin).


| | | |
| --- | --- | --- |
| | | |
| August '78 tour dates. The Aug 10 "Jumbo Single" didn't emerge until October. | | December '78 tour dates. The second single never materialised. |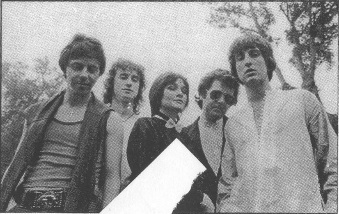 Discography

• Never Met Suzi / Come Dancing // Let Me Tell You
7" - Rip Off Records - RIP6 - October 1978 - paperbag PS





Hot Press review October 1978 [v2 nr10]
Help!
We need your help to correct and/or complete this entry. If you can provide more information about this band, have scans, photos or any other memorabilia we can use, or spare copies of any releases, then please get in touch.
---

See Also:


---

A-Z Artist Index
Compilations
Record Labels
Media
Help Us!
Contact Us
Resources
Timeline
---