---
---


A-Z Artist Index
Compilations
Record Labels
Media
Help Us!
Contact Us
Resources
Timeline
---
From: Dublin

Active: 60s-80s

Style: blues guitar



Bio:

Norman Teeling (b.1944) played in various Dublin bands in the 1960s, most notably The Difference. He later enrolled in NCAD, graduated with a Fine Art degree in 1975 and became an art teacher for a number of years. He is credited on both side of the Jim Power & Taurus single released in 1978 which is well known to new wave collectors. Teeling played with Jim Power in an earlier band and these Teeling-penned songs became part of Power's live set.

Teeling fronted Norman Teeling's Thunder Band in 1978, who played a fund raiser for the ill-fated Phoenix Park Peace Festival. This band recorded an unreleased LP in '78 which was described as forthcoming in Hot Press in late '78. In June 1979 In Dublin magazine reported the completion of the Norman Teeling Band album "Ashes In The Wind", recorded over a 10 month period at Keystone Studios. This also never emerged.

Norman Teeling finally made his solo debut in 1980 with the "Health Freak" single and released further solo material on the Phaeton label in the early 1980s, including two albums. The first contains mostly instrumentals in a mixture of styles including rock, blues, country and jazz. It shows a very muscular Teeling on the back cover (see also the back cover of the "Health Freak" single). The second is blues rock. Norman continued to play and record into the mid-1980s - he was a member of Hank Halfhead & The Rambling Turkeys (formed 1985) - but eventually took up painting full-time and is now best known as a successful artist.

Norman's brother Derek Teeling played drums in the early 1970s with Freeway who became the second version of Time Machine, a name Derek continued to use into the late 1970s. He was later involved in Phaeton Records. Brian Teeling acted as manager, running Downtown City Productions, based in Clontarf.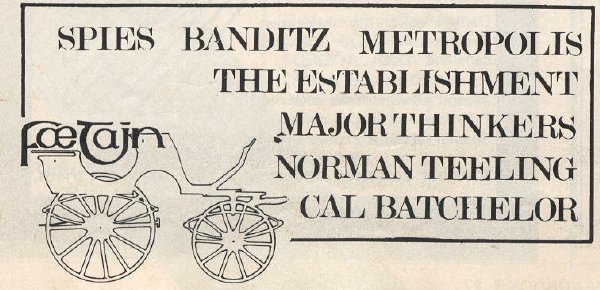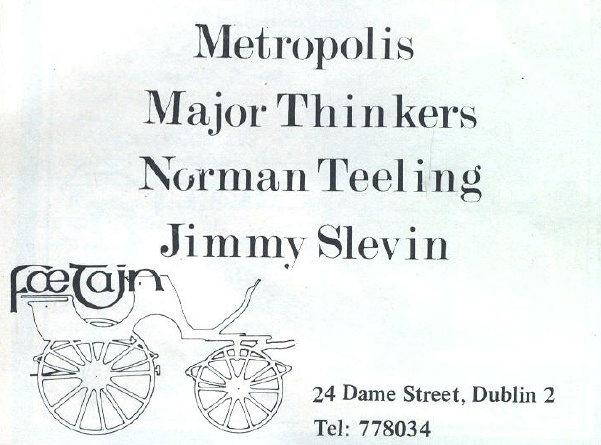 Phaeton Records adverts 1980-81



Discography:

• Jim Power & Taurus - Only Yesterday / Night Time Has The Habit Of Dragging On
7" - Power Records - JP-001 - June 1978 - no PS double A-side
Both sides credited to N.Teeling


• Norman Teeling Band - Ashes In The Wind
LP - ??? - ??? - ??? - unreleased


Notes: Album recorded at Keystone Studio in Dublin over a ten month period. It was declared ready for release in June 1979, but never came out. Tracks may have been recycled for later releases. The lineup was Teeling, Tony Fitzsimmons (bass) and Tony Andrews (drums).



• Health Freak / No Matter What the Cost
7" - Muscle Records - MUS 001 - IRL - 1980 - PS


• Nag Nag Nag / Better Listen to Me
7" - Phaeton Records - SPIN 5 - IRL - 1981 - no PS
B-side features Eric Bell.


Notes: The 'live' B-side featuring Eric Bell is actually a studio recording. It has such a live feel they decided to add audience sounds to it.



• Guitar Dimensions
LP - Phaeton Records - SPIN 993 - IRL - 1984


• Downtown City Blues
LP - Phaeton Records - SPIN 997 - IRL - 1987?


• Forcefield
K7 - Phaeton Records - F.SPN 988 - IRL - 1992?







side one:
Look Inside My Dreams
Ballad of the Black Prince
Ten Long Years To Go
Fuel To The Fire
The Likes Of You

side two:
All I've Ever Wanted
Life Is Going To Get You In The End
Crawlin' Right Back To You
Expressing My Way To You
Help Is On The Way
Cafe Blue


• Norman Teeling Trio - Jazzing At Midnight
CD - Anew Music - ??? - IRL - October 2010



tracklisting:
You Can't Take That Away From Me
Bluesette
How High The Moon
Quiet Nights of Quiet Stars
Out Of Nowhere
Night And Day
Summertime
Scrapple From The Apple
One Note Samba
Fascinating Rhythm
Sleepwalk
Black Orpheus
Peacepipe
Notes: A selection of jazz standards. With Pat Henry on bass and Philip Rennicks (ex Fountainhead) on drums and keyboards.



• Crushed Rose - s/t
CD - Teelo Records - ??? - IRL - 26 May 2012


Notes: New album by Norman Teeling, Pat Henry (bass, rhythm guitar, vocals) and Wayne P.Sheehy (drums) plus guests. Produced by Sheehy. I'm unsure if this exists as an actual CD or is download only.






See also: Hank Halfhead & The Rambling Turkeys, Jim Power & Taurus




Help!: We need your help to complete this entry. If you can tell us more about this band then please do! We welcome any corrections, missing details, connections to other bands, where are they now, etc. We also need photos, scans, copies of releases or live or demo recordings, and any other memorabilia gathering dust in the attic. If you can help, then please get in touch.



Thanks to Tim Barnes
---

A-Z Artist Index
Compilations
Record Labels
Media
Help Us!
Contact Us
Resources
Timeline
---