---


A-Z Artist Index
Compilations
Record Labels
Media
Help Us!
Contact Us
Resources
Timeline
---
From: Derry

Active: 1980s

Style: punk

Original Lineup:
Seamus "Skirm" Curly - guitar /vocals
Jimmy Nash - bass
Mark "Slim" McCauley - drums
Later Lineup:
John "Robbie" Robertson - vocals
Seamus "Skirm" Curly - guitar /vocals
Terry Lafferty - bass
Mickey Griffiths - drums


l-to-r: Seamus Curly, Mark McCauley, John Robertson, Terry Lafferty
Bio:

Derry punk band active circa 1980 and mentioned in scene reports in MRR #12 and MRR #17 issued in 1984. Despite their longevity I know very little about them.

The original band was a trio. Bassist Jimmy Nash was replaced by Terry Lafferty and the band became a fourpiece with the addition of John "Robbie" Robertson as lead vocalist. Mickey Griffiths (ex Idol Threats) replaced Slim McCauley on drums.

There are no known recordings though the band was slated for inclusion on Shoestring Record's aborted "Postcard From Abroad" Derry Scene LP in 1980, and demos may have been recorded for it.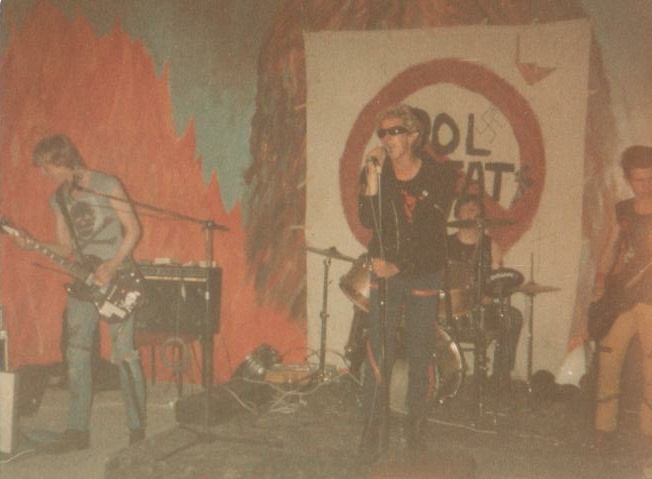 The Rip Off's playing in front of Idol Threat's backdrop.
l-to-r, Seamus Curly, John Robertson, Mark McCauley, Terry Lafferty




Help!


We need your help to correct and/or complete this entry. If you can provide more information about this band, have scans, photos or any other memorabilia we can use, or spare copies of any releases, then please get in touch.


Last update: 7 April 2010.

Thanks to Terry Lafferty for his help with this page.

---

See Also:


---

A-Z Artist Index
Compilations
Record Labels
Media
Help Us!
Contact Us
Resources
Timeline
---