---


A-Z Artist Index
Compilations
Record Labels
Media
Help Us!
Contact Us
Resources
Timeline
---
From: Dublin

Active: 1981-87

Style:

Lineup:
Jil Turner - vocals
Dave McGinley - guitar
Gerry Forde - guitar/keyboards
Derek Ennis - AKA Derrik Force - bass
Martin Murphy - drums


Bio:



Eugene were a promising band who played a lot around Dublin during 1982-83. Jil Turner, Dave McGinley & Gerry Forde had all previously been in Fugitive. Derek Ennis & Martin Murphy had previously been with jazzrock outfit Foul Play.

Eugene won the very first Stag/Hot Press Best Unrecorded Act Award in early 1982, the prize for which was supposed to be a Phil Lynott produced single. This was announced in the pages of Hot Press as "I Dream In Red" / "Eire Nua". Not for the last time in the Stag/Hot Press (later Carling/Hot Press) Awards, no such single ever emerged.

During 1982 Eugene appeared on Non Stop Pop on RTE Television on February 20th; supported New Order at the SFX in Dublin on March 5th, which was in fact their debut live gig; appeared at the 5th Hot Press Benefit held at Punchestown Racecourse on July 18th, with Rory Gallagher, Simple Minds, U2, Big Self and opening act The Alsatians; and the second Occasion at the Castle outdoor festival in Castlebar on August 1st, supporting headliners the Boomtown Rats and Thin Lizzy (who were second on the bill); and supported Phil Lynott at the New Years Eve Ball on December 31st at the TV Club in Dublin during his second Irish solo tour in support of 'The Phil Lynott Album'.

The bands debut single "Julie Cries" / "Castles in the Air" finally emerged on their own No Scam label the following year. Note there is no Lynott connection to these recordings. This single has become quite difficult to find.

Many more demos were recorded were recording during the bands lifetime, including "Oceanside" and "The Art Of Conversation", but nothing further was released.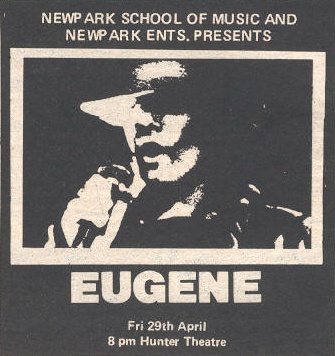 Eugene advert April 1983
Derek Ennis was replaced by Paul Hallion and the band moved to London around 1986 but further success eluded them and they returned to Dublin a year later and split up.

Jil Turner & Dave McGinley later formed East of Eden who were joined in the studio on occasion by Derek Ennis (and Martin Murphy?). Dave McGinley was later in Precious Stones. Martin Murphy joined An Emotional Fish. Gerry Forde works in the equipment supply side of the music business. Paul Hallion is now a photographer.

Update: Dave McGinley (guitar), Jil Turner (bass/vocals), Pat Fitzpatrick (ex Katmandu) (keyboards) and Paul Byrne (ex In Tua Nua) (drums) appeared on the Late Late Show in 2007 backing Debbie Harry.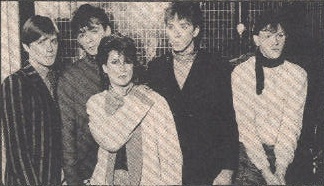 Discography

• I Dream In Red / Eire Nua
7" - ??? - 1982 - unreleased


Notes: The aborted Stag/Hot Press Award single was never released. "Eire Nua" was reputedly produced by Phil Lynott. If these recordings exist anywhere, we'd love to hear them.



• untitled demo
K7 - circa 1983

tracks:
I Am
Shadows
We Are History
Hollyfish
Kiss On The Cheek
Here I Go Again


• Julie Cries / Castles in the Air
7" - No Scam! Records - SCAM 001 - 1983
note this single was NOT produced by Phil Lynott.



Help!


We need your help to correct and/or complete this entry. If you can provide more information about this band, have scans, photos or any other memorabilia we can use, or spare copies of any releases, then please get in touch.



---

See Also: An Emotional Fish, East Of Eden, Precious Stones

thanks to Peter Nielsen
---

A-Z Artist Index
Compilations
Record Labels
Media
Help Us!
Contact Us
Resources
Timeline
---