---


A-Z Artist Index
Compilations
Record Labels
Media
Help Us!
Contact Us
Resources
Timeline
---
From: Belfast

Active: 1979-

Style: Punk Rock ⇒ Rock

Lineup: 1982
Bernard Tohill - guitar & vocals
Jim Nicholl - guitar
Patrick Sheeran - bass & vocals
Michael Morris - drums
Bio:

Inventive, under-rated guitar band formed in 1980. The first single is reggae tinged and led to comparisons with The Police but by the time of their debut LP they had forged their own unique sound. The band relocated to London in 1983 in an attempt to raise their profile and the hope of better recording prospects but they failed to get signed by a major. They peaked circa 1983/84 but the 18 month delay releasing the debut LP stalled their momentum. Here is Bill Graham's review of "Stateless" from Hot Press:
"At last, the 1984 show. Seemingly unrecoverable and lodged beneath the collapsing masonry when I.D.S., their indie distribution outlet went bankrupt, "Stateless" finally emerges 18 months after its recording. But it is assuredly worth the wait for the debut album from Big Self, the only Northern group who can be mentioned in the same breath as The Undertones and Stiff Little Fingers.
The is a dirty, emotionally tense record, the document of a band with an uncanny, instinctive understanding for each other's music that's rarely found in current music. The restraint, the timing in the conversation between the guitars and the bass in the fractured into to "Walk The Plank" is only the most special moment.
Nine tracks and only one dud, the slightest song, "Receiving" marred by a misjudged mix that straining for an African rhythm effect, instead emphasizes uncharacteristic heavy-handed drumming by Michael Morris.
Otherwise it's like meeting a punkier, more severe Little Feat with choppier rhythms, anchored in the various dance stances of the past decades. For "Stateless" also shows the shift in the band's music away from the white reggae, which took place after they left Ireland for London. Though bassie, Patmo Sheeran and drummie, Michael Morris still effortlessly pump out the rockers rydim of "You're Not Afraid", Big Self have also recognised more even electro pulses, flirting with Talking Heads on "Weeding Out" and using the classic Giorgio Moroder/Donna Summer disco style as the foundation for [...]
If there seems an apparent contradiction in constantly awarding muso brownie points to a band forged in the original Belfast punk furnace, it's also unavoidable. "Stateless" has so much stubbornly crafted musical detail from the meshing of Sheeran and Morris, to the Siamese twin guitars of Bernard Tohill and Jim Nicholl through to the top-layer of the harmonies of Gordy Blair's brooding yet also nervy saxophone.
They really have created their own unmistakable sound, a highly original synthesis of white modern R&B that, in the best of all possible worlds, would prove a salutary lesson to the artful dodgers who mismatch avant-garde jazz and monotone synths and forget that guitars and human rhythms can also triumph in the eighties.
Next time, they might adjust to lighter textures and emphasize Bernard's vocals but Big Self can be proud of "Stateless". Indeed its delay has been no insuperable handicap, given the current slower turnover in style, for even now it sounds fresh and challenging. Investigate this special Irish debut."
--Bill Graham.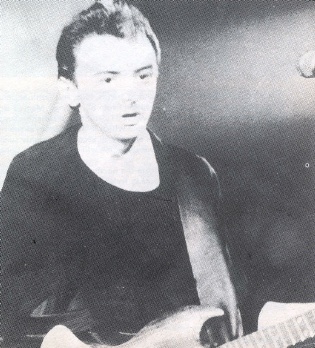 I definitely remember seeing Big Self perform "Surprise Surprise" and one other track ("Don't Turn Around"?) on RTE, possibly during the music section of Anything Goes on Saturday morning. Anyone have video of that?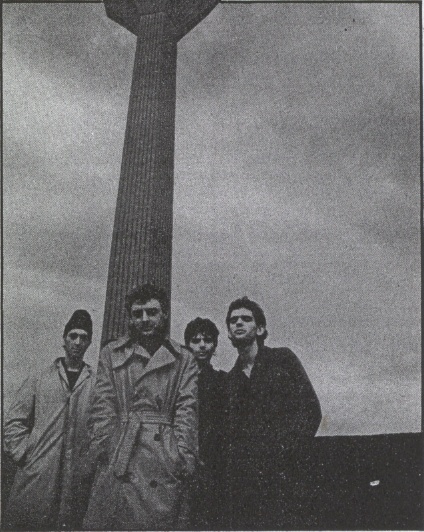 Discography

• various artists - Room To Move EP
7" - Energy Records - NRG-1 - May 1980 - PS
See Compilations section for full track listing.



tracks: Snakes & Ladders



• Weekend People (cancelled single)

According to George Gimarc's Punk Diary, this single was announced in September 1980.



• various artists - The Boddis EP
7" - Nineteeneightease - DC9-003 - IRL - 1980
See Compilations section for full track listing.



tracks: Concrete Curtains


Boddis gig, April 1981



• Surprise, Surprise / Take Me Away
7" - Reekus Records - RKS002 - August 1981 - PS
Single of The Week in Sounds (Dave McCullough).
• Peel Session
Recorded 16 January 1982

tracks:
When The Wind Blows
Don't Turn Around
You're Not Afraid
Supervisor



• *Kid Jensen Session
Recorded 16 February 1982

tracks: Don't Turn Around
4-4 International Rescue
War On Want
Kamikaze



• Don't Turn Around / Jagged Edges
7" - Reekus Records - RKS003 - March 1982 - PS
Awarded single of the week by Dave McCullough in Sounds


• Ghost Shirts / I'm Keen
7" - Reekus Records - RKS009 - 1983 - PS
7" - Reekus Records - RKS009 - 1985? - reissue in different PS
• Ghostshirts (ext.) // I'm Keen / Ghost Shirts (7" version, uncredited)
12" - Reekus Records - RKST009 - 1983 - PS


The 7-inch version of this single was reissued circa 1985 when RTE chose the A-side as the theme tune for the "Visual Eyes" TV show (aired 1985-88 approx)



• Reason Smiles EP
12" - Reekus Records - RKST0012 - 1985 - PS



side one:
Reason Smiles
Secretly

side two:
Beyond the Pale
Calanda



• Vision / Chance
7" - Reekus Records - RKS014 - 1985 - PS


• Stateless
LP - Reekus Records - RK LP2 - 1985 - inner sleeve
CD - Reekus Records - RK CD4 - 2002
Recorded 1983/84. Test pressings dated 28 May 1985.
Produced by Richard Mainwaring.
Reason Smile remix by John Ryan



side one:
Ghostshirts
Vision
Receiving
Don't Turn Around
Weeding Out

side two:
Killing Brother
You're not Afraid
Reason Smiles (remix)
Walk the Plank



• various artists - Live for Ireland
2xLP - MCA Records - MCGD 6027 - IRL - 1988
See Compilations section for full track listing.



tracks: Independence

Help!
We need your help to correct and/or complete this entry. If you can provide more information about this band, have scans, photos or any other memorabilia we can use, or spare copies of any releases, then please get in touch.
---

See Also:


---

A-Z Artist Index
Compilations
Record Labels
Media
Help Us!
Contact Us
Resources
Timeline
---