---


A-Z Artist Index
Compilations
Record Labels
Media
Help Us!
Contact Us
Resources
Timeline
---
From: IRL

Active: 1979-83

Style:

Lineup:
Tom Dunne - vocals
Cormac Wright - guitar
Brendan Lynott - bass
John Bonnie - drums


Bio:

The End were formed by Tom Dunne and Cormac Wright in 1979 while at James's Street CBS in Dublin. They met John Bonnie shortly thereafter. Brendan Lynott completed the lineup. The End were described by Bill Graham as "[playing] a Doors-influenced pop with a freshness akin to early U2."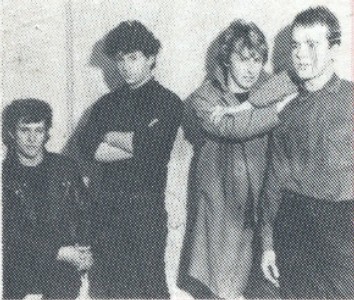 The End's debut gig was in December 1979 supporting the New Versions at McGonagles. This was the first time Tom held a live mike through a PA and he didn't realise it was switched off for the first half of the set! Over the next couple of years they regularly played with Chant! Chant! Chant!, The Epidemix, The Resistors and The Lookalikes. The supported The Blades at the legendary Magnet gigs; The Radiators from Space at the Crofton Airport Hotel; the Zen Alligators on their Dublin debut at the National Ballroom in 1981; and Teardrop Explodes at McGonagles in 1981. They played the Carnsore Point Anti-Nuclear festival in 1981 and appeared on the front page of the Sunday World (does anyone have a copy of this?). They were also one of the early bands to play a Saturday afternoon half hour gig in Base X Records on Batchelor's Walk in Dublin in 1982.

The End recorded a demo at Eamon Andrews Studios in 1980 or 1981 which led to a Fanning Session. Their second demo was released as a cassette EP in 1981 . This sold reasonably well in Ireland and Scotland. A video was made for one of the five tracks "That Warm Feeling" by the crew of Anything Goes (RTE TV), and Cormac was interviewed by Dave Heffernan when the video was aired on that show. They made at least one other TV appearance, on TV Ga Ga in 1981, performing "Judith" (now on you tube).

According to my records, the band also recorded demos of "Love on the Airwaves", "Listen" and "My Hero". More details needed about these please.

Brendan left in 1982 and was replaced with Finbarr O'Riordan. Eoin Freeny and Paul Monahan of Chant! Chant! Chant! did a stint with the band too sometime before the end. The End finally split in 1983.
Tom Dunne was later in Something Happens. Cormac Wright moved to Detroit in the 1990's where he formed The Shouting Club who recorded "Every Other Day" for the ill-fated Stars of Heaven tribute compilation on Mickey Rourke's Fridge. John Bonnie later in Those Handsome Devils



Discography

• title?
K7 - demo - 1981?
First demo, recorded at Eamonn Andrews studios.

tracks:
Outside My Head
Sex Movies
Fanzine
Picture Postcard
Notes:
According to my records, the band also recorded demos of: "Love on the Airwaves", "Listen" and "My Hero". More details needed please.



• Dave Fanning Session 1981

tracks:
Something Somewhere
Fashion Street
Refuge
Picture Postcard
Sitting Pretty


• Part Two EP
K7 - demo - 1981
Second demo, recorded at ALTO Studios with Dave Freely.





tracks:
Heartbreak
Germany
Judith
Doubts about Jabouille
That Warm Feeling


• various artists - Vinyl Verdict
LP - Scoff DTLP006 - IRL - 1981
See Compilations section for full track listing.



tracks: Picture Postcard


• Something Happens - Haplology
2xCD - boot - 200?
Collection of B-sides and live covers by Something Happens.
It includes 3 demos by The End.

tracks:
How Much?
Dreamdays
Come Down
Help!
We need your help to correct and/or complete this entry. If you can provide more information about this band, have scans, photos or any other memorabilia we can use, or spare copies of any releases, then please get in touch.
---

See Also: Chant! Chant! Chant!


---

A-Z Artist Index
Compilations
Record Labels
Media
Help Us!
Contact Us
Resources
Timeline
---