---


A-Z Artist Index
Compilations
Record Labels
Media
Help Us!
Contact Us
Resources
Timeline
---
From: Dublin

Active: 1980-83

Style: New Wave Rock

Lineup:
Johnny Fean - guitar & vocals
Philip Fay - guitar & vocals
Gary Eglington - bass
Eamon Carr - drums


The Zen Alligators. LR: Gary Eglington, Eamon Carr, Johnny Fean & Philip Fay
Bio:

The Zen Alligators were formed in 1980 by Eamon Carr and Johnny Fean following the demise of Horslips. They were joined by second guitarist Philip Fay (ex Vultures) and bassist Gary Eglington who'd previously been in the Arthur Phybes Band and the Noise Boys. All bar Fay had played briefly as The Defenders in 1979. They originally called themselves The Alligators and released their first single under that name but had to change it when they found it was already in use.

Their live debut was at the National Ballroom in 1981 which drew a crowd of 500 plus. Carr and Fean were the main songwriters in the band and Carr did most of the production work. They released five singles in total (the first as The Alligators as already noted) on various small labels. These are becoming increasinly difficult to find. The band became a trio in mid 1983 when Philip Fay left before the fifth and final single which was released on Carr's new Hotwire label.

The Zen Alligators toured Ireland regularly and one such gig at the Top Hat Ballroom in Dun Laoghaire was televised in RTE's "Campus Rock" series. If anyone has this on video then PLEASE GET IN TOUCH IMMEDIATELY!!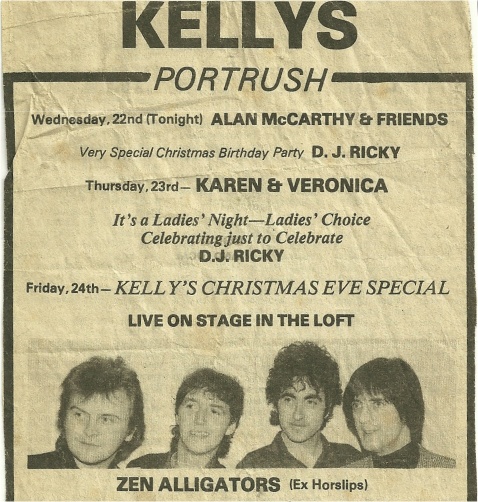 Advert for a gig in Portruch on Christmas Eve, 1982.
In the photo LR: Gary Eglington, Johnny Fean, Philip Fay, Eamon Carr.





After the split Fean and Carr continued to work together with another ex Horslips colleague Charles O'Connor in The Host (1983-85). They also collaborated with The Golden Horde as The Saints & Scholars in 1984. Gary Eglington worked with The Fontaines and joined Barry McCabe's Albatross.

A band crying out for a CD/DVD compilation!!

If anyone knows any more details about the RTE broadcast or has any live tapes (or if you'd like to become the irishrock.org mole at RTE HQ) please get in touch.





Discography

• The Alligators - Thrill Power / Having A Party // Just A Little Bit
7" - AFG Records - AFG 001 - late 1980 - PS - promo only freebie [few hundred pressed]


• Who Can That Someone Be? / Berlin Wall
7" - Spider Records - WEB 045 - IRL - 1981 - PS
Charted in Ireland for 1 week on 14 June 1981, reaching #27




Carlton test pressing, produced by Eamon Carr


another Carlton test pressing, this one by Paul Clark


• Call Me Lucky / The Ticket
7" - Auric Records - AU 79005 - 1981 - no PS


• The Invisible Man / The Scorpio Function
7" - Zodiac Records - ZZA 82001 - June 1982 - PS


• You Make My Day (radio mix) / People Who Make People's Day
7" - Zodiac Records - ZZA 82002 - 1982 - PS


• I Never Forget A Face (single)
7" - Hotwire/Crashed Records - HSW-831 - June 1983 - PS



side one:
I Never Forget A Face (live)

side two:
Caught in the Crossfire
Introducing Side One - Diary of a Forgotten War

Dedicated to Pete Byrne, a friend of the band, then recently deceased. The second track on the B-side is by Pete Byrne's band Side One.



• various artists - Sound Of Irish Mod 1979-1989 / Powerpop Gems #1
K7 - bootleg - ???
See Compilations section for full track listing.

tracks:
Who Can That Someone Be
I'll Never Forget A Face
Caught in the Crossfire
Invisible Man
Help!
We need your help to correct and/or complete this entry. If you can provide more information about this band, have scans, photos or any other memorabilia we can use, or spare copies of any releases, then please get in touch.
Thanks to Helge Helligsøe
---

See Also: Albatross, The Defenders, The Host, The Saints & Scholars


---

A-Z Artist Index
Compilations
Record Labels
Media
Help Us!
Contact Us
Resources
Timeline
---