---


A-Z Artist Index
Compilations
Record Labels
Media
Help Us!
Contact Us
Resources
Timeline
---
From: Portstewart

Active: 1981-86

Style:

Lineup:
Paul Lerwill AKA Gregory Gray - guitar/vocals
Donal Boyle - guitar
George Nelson - bass
Pete Kerr - drums


Perfect Crime in the garden
[photo courtesy of the Nelson family]
Bio:

Formed in the summer of 1981 by Paul Lerwill (ex Rosetta Stone) while still under copyright as a songwriter to Rosetta Stone management and/or Private Stock Records which is why he adopted the name Gregory Gray. He stuck with this new name after the copyright restrictions expired a year or so later. Pete Kerr had previously been with Decontrol.

The Perfect Crime supported O.M.D. on the Belfast leg of their Architecture and Morality 1981-82 Tour. They recorded a demo at Clive Culbertson's No Sweat Studios in Dervock, one track from which was played several times on Dave Fanning's show on RTE Radio ("Fast Life Neon Ice").

Several major labels were interested in the band though Gregory reputedly signed what was basically a solo deal with MCA in the summer of 1982. Pete Kerr left the band at this time. He was replaced by Colin Mairs.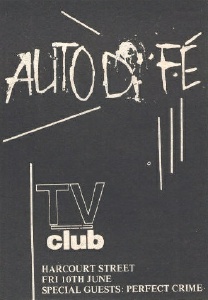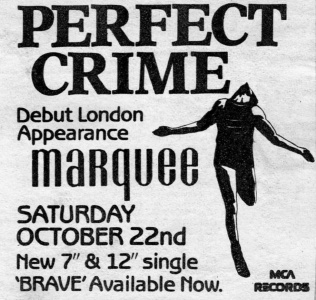 Supporting Auto Da Fe in Dublin (10 June 1983) . . . and making their London debut at the Marquee (22 Oct).
Perfect Crime did a series of support slots with Eurthymics and then played to what was arguably their biggest ever live audience on 14 August 1983 when they appeared at U2's Day At The Races gig at the Phoenix Park. Colin Mairs had been replaced by Barry Walker (ex Saigon, Ten Past Seven) by this time. They toured as support act with Paul Young in August and Talkign Heads in September and undertook their first solo UK tour in November and December 1983.

They appeared on TV several times including BBC Northern Ireland's Channel One rock tv show along with Talk Before Thought and Feargal Sharkey; ITV's The Saturday Show hosted by Isla St.Clair;

The band released two singles on MCA in 1983-84 which are reputedly dance/funk oriented, but I have not heard them. The first of these was "Brave". An 8-track machine was installed at Gregory Gray's house and he was promised he could produce the band himself if "Brave" was a hit. It wasn't. A second single followed in 1984. When originally announced the A-side was to be "The Greatest Hit", but "I Feel Like An Eskimo" was chosen as A-side instead. Hot Press described it as follows: "Perfect Crime appear to be out of their depth. Their crisis of confidence interferes with their output. They will never make great music without raw passion".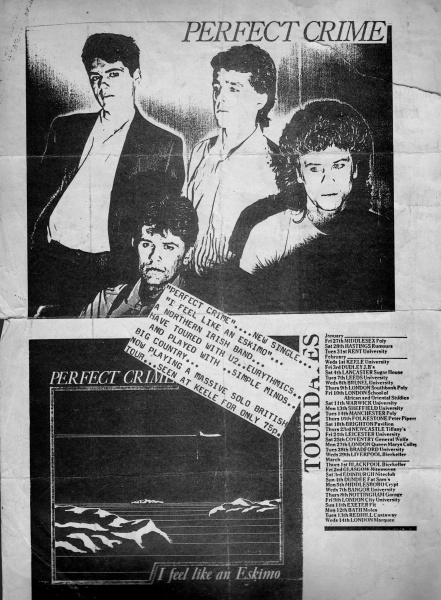 1984 Tour Flyer Advert

The band split in 1986. Gregory Gray contined as a solo artist and was considered as a potential replacement for Tom McLaughlin in Light A Big Fire in 1988. Donal Boyle and George Nelson formed Uncertain Trumpet. Pete Kerr is now based in Sligo producing demos and managing local bands.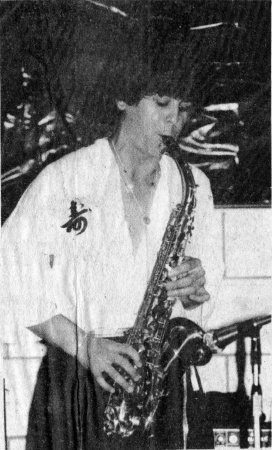 Gregory Gray AKA Paul Lerwill




Discography

• No Sweat Studios demo
K7 - demo - 1982

tracks:
Fast Life Neon Ice
Somebody Somewhere
No One Needs To Run With Me


• various artists - Now In Session
LP - Downtown Radio - DTR SC1 - 1982
See Compilations section for full track listing.



tracks: Poison Love


• Brave EP
7" - MCA Records - MCA830 - 12 August 1983 - PS, 3 tracks
12" - MCA Records - MCAT830 - 19 August 1983 - PS, 4 tracks



side one:
Brave (in the Groove)
Who Is Your Master? [12-inch only]

side two:
Ten Out Of Ten
Bright Side


• I Feel Like An Eskimo / No Drums
7" - MCA Records - MCA854 - March 1984 - PS
12" - MCA Records - MCAT854 - March 1984 - PS



Help!


We need your help to correct and/or complete this entry. If you can provide more information about this band, have scans, photos or any other memorabilia we can use, or spare copies of any releases, then please get in touch.



---

See Also: Decontrol, Gregory Gray, Saigon, Ten Past Seven, Uncertain Trumpet


---

A-Z Artist Index
Compilations
Record Labels
Media
Help Us!
Contact Us
Resources
Timeline
---