A-Z Artist Index
Compilations
Record Labels
Media
Help Us!
Contact Us
Resources
Timeline
---
Media
---

(under construction)



Parts of this overview are taken from the "Early Irish Fanzines" article that appeared in Loserdom #13. See the loserdom site for more details. Please see the help section for fanzines I'm looking for.




Almost Art
Launched: September 1978
Issues: ?





Almost Grown
Launched: January 1979
Issues: ?







Alternative Ulster
Launched: September 1977
Issues: 6 issues (random numbering)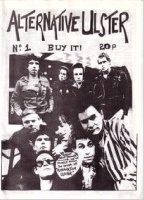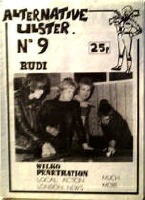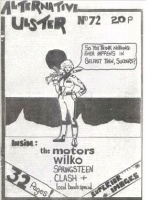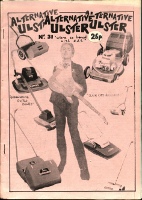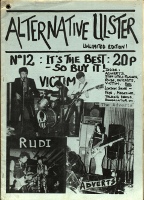 Buddy
Launched: October 1977
Issues: ?





Cabaret
Launched: December 1979
Issues: ?





Cosmetic Plague
Launched: 1982-83
Issues: ?


Fanzine based in Kilkenny. Just two issues were published, circa 1982-83, by Feargal McEvoy. No connection to the band of the same name (?).




Craw Thumping
Launched: 1982
Issues: ?



Dublin fanzine, issue 1 including: Kissed Air, Montage, Microdisney, Na-psalm Sunday, Casablanca Moon, Dublin Youth Theatre.




Devoid Media
Launched: 198?
Issues: ?





Europe At A Glance
Launched: April 1980
Issues: ?





Heat

Launched: May 1977
Issues: 9 (including one triple issue)


Black & White

Launched: November 1979
Issues: 3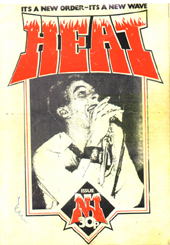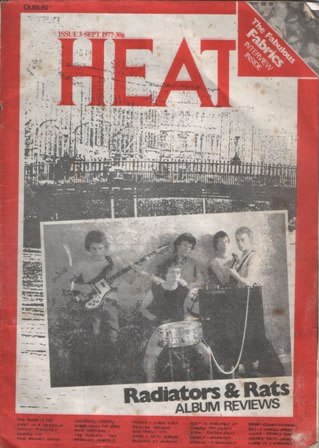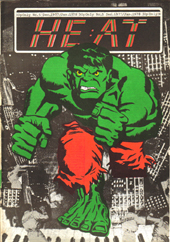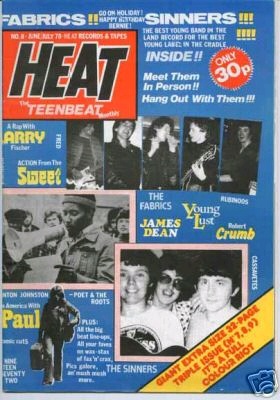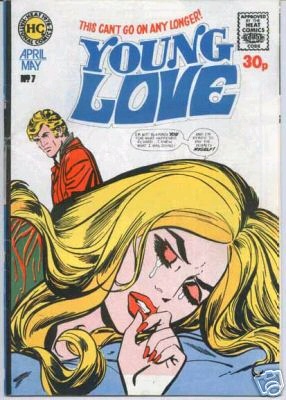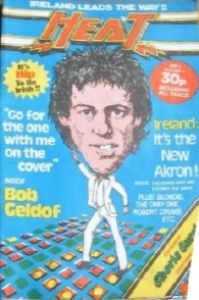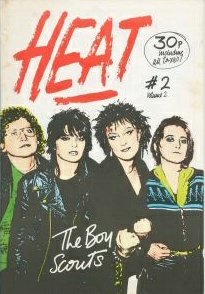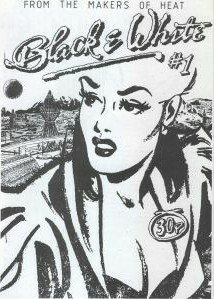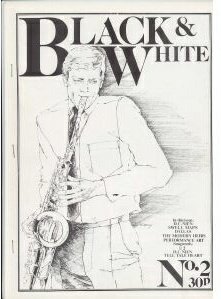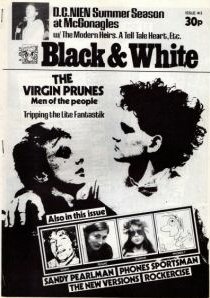 Heat and Black & White were published by Pete Price and Jude Carr. From Loserdom #13:

"Heat's creators Pete Nasty (Pete Price) and Ray Gunne (Jude Carr), had a more graphics/print background, and were more influenced by the New York fanzine Punk than the very basic photocopy-staple job of Sniffin' Glue. The text was handwritten while pages were well designed, laid-out and printed with a colour cover. The subject matter covered new wave/punk band interviews, articles, reviews and later comic strips and films. Having secured advertising funding and distribution from Better Badges in England, the magazines circulation was increasing by 200 each issue; jumping to 2000 copies when they tried to secure proper nationwide distribution through Easons newsagents. By Heat Vol.2 issue 2 [no.11], the magazine was gathering momentum, but a published article "McGuinness is good for U2" lead to the end of the road. The article alleged that U2 manager Paul McGuinness had succeeded in getting a band [Modern Heirs] pulled from a support slot at a gig, for U2 instead. McGuiness threatened to sue Heat unless the article was pulled but a batch had already gone to Easons. McGuiness subsequently found out and sued the magazine ensuring its closure and place in Irish music folklore's history, although a benefit gig for Heat managed to cover the costs. "--loserdom #13



Most copies of the offending issue of Heat currently in circulation are missing the offending page (pages 5/6) which was cut out following the threat of legal action. The expense of this action effectively ended the magazine. Ironically, they had just signed a distribution deal with Easons, Ireland biggest retail chain (booksellers) at the time.

Heat's two writers later started another fanzine called Black & White, this time laying out contributions from bands rather than featuring their own articles, it didn't receive quite as a good a reaction though and only lasted for 3 issues."--from loserdom #13
Helden
Launched: 198?
Issues: ?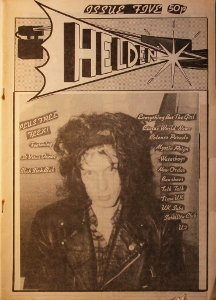 Northern fanzine.
Imprint
Launched: March 1979
Issues: ?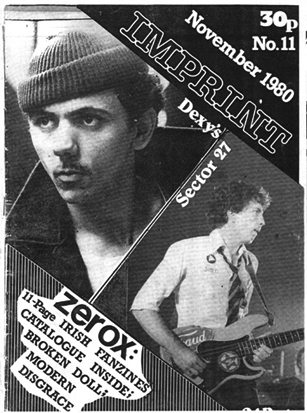 Edited by Barbara Fitzgerald (now with RTE). Issue 11 features Zerox Irish Fanzine Directory charting names and dates of the releases of Irish fanzines up to that time.
Insane Society
Launched: November 1978
Issues: ?





It's Your World
Launched: July 1977
Issues: ?





Liggin'
Launched: February 1978
Issues: ?





Mental Energy
Launched: July 1980
Issues: ?





Moonstruck
Launched: 198?
Issues: ?





Ms.Marvel
Launched: March 1980
Issues: ?





Neu Carnage
Launched: 1978
Issues: 10-12 issues approx


Neu Carnage was started in 1978 by Gerry Molyneaux while still at school. He later worked for a bank. Other contributors were Gerry Siggins and Paul McCarroll, both now journalists, and Paul 'Speedy' O'Meara (RIP). The first issue had Skrewdriver and Ruefrex on the cover. 50 copies were printed approx. This was up to 200 by the last issue. Some issues were also pretty thick, circa 100 pages. Copies rarely turn up now and none are available for the original source. They interviewed many well known (and lesser known) US and UK punk bands, including New York's The Stimulators (who played the Project Arts in 1979-80), X (LA), Dicks, GBH, the mighty Discharge, Effigies, etc, as well as bands from all over the world (Europe, Scandavia, Australia, South America). The picture above (from ebay) is of Issue 9 (from 1980?) which included Big Self, the Banshees, Crisis, UK Decay, XS Discharge, Neus, and a feature on Oi bands. Neu Carnage also released some tapes including the Vermin Package compilation (1982). Gerry provided scene reports for MRR in 1984.
According to MRR#25 (1984) the zine was about to release a cassette EP called "Barbed Wire Noise" featuring Capital Scum [Belgium], Vortex [Belgium], Warriors of the Last Days [Columbia],Toxic Waste and Catholic Guilt. This plan changed to a vinyl EP with artwork supplied by Pushead, 250 copies to be pressed. It was never issued due to lack of funds. Carlton was the sole remaining pressing plant in Ireland at that time and they wouldn't accept orders for less than 500, except at vast expense. A 2nd EP "Violent Anthems" was also planned, featuring Bald Aggression ("Somethings Wrong"), Nazgul [NZ] ("Good Demons Drink Smirnoff"), So Much Hate [Norway] ("Think Before We Act") and WCHC [Spain] ("Guerra Mundial"). War Risk 3 [Belgium] are mentioned by MRR but didn't make the final track listing.
Neu Carnage was instrumental in getting Catholic Guilt on the Tour de Farce compilations on Empty Records circa 1987-88, so it was a long-lived fanzine. More details appreciated.




A New Clear Threat
Launched: 1981
Issues: 5-6


Anarcho-punk fanzine put out by P.A. of Paranoid Visions. About 5-6 issues were issued between 1981-85 in small runs, under 50 copies. Deko got involved from about the third issue as he had access to a photocopier. They split the workload, about 15-20 pages each, filled with lyrics and images.




9 To 5 (Nine To Five)
Launched: mid 1979
Issues: At least 5 issues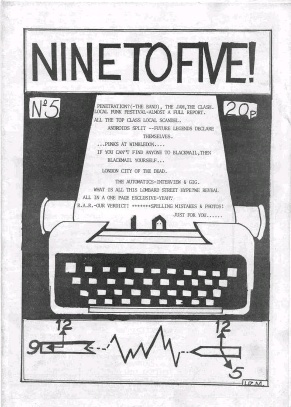 Orange Vomit
Launched: mid 1978
Issues: ?





Poptones
Launched: 198?
Issues: ?





Positive Reaction
Launched: January 1980
Issues: 6 issues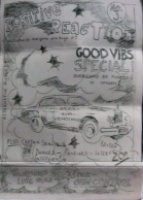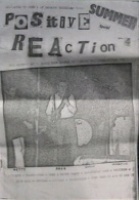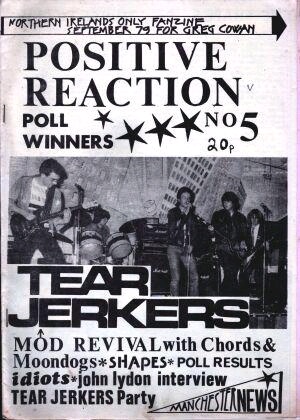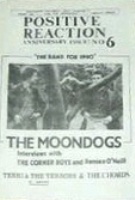 Private World
Launched: 198?
Issues: 6 issues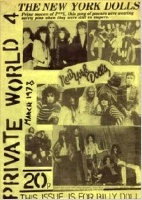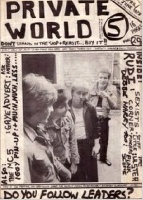 Raw Power
Launched: March 1977
Issues: 2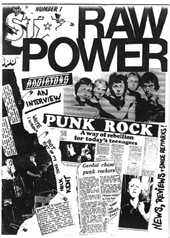 Raw Power was produced by Steve Rapid of the Radiators from Space. It lasted two issues, the second issue (in June 1977) containing the first ever interview with Derry band the Undertones.
Shock Treatment
Launched: October 1977
Issues: ?





Skanar
Launched: June 1980
Issues: ?





Something Else
Launched: January 1980
Issues: ?





Sweet Sensations
Launched: 198?
Issues: ?





Too Late
Launched: December 1978
Issues: ?





To Pence Worth
Launched: April 1980
Issues: ?





Up Against It
Launched: 198?
Issues: ?





Up Yours!
Launched: February 1978
Issues: ?





Vox
Launched: March 1980
Issues: 15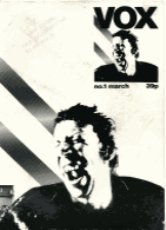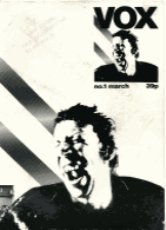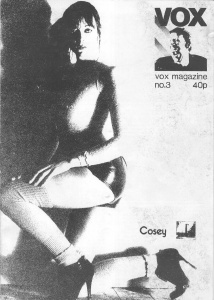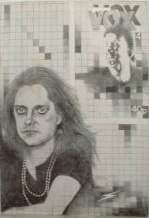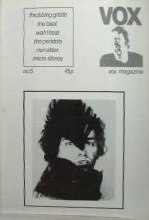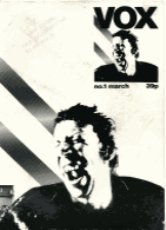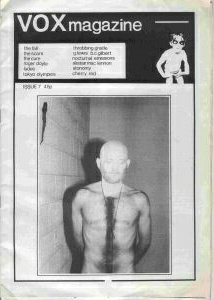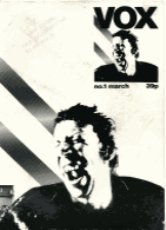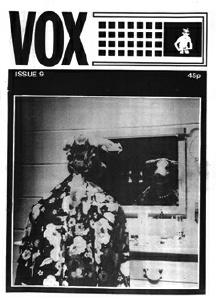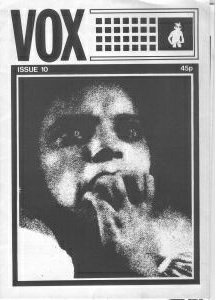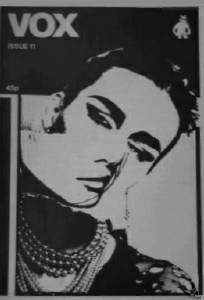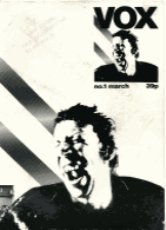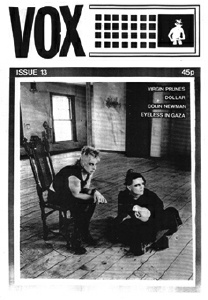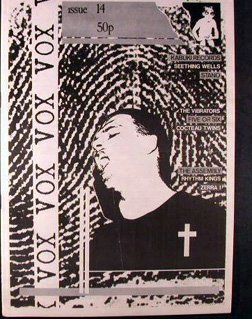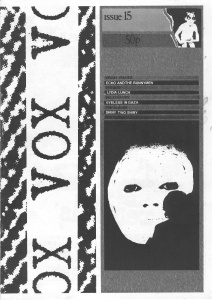 Dave Clifford's excellent fanzine ran for 15 issues [I'm looking for issues 1, 12 and 13.]
Whose Life Is It Anyway
Launched: 198?
Issues: ?


Niall McGuirk's fanzine.




Wimp Wonder Comic
Launched: May 1978
Issues: ?





---
---
It Makes You Want To Spit
UTV documentary filmed January 1978 mostly at The Pound, Belfast
featuring Pretty Boy Floyd & The Gems, SLF and Victim
Unseen by yours truly. Where's the torrent?


Shellshock Rock
by John T. Davis
Hollywood Films, 1979
46mins.






Acclaimed punk documentary made in Northern Ireland in 1978-79 by John T.Davis. The film was set to debut at the Cork Film Festival in 1979 but was banned at the last minute. This ludicrous decision is indicative of the public hysteria surrounding anything associated with punk rock at that time. Davis travelled to Cork anyway and the film had its debut at the campus of UCC. A crowd of over 1000 turned up to see the film and sets by Rudi and the Outcasts. The film was then re-instated in the festival programme. I finally saw it around 1984 thanks to the film society in Trinity.
See here for Brian Young's recollection of the film.
The film has yet to be released officially on DVD. A bootleg edition (above) exists but it excludes all appearances by the Undertones. This was probably taken from a Channel 4 UK television broadcast which removed this material at the request of the band (replaced by ???) Bootleg, downloadable versions of the original film are findable online.
Davis shot two other NI punk related films:
"Protex Hurrah" and "Self Conscious Over You" (Outcasts).
See the relevant band pages for more details.



Big Time - The Story of Terri Hooley
by Roy Wallace
2002
27 mins.


A portrait of Good Vibrations supremo Terri Hooley. I haven't seen it but it's reputedly a little one-sided. Not commerically available.



From A Whisper To A Scream
RTE TV Series
(this link doesn't seem to work anymore: http://www.rte.ie/tv/fromawhispertoascream/ )


Produced and directed by David Heffernan, who was responsible for pretty much all decent rock music coverage on RTE in the 1970s & 1980s via Aspects of Rock and Sight & Sound (?) among others. Unfortunately this 3-part documentary series wastes far too much screen time genuflecting at the usual suspects, interrupts proceedings far too often for the exceedingly long-winded Niall Stokes to state the bleeding obvious, and chooses it's subjects based on a criteria of pop success (especially, in typical small country syndrome fashion, success abroad) rather than musical innovation. Even so it includes some fascinating fragments from the 77-83 era. Will RTE ever release a multi-disc box set of everything the producers left out? Of course not!

From a Whisper to a Scream was released on DVD in 2001 and more recently re-released as "Out of Ireland - From A Whisper To A Scream."



RTE Archives

The RTE Archives should contain many performances by Irish bands on TV shows such as:
• Our Times (1977-79)
• Youngline (1976-83)
• SBB ina Shui (1976-83)
• Aspects of Rock (1979)
• New Moves (1982)
• Anything Goes (1980-86)
• Non Stop Pop (1981-82)
• TV Ga Ga (1985-86)
• Visual Eyes (1987)
• Megamix (1988)
• Borderline (1986-87)
• No Disco (late 80s)
• TV Ga Ga


Shows like SBB Ina Shui (1976-83) and The Late Late Show regularly had live or mimed performances. Everyone remembers the Prunes on the Late Late!

Radharc (I think) did one episode about the effects of music on teenagers; the opening sequence was footage of Rory Gallagher playing "Messing With The Kid" at the National Stadium. It also included a section on punk in the North, including clips of the Outcasts... and one punk talking about his pain threshold. Is this all my imagination or did anyone else see this?

If you're waiting for RTE to make a DVD of this material YOU CAN FORGET IT. RTE's idea of raiding the archive is something like Reverb -- snippets of footage with some irritating American (Des Bishop) providing 'humorous' voiceovers, plus lots of current day comedians and other talking heads talking over the footage in ironic tones, telling us how great (or awful) the bands were, in a misguided attempt to make it relevant to todays kids or somesuch, rather than letting us watch the footage for ourselves.



---
A-Z Artist Index
Compilations
Record Labels
Media
Help Us!
Contact Us
Resources
Timeline
---