---


A-Z Artist Index
Compilations
Record Labels
Media
Help Us!
Contact Us
Resources
Timeline
---
From: Dublin

Active: 1981-82

Style: Punk

Lineup:
Jody Campbell - vocals
Angus - guitar
Kevin Leonard - bass
Donagh 'Macker' MacDonagh - drums


Keltic Klan in the pages of Vox, December 1981
Bio:

Early 80s hardcore punk band from Dublin, formed in late 1981. They gigged regularly with Napalm Sunday. Also played with The Pretty (gig at the Afro Centre June 1982 announced in Vox #11). In an interview in Vox #12 they talked about moving to the USA as they saw no long term future for a punk band in Dublin. By Sept/Oct, Jody Campbell was reported as having left the band and moved to the UK in the hope of starting another.

Bassist Kevin Leonard drowned at Slane Castle. Keltic Klan and Napalm Sunday did a benefit gig at Aungier Street.

Jody Campbell posed for a punk fashion spread in Hot Press.

Some ex members in The Last Rockers or Last Rokkers, active circa 1983. By 1984 Jody Campbell was fronting Children of Lir, supported My Bloody Valentine and Stano on 13 April 1984.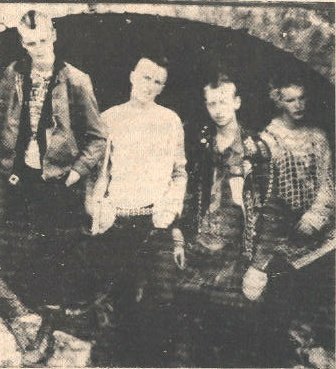 l-to-r: Kevin Leonard, Jody Campbell, Angus, Donagh Mac Donagh
Help!
We need your help to correct and/or complete this entry. If you can provide more information about this band, have scans, photos or any other memorabilia we can use, or spare copies of any releases, then please get in touch.
---

See Also:


---

A-Z Artist Index
Compilations
Record Labels
Media
Help Us!
Contact Us
Resources
Timeline
---