---


A-Z Artist Index
Compilations
Record Labels
Media
Help Us!
Contact Us
Resources
Timeline
---
From: Derry/London

Active: 1983-89?

Style: Indie

Lineup:
Paul P.J. McCartney - vocals & guitar
John McCloskey - guitar
Joe Brown - bass
Thomas Doherty - drums

Bio:

Bam Bam & The Calling was formed in 1983 by Paul McCartney, ex of late 70s punk band Graffiti, with Tom Doherty. They are best known now for That Petrol Emotion taking their name from the title of one of their songs. The link Raymond Gorman who was in an early Bam Bam lineup before joinging That Petrol Emotion. Bam Bam split for a while after this happened, but reconviened again in 1985.

The band left Northern Ireland for London and got good press and rave live reviews but they never fulfilled their potential. The first single was produced by Sean O'Neill (Undertones/That Petrol Emotion). The second single includes a cover of Television's "Glory" (12-inch version). Both singles are recommended.

The band's only TV appearance was on "Channel One" on BBC NI in 1986 performing two songs "New Surroundings" and "Talking Aloud" live at The Venue in Derry. See external links below. They also recorded a fabulous versuon of "Talking Aloud" for Dave Fanning's show. There is at least one live tape in circulation, recorded at the Gweedore Bar in 1986.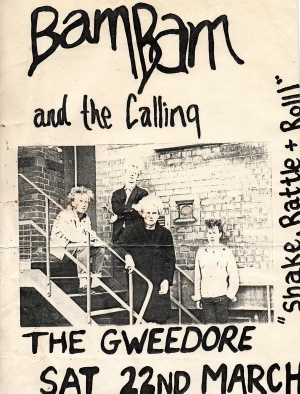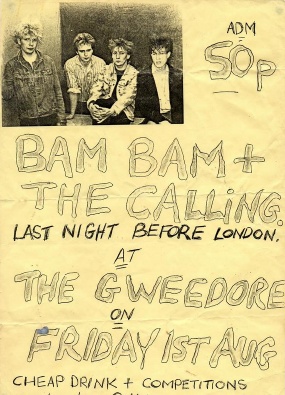 Posters for two Gweedore gigs in 1986.





The band split sometime before the end of the decade. Paul McCartney briefly became a member of Rare, the post That Petrol Emotion band fronted by Sean O'Neill. He is credited on their 1990 single "Set Me On Fire"/"Skin". He later formed The Deadly Engines, signed to Setanta Records.

Bam Bam reformed in September 2000 for a one-off charity gig in aid of Derry City FC. They opened for The Moondogs and headliner The Undertones, two Derry punk bands who are active again. They've played occasionally since then.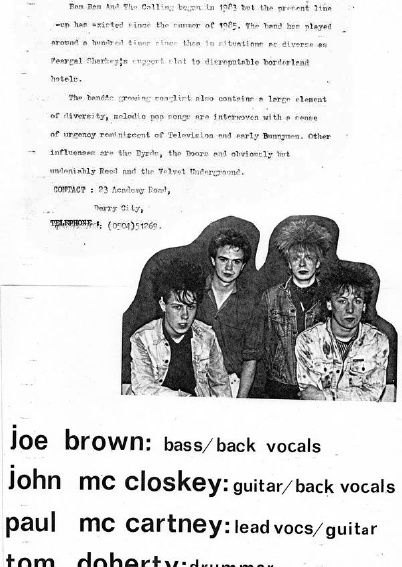 Discography

• Demo
K7 - demo - Unknown date.
All songs by McCartney except #3 by McCloskey

tracks:
1. Scraping Off The Shine
2. Secret Meeting
3. Presley*
4. Neck Tattoo
5. Talking Aloud
6. Day 15


• Radio Foyle February 1986

tracks:
Bad Getting Bigger
Give The Wings Back To Bird
I Call To You
Kitchen Dogs


• Scraping Off The Shine / Colum McKeever Sings
7" - Great Records - GREAT 01 - UK - 1987 - PS
• Scraping Off The Shine // Presley / Colum McKeever Sings
12" - Great Records - GREAT 01T - UK - 1987 - PS


• Neck Tattoo / Cautious Navigations
7" - Great Records - GREAT 02 - UK - May 1988 - PS
• Neck Tattoo // Glory / Cautious Navigations
12" - Great Records - GREAT 02T - UK - 1988 - PS



Help!


We need your help to correct and/or complete this entry. If you can provide more information about this band, have scans, photos or any other memorabilia we can use, or spare copies of any releases, then please get in touch.



---

See Also: Graffiti

External Links:

New Surroundings (live video), Talking Aloud (live video), www.myspace.com/bambamandthecalling
---

A-Z Artist Index
Compilations
Record Labels
Media
Help Us!
Contact Us
Resources
Timeline
---