Welcome
The COVID-19 Virus Dividend You've All Been Waiting For : an irishrock.org update!
11 May 2020

Since we last spoke, I've undergone genital re-alignment surgery and my kidney has tried to kill me. Otherwise, all is well(-ish). I'm 'working from home', if you know what I mean, and not coincidentally finally getting through acres of backlogs of stuff.

Yes I am still active as of 22 Jan 2018 29 May 2019.

Has it really been that long? ... Midlife crisis ahoy!

Welcome to the irishrock.org site. We are attempting to document as many Irish rock bands as possible, concentrating on the years 1966-1991, but often straying outside that period. For more background information, please read the Introduction and FAQ.

Thanks to Pete and thumped.com for hosting us these many years. There's plenty of Irish music coverage and more to be found on the thumped site.

Yes, 2017 has been a very quiet year here at irishrock.org. As was 2016. Simply put, an increasing workload at my job, a demanding family life dominated by bratty pre-teens (the sooner they all get jobs, the better!) and my rapidly disintegrating mental and physical faculties (I turned 50 not long ago) mean that what free time I had is under increasing pressure, and I am unable to give this site the attention it deserves at present. This pains me, believe me.

But please keep sending us your contributions. These are gratefully received. Please don't email me to ask if I want something - the answer is yes, so just send it already! It takes me ages to acknowledge emails or other contributions but this is due to poor time management and my own incompetence, not disinterest or ingratitude. Please keep sending stuff in.
Read here to see how you can help us. Speaking of which . . .
Did You Work For An Irish Record Label Or Pressing Plant?
We're very keen to hear from anyone who worked for an Irish record label (M&D not A&R), distributor or pressing plant, especially during the '60s or '70s. Basically anyone with first hand knowledge of the nuts and bolts of pressing records in Ireland before 1990. We'd particularly like to talk to anyone who worked in either of the two pressing plants (Carlton and EMI) or anyone who had dealings with either plant on a regular basis. Ideally the production manager with a full set of log books would drop me a line... we live in hope! See the contact details for how to get in touch.



Announcements
The Neverending Search for Vinyl
We are always in need of vinyl by Irish artists. If you're a collector and you wish to trade, please take a look at our want and trade lists. If you've got records or demo tapes by Irish artists lying in a box in the attic or gathering dust somewhere then why not donate them to our archive?
HELP! WE NEED THIS RECORD
⇓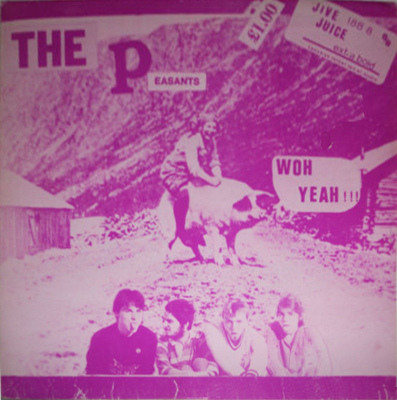 ⇑
HELP US FIND A COPY PLEASE !!!
Also looking for: Davey & Morris LP, MacManus Brothers LP, Radiators Ghostown LP with poster sleeve, Undertones Japanese first pressings, Blue Angels CD, Backwards Into Paradise 45, Assassin EP on Solid, Blue Russia - Russian Around 45, MacMurrough 45s on Gael Linn, Skara Brae 45s on Gael Linn, Male Caucasians 45, Scoff at the Sportsmans 45, McAnnix 45, Peasants EP, Peggy's Leg 45, Skid Row - Misdemeanour Dreams Felicity 45, Strike - Radio Songs 45, both Subtonics 45s, Cherry Brogues 45, Taste 45s on Major Minor, Tir Na Nog euro PS 45s, and many more!
I Have Zero Power or Influence
If you are in a band or are a songwriter looking for recognition or feedback, I cannot help you further your career, sorry. But I wish you luck.
Hey Hot Press! How about a free subscription?
I'm far too much of a luddite to pay for electronic media. Help us re-write Irish rock history (and fix many of the mistakes you made) by giving us free access to the archives. How about systematically digitizing all of Bill Graham's pieces?
Boomtown Rats Neon Heart cassette
Could the person who sent the scan of the Boomtown Rats Neon Heart cassette please get in touch again?

Latest News / Announcements
6 Aug 2020: Calling All We 4 Fans

We're looking for any memorabilia relating to We 4 for an upcoming project. If you have photos, magazine articles, posters, etc, basically anything you can photograph or scan, please get in touch. Naturally, any recordings would also be of interest. And who remembers that Suzanne Murphy demo single, anyone have that? Don't be shy.



We 4 A-side on Gael Linn comp CD.




2 Aug 2020: Whipping Boy Live In The Venue 1995

This fantastic video of Whipping Boy performing live at the Venue in London in 1995 has just surfaced on youtube:



25 years ago!




1 Aug 2020: Is the Shellshock Rock box set released?

The Shellshock Rock box set (on Cherry Red) was supposed to be released yesterday but I haven't seen or heard a peep about it. Anyone receive it yet?



Available from cherryred.co.uk



May 2020: Protex repress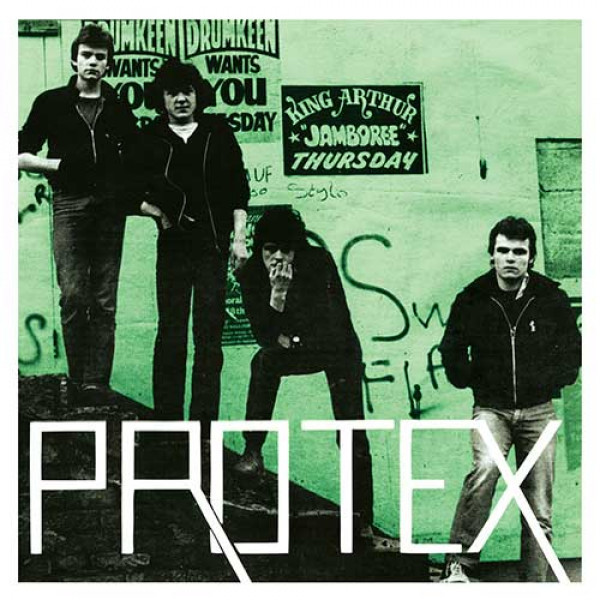 There was a year long gap between these last couple of updates and the previous one in May 2019, so I was trying to think back over the past year or so to see if there was anything else I needed to bring to your attention. And there is: when Sing-Sing Records gave Protex's unreleased 1980 debut LP 'Strange Obsessions' it's first ever issue in 2010, no-one dreamed (i.e. I never dreamed) it'd sell out in a matter of weeks. Or become ridiculously expensive on the secondhand market. Luckily, Bachelor Records of Austria issued it again in November last year, with a slighlty different cover and, they claimed, slightly superior sound. Limited to 500 copies, it sold out almost immediately but it has just been repressed, so go get it now if you haven't already done so. For the seriously user friendly price of € 16.50 too. The same label also issued their 2016 'Tightrope' LP.




May 2020: Jonathan Kelly RIP

Jonathan Kelly died May 2nd after a long illness. More details on his website here.




May 2020: More Northern Reissues

Cherry Red have announced a 4-disc box set Shellshock Rock: Alternative Blasts From Northern Ireland 1977-1984, containing 3 CDs (74 tracks) and a DVD of the 'Shellshock Rock' documentary, set for release on July 31 and pre-ordering now. Get in early and get the way cooler blue vinyl edition. Hang on, that can't be right.. It can be pre-ordered here. An alphabetic tracklisting arranged by artist (grr!) is here. Is it worth it? While the track listing contains no surprises it's pretty comprehensive but best of all is the inclusion of Shellshock Rock. Theres not much information about remastering, etc -- it just says NTSC and region free -- but it's hard to say no at only £24.99 plus shipping.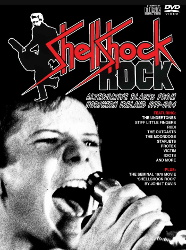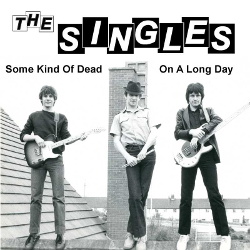 And while I'm at it, Spit Records have unearthed two unreleased tracks by The Singles which sound fantastic. You can get them on the website. The blue vinyl edition is sold out but the black vinyl can still be had for £10.99 inside Europe (though I was charged £12.64 through Paypal including a fee which I had to pay upfront).




April 2020: Allchival Releases

Hats off to AllChival Records for the forthcoming Nun Attax/Five Go Down To The Sea/etc compilation. You probably need it. It's available from the handy social distancing friendly order form on their bandcamp page. Get it now.

Is there any truth to the rumour that the nun pictured on Quare Groove Vol.1 is looking for a royalty cheque?

Have you said the word 'AllChival' out loud yet? It's an awkward, angular mouthful, not to be trifled with. Allchival is a contraction of 'All City', the reknowned Dublin record shop and parent record label, and 'Archival', as in Constituting Archives. The good thing about it is you know you're not going to have to wade through reams of irrelevant google search results when you type it in.




May 2019: 5xCD BOOTLEG BOX SET!

Particles Records, a 'twilight' label specialising in reissues of 60s material, has just released a 5xCD box set of Irish beat/pop/rock/mod/etc recordings spanning 1963-70. In keeping with the long tradition of atrocious titles and dreadful cover artwork for releases of this kind, this one is titled "People! Let's Freak Out! The Irish Rock Rebellion 1963-1970" (PART5CDBOX8). It features Eire Apparent on the front and looks like this: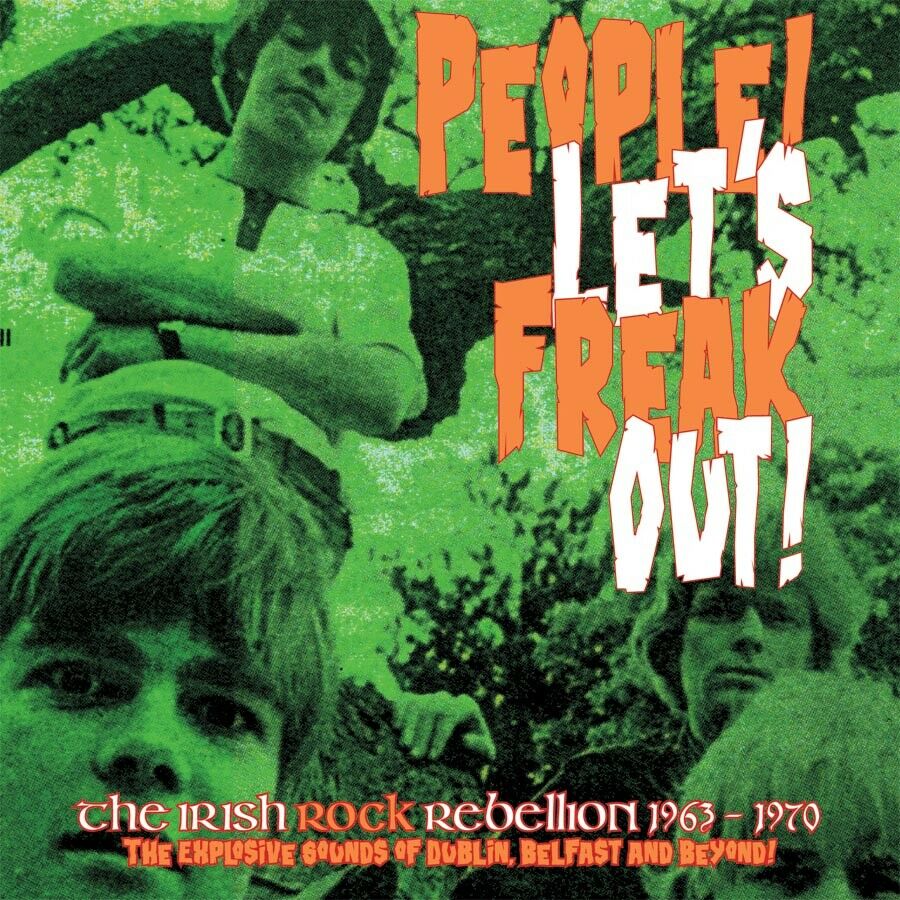 Did you spot the green, white and orange motif? And the reference to 'rebellion'? Resorting to such tiresome cliches is a bit cheap. The music deserves better. One wonders what someone like Phil Smee would have done with this material?

Subtitled "The Explosive Sounds of Dublin, Belfast and Beyond!", this release has come as a complete surprise to anyone I've spoken to about it, so whoever did the leg-work compiling these tracks has done so without the co-operation of the usual suspects. There are no credits in the accompanying booklet so his/her identity remains a mystery.

The Verdict: while these tracks are certainly not taken from master tapes, and the package is not exactly error free (Teddie Palmer and Tiger Taylor are not the same person) and the tracklist order is irritating, and there are some glaring omissions and some puzzling inclusions, you are simply never going to get the opportunity to buy all these tracks together in one place like this -- and for a relatively low price too. The amount of time and energy (not to mention expense) it would take to source this material legitimately means it'll probably never happen. So this is your one and only chance. You need this box set.




Pendilum tapes surface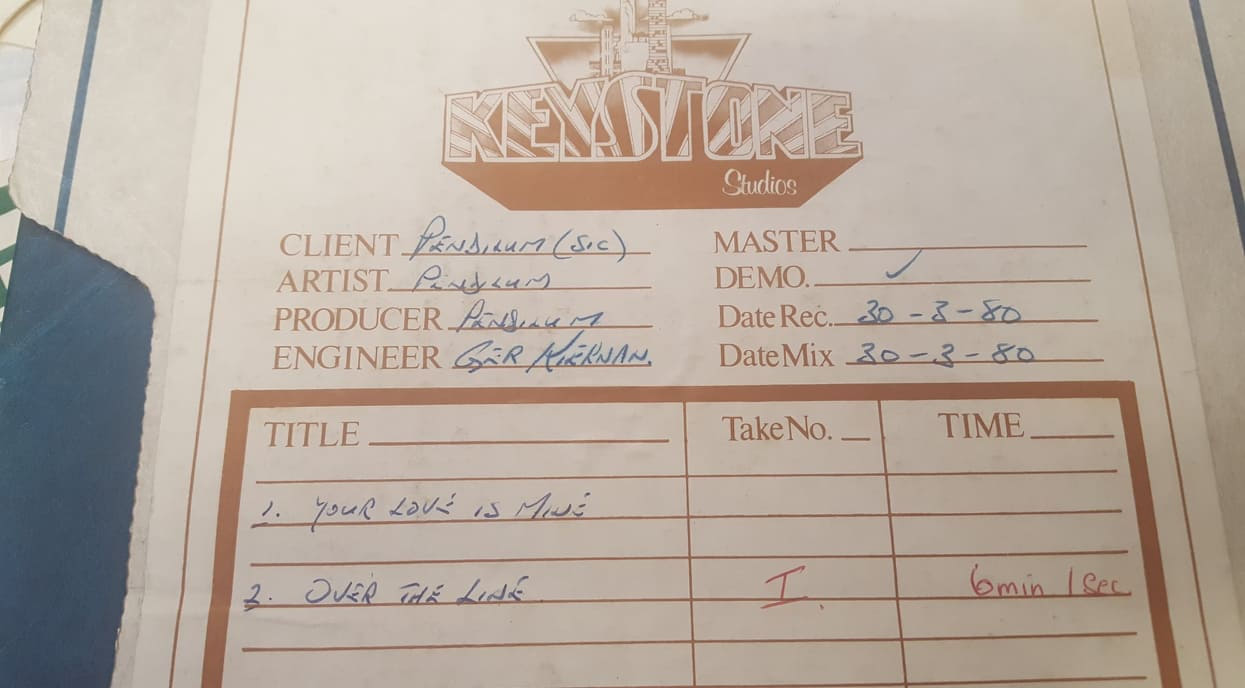 Pendilum recorded a demo tape at Keystone Studios on 30 March 1980 and, as this photo shows, these tapes have now turned up! But who were Pendilum??? Please get in touch if you have any information.









Last Bandits 2xLP Record Store Day 2018 reissue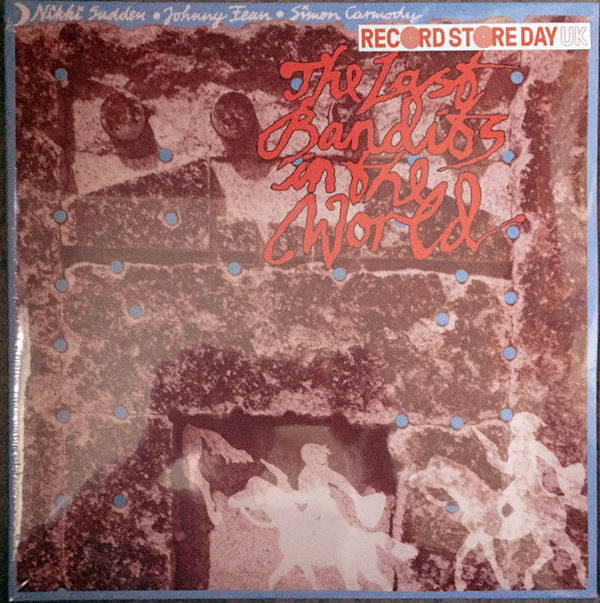 It's blink and you missed it time again. The Last Bandits discography has been remastered and reissued as a double-LP set with one previously unreleased track by Seventeen Records (UK) as part of Record Store Day 2018. It's credited to Nikki Sudden, Johnny Fean & Simon Carmody, reflecting the labels primary interest, i.e. issuing Nikki Sudden's rarities. It's debateable whether it should be credited like this as the Angels Are Calling EP and the xmas single were both credited as Last Bandits releases. The accompanying press release tends to exaggerate the 'lost' nature of the album but its good to see it available again . . . though it's possibly sold out at source now. Still plenty of copies available online including discogs last time I looked.




Cypress Mine LP re-issued on 25/10/2017

With little or no fanfare, the excellent and frankly impossible to find Cypress Mine LP has been reissued by the Spanish Pretty Olivia label. The double-LP set includes the original Exit Trashtown album plus unreleased and other recordings on the second disc. The price is € 20 plus shipping

Get it here.


Oct 20: The Sussed EP on Spit Records

Spit! Records have reissued The Sussed's 1981 single as a 4 track EP with two bonus tracks. 300 copies were pressed and apparently half the pressing has sold since it's release on Oct 6. So get yer skates on. It's £ 8.99 postpaid in the UK, £ 10.99 in Europe, and £ 11.99 ROW.

Get it here.


Hey U2! Where are my complimentary tickets for Croker?

Or Amsterdam is cool too. Two tickets please. Update: No tickets materialised.


January 2017: Cromwell reissue is released on LP and CD

On Guerssen's Got Kinda Lost imprint. It sounds great so go out and get it.



November 2016: Images Not Displaying

Thanks to all who took the time to contact me to let me know that images are not displaying on the site. I think it's a server problem. I'm trying to get it sorted ASAP.



17 December 2015: Mick Lynch RIP

Very sad news of the untimely death of Stump frontman Mick Lynch reported by the band on facebook.
Notice on rip.ie



3 September 2015: Al O'Donnell RIP

Folk singer Alistair O'Donnell died today. Very sad news. Check out his two LPs, released on Trailer (1972) and Transatlantic Records (1978). There are some great performances on them, including some definitive renditions of well known songs. It's a pity there weren't more.


20 January 2015: RIP Edgar Froese





14 December 2014: Dorian Mood download album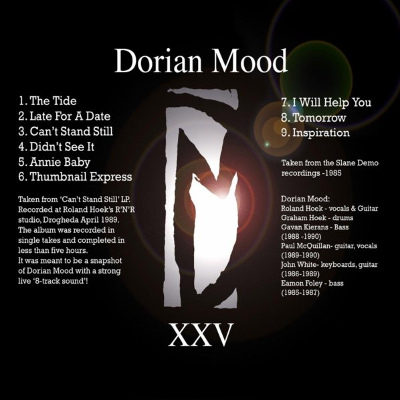 XXV, presumably referring to the 25th anniversary of the Can't Stand Still mini-LP, contains most of that album (one track is omitted) plus three tracks from the 1985 demo. Let's hope this leads to a full discography CD. Meanwhile the downloads are available on tax-dodging Amazon and elsewhere.







31 October 2014: The Slowest Clock unreleased LP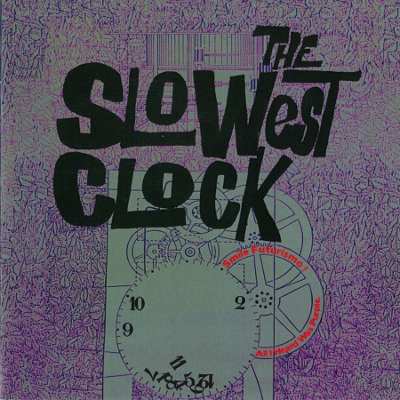 The unreleased debut LP by The Slowest Clock "Smile Futurismo! All I Heard Was Purple" has been released on Eye Unseen Records. Recorded in 1989, these recordings were shelved for financial reasons and then went missing. None of these recordings were not included on the Life Still CD from 1994. If you know their two EPs, then you'll want this CD. No vinyl version, alas! Check out the track on youtube. Highly recommended.



9 June 2014: Eamon Gibney RIP

Notice on rip.ie



17 January 2014: Austin 'Stac' Coll RIP

Austin Coll passed away yesterday (Jan 16) in Zwolle, The Netherlands.



click here for old news


Special thanks to thumped.com