---



A-Z Artist Index
Compilations
Record Labels
Media
Help Needed
Contact Us
Resources
Timeline
---
Spider Records
last updated 12 Feb 2019
last updated 5 Dec 2018
last updated 27 March 2014
last updated 28 November 2012
last updated 7 March 2012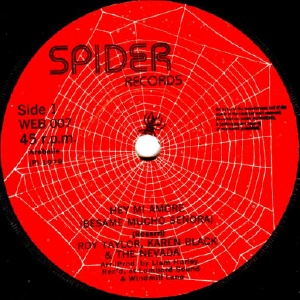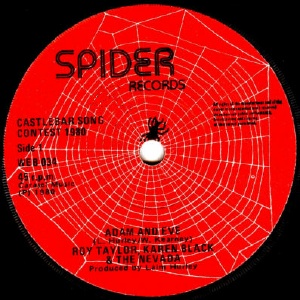 Owned by Tommy Hayden and operated by Louis Walsh, Spider was a pop/rock label which released some interesting singles during 1979-1981, among them essential releases by Katmandu and the Zen Alligators.

The label has an attractive design showing a black spider and white spider's web over a red background. There are also a number of green label variants (WEBN 025).

Spider went bust in 1981 with several singles imminent. The status of the last few singles in the listing varies: the Zen Alligators single (WEB045) was a chart hit and there are plenty of copies are in circulation, though the picture sleeve has become scarce. 500 copies of Stepaside's single (WEB044) were pressed but these were dumped at the back of Warner Brothers offices in Dublin as the label went bust. Some copies are in circulation so they were not (all) destroyed, but it is not an easy one to find.


Singles

WEB001	Des Lee, Julie and Starband - If You Wanna Make Love / Still In Love With You  [1979]
WEB002	Rob Strong & The Rockets - Nutbush City Limits / Ain't No Sunshine [unreleased]
WEB003	Red Hurley - You're So Good To Me / Stepping Aside Is Easy [6/1979]
WEB004	The Conquerors - Baby Come Back / Hey Girl [11/1978]
WEB005
WEB006	Sandie Jones - Boogie Woogie Dancin' Shoes / (instrumental version) [6/1979] Irish chart hit, reached #15
WEB007	Roy Taylor, Karen Black & The Nevada - Hey Mi Amore / Four Strong Winds [6/1979]
WEB008	Tony Kenny - Sunshine Lover / Betty Grable [1979]
WEB009	Gina, Dale Haze & The Champions - Saturday Night Disco / Why Did You Wait To Tell Me [1979] (PS?)
WEB010	Des Lee, Julie and Starband - Mamacita / Summer Lady [1979] (PS) ltd.ed yellow vinyl, charted 11/1979 
WEB011	Brush Shiels - Green Eyed Girl / The Ballad of the Aging Hippie [1979]
WEB012	Mary Lou & Harvest - Doodle Song / Just A Feeling [1979]
WEB013	The Conquerors - Galway Are Back / Same Old Story [8/1979]
WEB014	Roy Taylor & Nevada - Love A Little Bit Longer / ?? [1979]
WEB015	Gina, Dale Haze & The Champions - Who Do You Wanna Be / Don't Play Me A Symphony  [9/1979] (some with PS)
WEB016	Red Hurley - The Furey Man / Look Up To Love [11/1979]
WEB017	Sandie Jones - Shoes Off, Boots On / Shoes Off, Boots On (instrumental version) [12/1979] Irish chart hit, reached #17
WEB018	Chips - Automoblie / Dancin' Shoes 12" [6/1980] (PS) WEB018-12
WEB019	Roy Taylor, Karen Black & The Nevada - Isn't It Magic / Love A Little Bit Longer [1979]
WEB020
WEB021	Drops Of Brandy - Drops Of Brandy (Pete St.John) / Master McGrath (trad) [1980] green label
WEB022	Roy Taylor, Karen Black & The Nevada - Weile Weile Waille / No Time To Tango [1979]
WEB023	Des Lee, Julie and Starband - Don't Hurt Me (Anymore) / Don't Hurt Me (Anymore) instrumental
WEB024	The Conquerors - Your Gonna Lose That Girl / You Made It Right [1980?] (PS)
WEB025	Carl Philips - Far and Near / You Are Mine  [1980] green label; also recorded for Solo Records as Carl Phillips
WEB026	Tony Kenny - This Night Won't Last Forever / I Go To Rio [1980]
WEB027	Tony James - We Gotta Get Out Of This Place / I Miss You [1980]
WEB028	Roy Taylor, Karen Black & The Nevada - Walk In The Park / Bring Back You're Lovin' [1980]
WEB029	Gina, Dale Haze & The Champions - Let There Be Love / You'll Never Know [1980]
WEB030	Tony James, Sandie Jones & The Sandie Jones Band - Itsy Bitsy Teenie Weeny / Let Me Be Your Lover [1980]
WEB031	Des Lee, Julie and Starband - The Hucklebuck / Rest Your Love On Me [1980]
WEB032	Red Hurley - I Believe In You / Magnolia [1980]
WEB033	The Conquerors - Softly Softly / Galway Are Back [1980] (PS)
WEB034	Roy Taylor, Karen Black & The Nevada - Adam & Eve / Johnny Johnny [1980] 1980 Castlebar Song Contest entrant
WEB035	Menage A Trois - Jet Set Superstar / Jet Set Superstar (version) [1980]
WEB036	Red Hurley - I Want To Live With You / Perfect Love (both (p) 1980) [2/1981]
WEB037	Katmandu - I Can Make The Future / Australia [1980] (PS)
WEB038
WEB039
WEB040	Roy Taylor, Karen Black & The Nevada - Joys Of Love / No Time To Tango [1980]
WEB041	Sandie Jones & The Jones Gang - I Don't Want To Marry Superman / Take The Money And Run [1981]
WEB042	Roy Taylor, Karen Black and The Nevada - My Pet Parrott / Baby If I Can't Have You [1981]
WEB043	The Conquerors - Come On Over To My Place / Sugar Sugar [1981] (PS)
WEB044	Stepaside - Yellow Chair / Play The Game [1981] (PS) some with poster
WEB045	Zen Alligators - Who Can That Someone Be? / Berlin Wall [1981] (PS)
WEB046	Chips - New Romance (It's A Mystery) // After The Goldrush / New Day [1981]


Albums

WELP 5001	V/A - Spider Collection LP [1979]
WELP 5002	Gina, Dale Haze & The Champions - Champions Again! LP [1980]

   

   


thanks to Eddie Kelly for his help

---


A-Z Artist Index
Compilations
Record Labels
Media
Help Needed
Contact Us
Resources
Timeline
---