---


A-Z Artist Index
Compilations
Record Labels
Media
Help Us!
Contact Us
Resources
Timeline
---
Ros Records
last updated 8 Feb 2017
last updated 16 August 2016
last updated 8 May 2013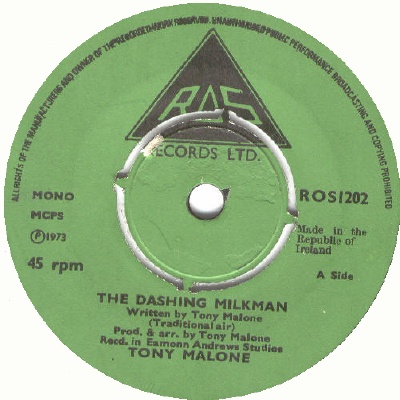 Short-lived label with a handful of releases in 1973-74. The first two singles are mono issues. Spud later recorded for Philips and Release Records. Tony Malone recorded singles for Polydor and Ocean Records.
Label Discography:
ROS 1201
Spud - Blubber's Mother / Kitty Lie Over [1973] (no PS) mono
ROS 1202
Tony Malone - The Dashing Milkman / Spancill Hill [1973] (no PS) mono
ROS 1203
ROS 1204
Kevin Farrell - Tribute To Michael O'Hehir / Six Foot Seven Woman [1974] (no PS)
ROS 1205
ROS 1206
The Bards - The Gypsy Maiden / Only Our Rivers Run Free [1974]
ROS 1207
ROS 1208
Eithne Dunne - Dear Madame / Will You Still Love Me Tomorrow [1974]
Recorded at EAS, arranged/produced by Ray Gunn.
ROS 1209
Kinsella Country - King of the World / Summertime [1974]
Thanks to John Lynch
---

A-Z Artist Index
Compilations
Record Labels
Media
Help Us!
Contact Us
Resources
Timeline
---