---


A-Z Artist Index
Compilations
Record Labels
Media
Help Us!
Contact Us
Resources
Timeline
---
GI Records
last updated 14 February 2012
Label based in Drogheda. Founded in 1978 by Arthur Walters for Spud and Kenny Ryder Superband releases. The former never materialised. Also signed The Mahers and The Dreams.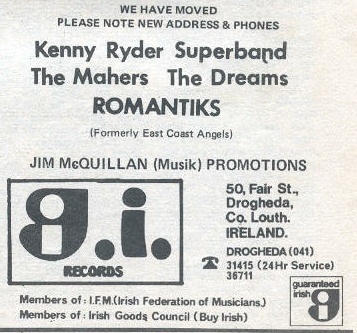 above: trade advert from January 1979




Singles

G.I. 101	Spud - Molly Malone (live) / Nine Points Of Roguery [1978]
G.I. 102	Kenny Ryder Superband - ? / Slowdown (side 2) [1978]
G.I. 103	Romantiks - Said If You Needed Me / Little Queenie [1978]
G.I. 104	The Mahers - Get This Feelin' (It Must Be Love) / Then I Kissed Her [1980] 'Opportunity Knocks' winners
G.I. 105
G.I. 106	Eddie Maher & the Maher Band - White Christmas/Time To Boogie (PS) [1980]
G.I. 107	Pat Power And Northern Lights - Trucking Song / Bright Lights Of Town [1981] reputedly country rock



---

A-Z Artist Index
Compilations
Record Labels
Media
Help Us!
Contact Us
Resources
Timeline
---