---


A-Z Artist Index
Compilations
Record Labels
Media
Help Us!
Contact Us
Resources
Timeline
---
From: Cork

Active: ca 1982-84

Style: Punk

Lineup:
Mick Bridgeman -
Paul O'Brien - guitars
Johnny Flynn - drums
Ed Connolly - ??
Gerard Cummins - ??
a.o.


Unknown Wrecks circa 1984. Gerard Cummins at front (in kilt), Ed Connolly second from right, but who are the others?

Bio:

1977 style punk rock band from Cork active ca 1982-84. They played around the city many times in the Bodega and the Pheonix Bar alongside Five Go Down Sea and other bands of that era. Unknown Wrecks supported U2 in the City Hall in Cork in 1982 approx (the U2 gig archive should have more info about this..) and are mentioned in the scene report in MRR #12 published in March 1984, and so were presumably still active at that point.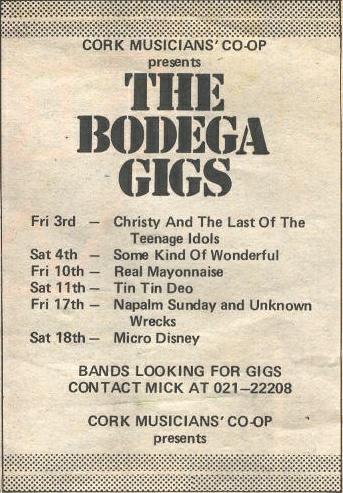 Bogeda December 1982




Unknown Wrecks recorded a demo tape titled "Protest Today" which contained four tracks: "Tease", "Younger Generation", "Haven't You Heard", "Arms Race".

Paul O'Brien and John O'Flynn were later in Kryteria



Discography

• Protest Today
K7 - self-released - IRL - 198?
Self-released demo tape

tracks:
Tease
Younger Generation
Haven't You Heard
Arms Race
Help!
We need your help to correct and/or complete this entry. If you can provide more information about this band, have scans, photos or any other memorabilia we can use, or spare copies of any releases, then please get in touch.
Thanks to Jill Cummins
---

See Also:


---

A-Z Artist Index
Compilations
Record Labels
Media
Help Us!
Contact Us
Resources
Timeline
---