---


A-Z Artist Index
Compilations
Record Labels
Media
Help Us!
Contact Us
Resources
Timeline
---
From: Cork

Active: 1971-

Style:

Lineup (1971):
Bill O'Brien - guitar, vocals
Paddy Madden - 12-string guitar, mandolin & vocals
Johnny Rice - bass guitar
Len de la Cour - drums
2nd Lineup:
Bill O'Brien - guitar, vocals
Mick Daly - guitar, vocals
Fin Costello - bass guitar, vocals
Len de la Cour - drums
Another Lineup:
Bill O'Brien - guitar, vocals
Declan Pender - lead guitar
Pat Crowley - keyboards/vocals
Johnny Rice - bass guitar
Arty Lorrigan - drums

Cork's Sleepy Hollow circa 1971-72, left-to-right: Declan McGrath,
Declan Pender, Pat Crowley, Bill O'Brien and Arty Lorrigan
Bio:

Seventies blues rock band from Cork who were very popular in the Cork area. They were originally been known as Chapter Five according to the following advert for Saxo's Revolution in Galway in 1972: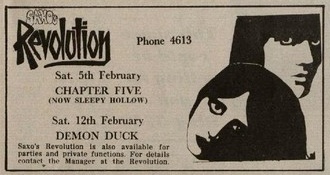 Sleepy Hollow at Revolution, Galway, 5 February 1972

The original lineup was Bill O'Brien (guitar), Paddy Madden (guitar), and Len De La Cour (drums) -- all ex Gaslight -- and Johnny Rice (bass). This original lineup began a tradition of an annual gig at the Savoy Cinema for Cork school kids, which gave local kids who couldn't get into clubs the opportunity to experience live rock music and undoubtedly contributed to a healthy music scene in Cork.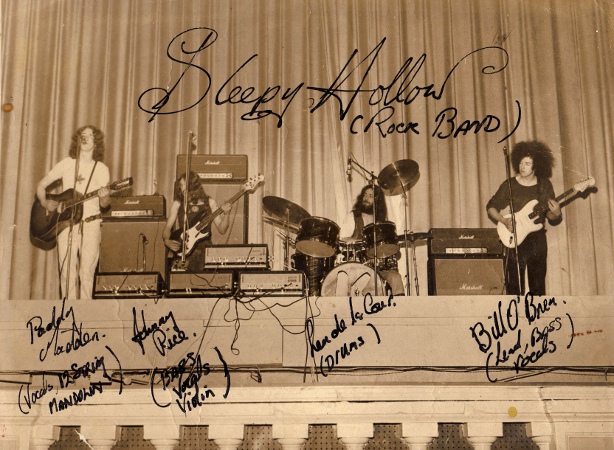 The original lineup at The Savoy Cinema Cork,
L-R Paddy Madden, Johnny Rice, Len De La Cour, Bill O'Brien

Johnny Rice left the band in late 1971 or 1972 and went to London where he played with a band called Bent Frame. Bill O'Brien then switched back to bass and Declan McGrath, a blues harmonica player, joined the band. This is the lineup pictured at the top of the page which lasted about a year, after which Rice was persuaded to return circa September 1973. Paddy Madden left and later revived Gaslight.

The second main lineup of the band was Bill O'Brien and Len De La Cour with Mick Daly (guitar, vocals) and Fin Costello (bass guitar, vocals):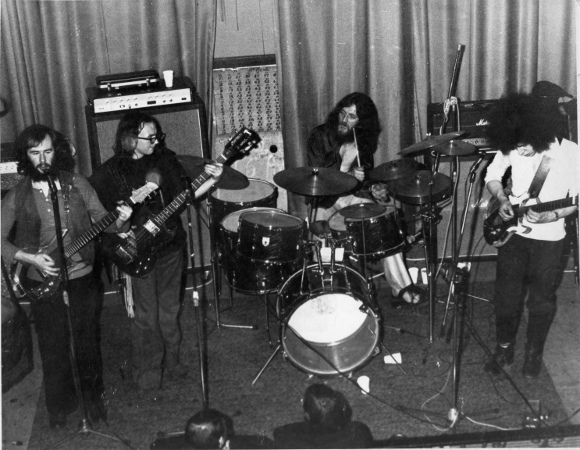 Second lineup: Mick Daly, Fin Costello, Len De La Cour, Bill O'Brien

The classic mid-70s lineup of Sleepy Hollow included Pat Crowley on keyboards and Declan Pender (previously in Boothouse with Joe O'Callaghan) on lead guitar. They became one of the hottest bands in Ireland in the mid 70s. They toured extensively with Rory Gallagher in Ireland and the UK, including the famous tour documented in "Irish Tour '74".

They self-released a single on their own label in 1975. Both tracks are band originals, the A-side by Johnny Rice the B-side by Bill O'Brien. Both are riff driven high energy blues/boogie rock tracks. It was recorded at Eamonn Andrews Studuos in Dublin in 1975 produced by the band themselves. This single is tough to locate in good condition. As far as I know it was their only recording although the band was still active four years later in 1979.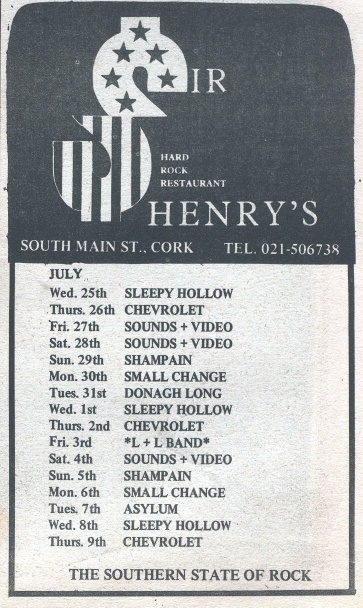 Sleepy Hollow still gigging at Sir Henry's Cork
July-August 1979 (note Small Change gigs).




Bill left Sleepy Hollow for London where he played in Sunwheel with Johnny Campbell, touring as support for Rory Gallagher once again. He also backed Chuck Berry on one of his European tours. In the late 70s he returned to Ireland and formed the Hot Guitars with Joe O'Callaghan and Johnny Rice. Pat Crowley and Arty Lorrigan were in another late 1970s/early 1980s blues band called Small Change.

Sleepy Hollow's roadie was Joe O' Herlihy, who later worked as sound engineer for U2. Manager Denis Desmond (early 1970s) later formed MCD.

Declan McGrath (who also played with The Medication Blues Band) passed away in the early 1990s.

At one point, early drummer Len Der La Cour set a new European drumming record at The Cavern Club by playing non-stop for 52+ hours without a break, i.e. without realising that the rules allowed regular short breaks!

Note this Sleepy Hollow are not related to the obscure US band who released an LP and a single ("Take Me Back" / "Roller Coaster Man") of Beatles/Badfinger-esque pop-rock on Family Productions (USA) and Philips (Europe) in 1972-73.



Discography:

• Come On Joe / Sad Affair
7" - Hollow - HO 101 - IRL 1975 - no PS
Recorded at Eamonn Andrews Studios, Dublin.






See also: Boothouse, Gaslight, Hot Guitars, Small Change




Help!: We need your help to complete this entry. If you can tell us more about this band then please do! We welcome any corrections, missing details, connections to other bands, where are they now, etc. We also need photos, scans, copies of releases or live or demo recordings, and any other memorabilia gathering dust in the attic. If you can help, then please get in touch.



---

A-Z Artist Index
Compilations
Record Labels
Media
Help Us!
Contact Us
Resources
Timeline
---