---


A-Z Artist Index
Compilations
Record Labels
Media
Help Us!
Contact Us
Resources
Timeline
---
From: Cork

Active: 1977-

Style: Bluesrock

Lineup (1979):
Joe O'Callaghan - vocals/harmonica
Bill O'Brien - lead guitar
Johnny Rice - bass
Brian Callnan - drums


above: Johnny Rice & Joe O'Callaghan onstage 1978 Macroom Festival
Lineup (date?):
Joe O'Callaghan - vocals/harmonica
Bill O'Brien - lead guitar
Pat Lynch - bass
Charlie Butler - drums


A later lineup, LR: Bill O'Brien, Pat Lynch, Charlie Butler, Joe O'Callaghan
[photo by Billy MacGill, used without persmission]

Bio:

The Hot Guitars were a bluesrock band from Cork who'd have 40+ members over the years.

Lead guitarist Bill O'Brien started out on bass with Cork bands Wild Oaths, Essence and Gaslight before moving to guitar with Sleepy Hollow in 1971. Sleepy Hollow became one of the hottest bands in Ireland in the mid 70s. They toured extensively with Rory Gallagher in Ireland and the UK and released a single in 1975. When they split in the late 1970s, Bill moved to London and played in Sunwheel with Johnny Campbell, touring as support for Rory Gallagher once again. He also backed Chuck Berry on one of his European tours.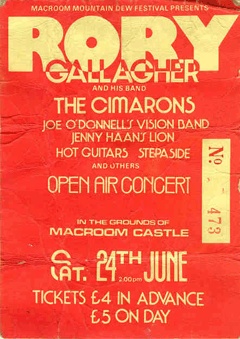 Hot Guitars on the bill for Rory Gallagher's Macroom gig, 24 June 1978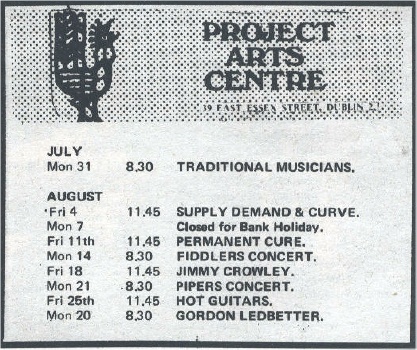 At the Project Arts Centre in Dublin, 25 August 1978.

On his return to Ireland in 1977 Bill formed the Hot Guitars with ex Sleepy Hollow bandmate Johnny Rice and frontman Joe O'Callaghan. O'Callaghan had been with an early Cork band called Boothouse. The Hot Guitars played rock, rock & roll, bluesrock and garage rock, and included Stones and Alex Harvey covers ("Gang Bang", "Framed") in their set as well as cover of songs like "Route 66" and "Wild Thing". Alex Harvey was a great influence on the band in general. During the punk era they were respected by local young bands in Cork for their spirit and energy. They released a single on the local Circa Records label in 1978. On Sunday 18 March 1980, Circa Records organised a live showcase of local rock bands including Hot Guitars at Cork City Hall. This show was recorded and presumably live tapes must exist somewhere. Hot Guitars split circa 1981.

Joe O'Callaghan and Johnny Rice had a roots rock & roll band called Idle Hands active in 1982.

Hot Guitars reformed in 1983 with Arty Lorrigan (ex Sabre) on drums as Brian Callnan was committed to Moving Hearts. They were still gigging in 1987, playing the 10th Anniversary Bash at Mojos in August that year. The band has undoubtedly had a long and complicated history since then and if anyone can fill me in please do. There is a Hot Guitars still playing today, still fronted by Joe O'Callaghan, with Tom Stephens (ex Small Change) and Tony Burke (ex Chapter Five) on guitars, Pete Brennan (ex Boothouse/Small Change) on bass and Brian Calnan (drums).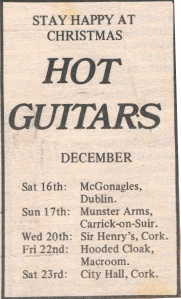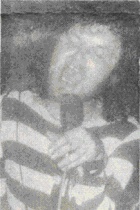 August & December 1978 dates at Sir Henry's; Right: Joe O'Callaghan in Harvey-esque shirt




Discography:

• Nasty People / Route 66
7" - Circa Records - CIRCA 001 - 1978
Double A-side. "Nasty People" by Bill O'Brien





Circa Records mailorder advert October 1978





See also: Boothouse, Small Change, Sleepy Hollow

External Links: hotguitarsband.com





Help!: We need your help to complete this entry. If you can tell us more about this band then please do! We welcome any corrections, missing details, connections to other bands, where are they now, etc. We also need photos, scans, copies of releases or live or demo recordings, and any other memorabilia gathering dust in the attic. If you can help, then please get in touch.

Thanks to Tom Gilboy for the scan

---

A-Z Artist Index
Compilations
Record Labels
Media
Help Us!
Contact Us
Resources
Timeline
---