---


A-Z Artist Index
Compilations
Record Labels
Media
Help Us!
Contact Us
Resources
Timeline
---
From: Coleraine, Co.Derry

Active: 1972-78

Style: Country Rock

Lineup:
Errol Walsh - guitar/vocals
Craig Mathieson - vocals
Dougie Gough - guitar/vocals
Nicky Ash - keyboards/piano
Dusty McSheffrey (from Scotland) - bass
Jonnie Miles (from Scotland) - drums


Rodeo LR: Errol Walsh, Craig Mathieson, Jonnie Miles, Nicky Ash, Dusty McSheffrey, Dougie Gough.




Bio:

Country rock band formed by Errol Walsh from Coleraine. Rodeo were musically very sophisticated, and at the time were playing by far the best Country Rock and the hottest band in Ireland. Live they covered the Eagles, Grateful Dead and Little Feat and they were often compared to Pure Prairie League, Brinsley Schwartz, Commander Cody, The Band and the Flying Burrito Brothers. They were highly rated by fans at the time.

They considered changing their name to Trouble at one point during 1973 but stuck with Rodeo. They toured abroad (Scotland, England, Canada) and supported visiting acts [Procol Harum in October 1973 was cancelled]. They also appeared on RTE TV's "Talk About Pop" in October 1973. A TV special for broadcast in early 1974 was planned by UTV but I am unsure if this actually happened.

Rodeo released just one single on the short-lived Thrust label in the first half of 1974. "Dance To The Music", a band original, is backed by a cover of Shel Silverstein's "Freakin' At The Freakers' Ball". It was recorded at Eamonn Andrews Studios and self-produced by the band. The band relocated from Coleraine to Dublin at this time, which was tough on those with young familes. Their manager during the 1972-74 period was Peter Mate who'd quite University to manage the band. He also part managed Thurst Records until he and John Weir fell out. The Thrust single sold extremely well in Ireland, and it is a common item. The picture sleeve is a little less common.

They relocated to the UK circa 1975 in an attempt to make it. They supported Horslips on their 1975(?) UK tour which ended with an invite from Dave Robinson (band manager, later co-founder of Stiff Records) for a residency at the Hope & Anchor in London. They did a solid month of dates in London with Bees Make Honey and the London Pub Scene in general, but it nearly broke the band through costs etc. The Dublin to London transition was a common problem at the time, and while a record deal was reputedly close, it didn't come quick enough, and the band dispersed, most returning to Ireland. Craig Mathieson joined Bananas who relocated to New York in 1975.

Rodeo returned to the stage in Dublin after a four year absence in May 1979 playing The Sportsman's Inn (May 12th), McGonagles (May 13th) and appearing on RTE's Our Times. The lineup at this time was Dougie Gough, Damien O'Reilly (keyboards), Nicky Ash(e), Dusty McSheffrey and Scotty McNichol (drums). There was a strong Scottish connection in this lineup, linked to Glasgow band the Kelvinators (Dusty and Jonnie came out of the Kelvinators) and Scottish-based new wave band Albania, who formed in 1978 but whose LP didn't come out until 1981, by which time Dougie Gough was in the Mighty Shamrock. See Albania's entry for more details.

Errol later got funky with Stagalee. Other members of the band turned up in the . McSheffrey and Miles were Scottish. Damian O'Reilly (RIP) played keyboards circa 1977.





Discography:

• Dance To The Music / Freakin' At The Freakers' Ball
7" - Thrust Records - THR101 - IRL 1974 - some copies with PS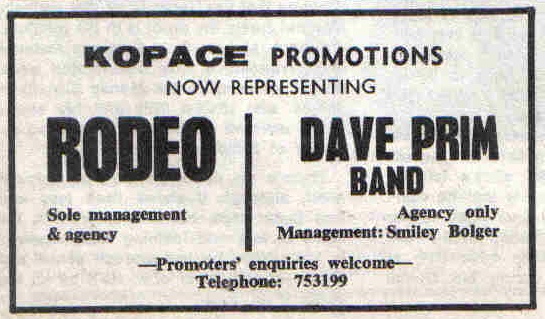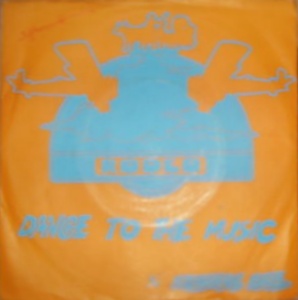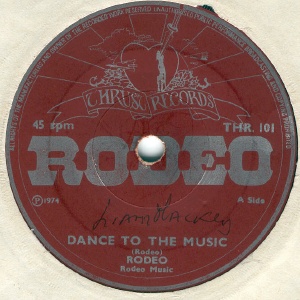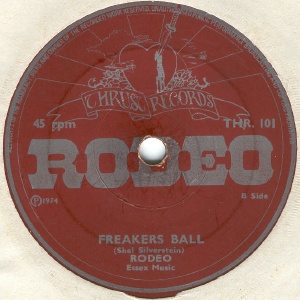 See also:




Help!: We need your help to complete this entry. If you can tell us more about this band then please do! We welcome any corrections, missing details, connections to other bands, where are they now, etc. We also need photos, scans, copies of releases or live or demo recordings, and any other memorabilia gathering dust in the attic. If you can help, then please get in touch.



---

A-Z Artist Index
Compilations
Record Labels
Media
Help Us!
Contact Us
Resources
Timeline
---