---


A-Z Artist Index
Compilations
Record Labels
Media
Help Us!
Contact Us
Resources
Timeline
---
From: Portrush, Northern Ireland

Active: 1979-84

Style: Post-punk / Roots rock

Lineup:
Micky Stevens - guitar/vocals
Dougie Gough - lead guitar
Roe Butcher - bass
Paddy McNicholl - drums
(Gerry McIlduff - drums)


Mighty Shamrocks LR: Mickey Stevens, Roe Butcher, Dougie Gough, Paddy McNicholl.
Bio:

Post-punk led by Michael Stephens (now a journalist in the USA) with Roe Butcher (ex Xdreamysts) on bass and Dougie Gough (ex Rodeo, Albania) on guitar. I'm not sure which drummer came first.

They were a powerful, high energy live band by all accounts and were tipped to do the business but it was not to be. The recorded an album with Mudd Wallace at Homestead Studios in Randalstown, by which time they were playing a more roots rock, what today would be branded alt-country. This album was a victim of Good Vibrations intermittent money problems. Terri Hooley was shutdown by the taxman in 1984 and the LP was never released. And then the master was lost for many years.

Micky Stevens moved to North Carolina in 1985 where he teaches and plays music. Roe Butcher remained active on the music scene and currently plays with Henry McCullough. Dougie Gough still lives and plays in Coleraine, Co. Derry. Paddy McNicholl ran the famous Connolly's of Leap venue for many years. He passed away in 2010.

In 2010 the band surfaced on the reverbnation website (see Links below) and announced plans to finally make the unreleased album available once the masters have been located. Some tracks ("Energy To Burn", "Breaking Up With Harry" and more) were available on the reverbnation site. Eventually a master did turn up, and the the unreleased album finally came out in 2012 on Good Vibrations. The title 'Paddy' is in memory of the bands drummer Paddy McNicholl. Contemporary reviews describe it as 'Americana'. The band played some shows to coincide with the release.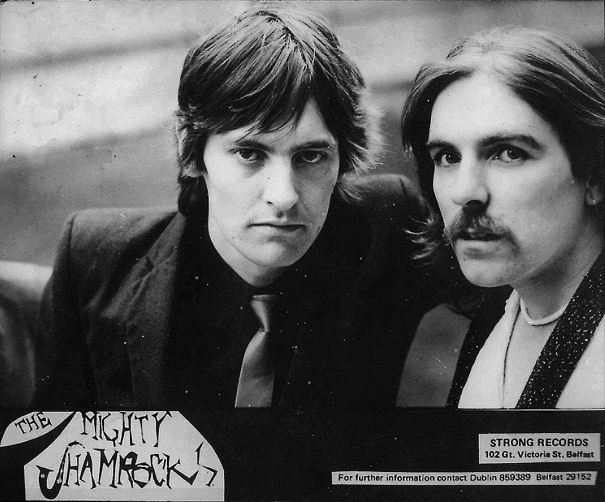 Mickey Stevens and Roe Butcher


Discography

• Condor Woman / Stand Up In Public
7" - Strong Records - WR 1 - IRL - October 1981 - PS


• title?
LP - Good Vibrations Records - BIG?? - (198?) unreleased
Release cancelled due to lack of funds


• Paddy
CD - Good Vibrations Records - BIG 6 - UK - 2012


Notes: The unreleased album finally saw the light of day in 2012. The CD edition has a lot of overlap with the cassette edition I have, which must have been rough mixes.




Help!


We need your help to correct and/or complete this entry. If you can provide more information about this band, have scans, photos or any other memorabilia we can use, or spare copies of any releases, then please get in touch.


Last update: 7 April 2010.


---

See Also: Xdreamysts

External Links: Mighty Shamrocks at Reverbnation


---

A-Z Artist Index
Compilations
Record Labels
Media
Help Us!
Contact Us
Resources
Timeline
---