---


A-Z Artist Index
Compilations
Record Labels
Media
Help Us!
Contact Us
Resources
Timeline
---
From: Dublin

Active: September 1979 - 1982

Style:

Lineup:
Fred Penney - vocals
Frank Kearns - guitar
Dave Boardman - bass
Eric Briggs - drums


l-to-r: Frank Kearns, Fred Penney, Dave Boardman, Eric Briggs [from Vox #2]
Bio:

The Myster Men were hyped as the Next Big Thing by Kris Needs in Zig Zag magazine in 1980. Frank Kearns was AKA Frankie Corpse who had also fronted a Ramones tribute band called The Fast in 1979. Eric Briggs played with U2 on a number of occasions when Larry Mullen was indisposed, and was U2's drum tech for a couple of years. The band opened for U2 on first Irish tour in May 1980. They had regular support slots at the Baggot Inn and McGonagles and a Sunday afternoon residency at the Magnet.

The Myster Men recorded a 3 track demo tape at Eamonn Andrews Studios in Harcourt St in Dublin. It was produced by Bono, who also did backing vocals on a couple of the tracks "Fantasy Dream" and "Should Have Known Better". The third song was "Idols" (or "Who Needs Idols"). Engineered by Dave Freeley. Other originals in the bands set included "Billy Davis" and "End of Time".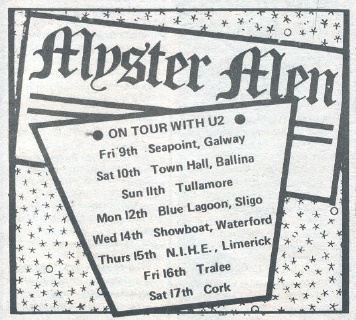 Myster Men on tour with U2, May 1980

Despite being very active on the Dublin scene for a couple of years they never made the breakthrough and personal differences led to lineup changes. Paul Joyce played drums at some point. The lineup for a German tour announced in the press in late 1982 was Frank Washington (AKA Frank Kearns), Tony St.Ledger, Noel Murray and Pete Delaney (vocals/synth). The schedule included a recording session in Dusseldorf. Did this tour ever happen? The band split at the end of 1982.

Delaney and Kearns went on to form Blue Russia.
Eric Briggs moved behind the scenes, eventually working with many big names and becoming involved in Kabuki Records.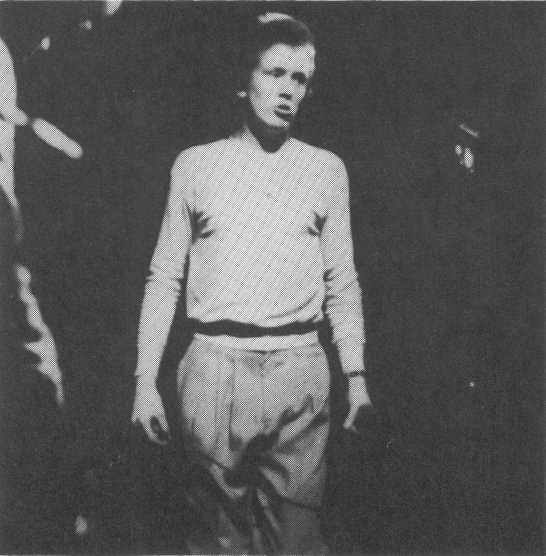 Fred Penney [from Vox #2]
Help!
We need your help to correct and/or complete this entry. If you can provide more information about this band, have scans, photos or any other memorabilia we can use, or spare copies of any releases, then please get in touch.
---

See Also:


---

A-Z Artist Index
Compilations
Record Labels
Media
Help Us!
Contact Us
Resources
Timeline
---