---


A-Z Artist Index
Compilations
Record Labels
Media
Help Us!
Contact Us
Resources
Timeline
---
From: Belfast/Dublin

Active: 1982-85

Style:

Lineup:
Cormac Tohill - vocals
John Watt - guitar/synth
Norman Johnston - bass
Mark McCormack - drums


l-to-r: Cormac Tohill, John Watt, Mark McCormack, Norman Johnston
Bio:

New wave/post-punk band. Previously known as Know Authority, who'd moved from the predominantly punk scene in the Belfast to Dublin in 1980 in the hope of finding a more receptive audience. They shortened their name to KA and recorded a demo incorporating a Joy Division influence and more danceable rhythms. This was heard by Dave Wakeling of The Beat/Go Feet Records who liked it enough to contact the band. They almost signed to Go Feet but failed to get the unanimous vote required by the rules of the Go Feet collective.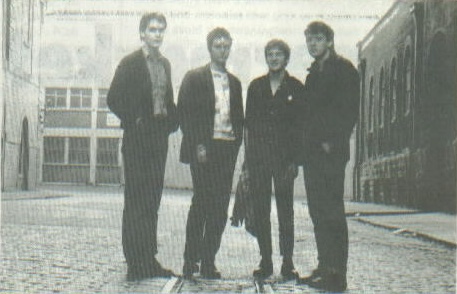 They recorded a new demo as Kissed Air and set up their own Kabuki label with a distribution deal through Rough Trade with the help of friend Gareth Ryan. They moved to London shortly after the release of their debut single in mid 1982. A steady improvement is evident across their three singles and all are recommended. A fourth single was recorded but never released. An under-rated band.

Kabuki Records released significant records by several notable Irish punk/new wave era acts including Microdisney and Five Go Down To The Sea.

John Watt wrote the theme tune for BBC TV's "Dragons Den".





Discography

• Kariba / Kissed Air
7" - Kabuki Records - KAR1 - UK - 1982


• Out Of The Night / Change of Attention
7" - Kabuki Records - KA3 - UK - November 1982


• Kawaraya EP
12" - Kabuki Records - KA9 - UK - 1983



side one:
Kawaraya
Everything

side two:
Kick Kick
Stripped And Marked


• Hang Me High / Living A Lifetime
Recorded but unreleased 4th single ca 1983-84



Help!


We need your help to correct and/or complete this entry. If you can provide more information about this band, have scans, photos or any other memorabilia we can use, or spare copies of any releases, then please get in touch.



---

See Also:


---

A-Z Artist Index
Compilations
Record Labels
Media
Help Us!
Contact Us
Resources
Timeline
---