---


A-Z Artist Index
Compilations
Record Labels
Media
Help Us!
Contact Us
Resources
Timeline
---
From: Dublin

Active: 1989-93

Style:

Lineup [1990-91]:
Deirdre O'Neill - lead vocals
Pat Murphy - guitar
Aidan Lane - guitar
Graham Darcy - bass
Anto D'Arcy - drums
Lineup [1991-92]:
Deirdre O'Neill - lead vocals
Aidan Lane - Guitar
Graham Darcy - Bass
Terry Hackett - drums




Bio:

Dublin band with notable tracks on a couple of Danceline compilations. They'd originally been active as Gavin Is God (circa 1989) apart from Aidan Lane who joined circa October 1990. Anto D'Arcy and Pat Murphy had previously been in 1984ish.

The Joys recorded numerous demos, some of which appeared on the aforementioned Danceline compilations (Nationwide Vol.2 and Bright Green Lights ). Pat Murphy and Anto D'Arcy left in early 1991 over the usual issues and eventually reformed 1984ish. D'Arcy was replaced by Terry Hackett, ex Jam Jar Jail. He in turn left for the Wilde Oscars and his replacement was Donal ??. The band then changed name to Junkster, who were signed by a major label and flown to the US to record their debut album circa 1992-93 . . . which never materialised and the band was never heard of again.

Or so I thought. In fact, Junkster's debut album was finally issued by RCA in 1997. What happened between 1993-97 is unknown to me. Three singles ('Slide', 'Mr.Blue' and 'The Only One') emerged in support of the album during 1997-98. I have not heard these records. They split up some time after.





Discography

• various artists - Nationwide Vol.3
LP - Danceline Records - DLS1004 - 1989
See Compilations section for full track listing.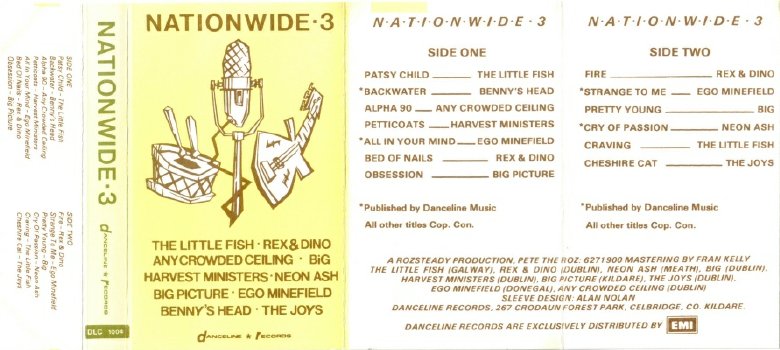 • various artists - Bright Green Lights
CD - Danceline Records - DCD1006 - IRL - 27 August 1991
See Compilations section for full track listing.




Help!


We need your help to correct and/or complete this entry. If you can provide more information about this band, have scans, photos or any other memorabilia we can use, or spare copies of any releases, then please get in touch.




---

See Also:


---

A-Z Artist Index
Compilations
Record Labels
Media
Help Us!
Contact Us
Resources
Timeline
---