---


A-Z Artist Index
Compilations
Record Labels
Media
Help Us!
Contact Us
Resources
Timeline
---
- under construction-
From: Dublin

Active: 1970-

Style: Bluesy Rock / Hard Rock

Lineup:
Patrick Brady - guitar, vocals
Michael Kiely - bass, vocals
Derek Dawson - drums

Cromwell in 1974 with Ian Huxley
l-to-r: Michael Kiely, Patrick Brady, Derek Dawson, Ian Huxley.
Bio:

Cromwell formed in the early 1970s as a quartet. Singer Mick O'Hagan from Drogheda was the son of tenor Pat O'Hagan (and the brother of Johnny Logan). Patrick Brady (guitar) and Michael Kiely (bass) were from Drumcondra in Dublin. Michael P. Kiely had been a musical journalist for High Times, an early 70s underground rock newspaper which was a forerunner of Hot Press in its coverage of the Irish rock scene. He'd earlier been in Julian's Heirs with his brothers David and Des.

Cromwell debuted at Open-air concert in Swords, County Dublin in 1970. They supported Rory Gallagher on his Irish tour in 1972 alongside Sleepy Hollow. Their live set was a mixture of originals and covers, including Granny's Intentions. Given that Rory recorded these shows for a live album, live recordings of Cromwell from this tour may exist.

Mick O'Hagan was considered the best blues/rock singer in Ireland at the time but he was unreliable and the band reputedly fired him after one mishap too many. I'm not sure of the exact date but he was gone by 1973. The band continued as a trio with Brady and Kiely sharing vocals.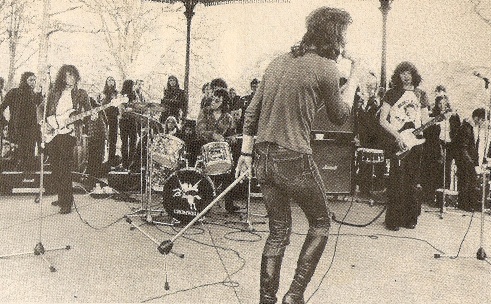 Cromwell in 1972-73 with Mick O'Hagan
l-to-r: Michael Kiely, Derek Dawson, Mick O'Hagan, Patrick Brady.
The band recorded a demo at Emerald Studios in Belfast sometime in 1972 or 1973. This is presumably lost. Their debut single "Guinness Rock" came out in 1973. This and all subsequent releases were on the band's own Cromwell label, distributed by Release Records. In all 5 singles and one LP were released between 1973-75. The last single was distributed by CBS. All are collectors items today, especially the album and picture sleeves copies of the first and last singles in good condition. Due to it's scarcity it became a target for rare record dealers in the 80s/90s who hyped it as a hard rock 'monster' album comparing it to Thin Lizzy. In fact it is an excellent rock LP with a healthy Rolling Stones influence.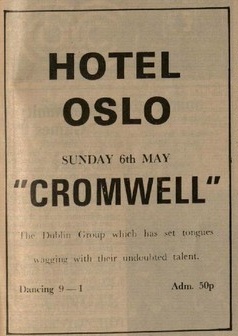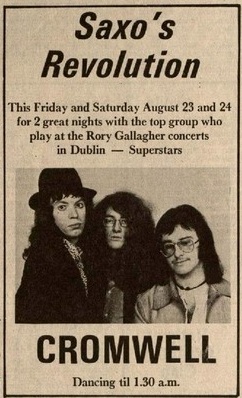 Galway gigs, 1973-74

Cromwell split sometime in the mid-1970s with the core songwriting duo of Brady & Kiely forming The Establishment who recorded into the early 1980s.
| | | |
| --- | --- | --- |
| Right: Cromwell recording news in New Spotlight magazine, 19th October 1973. The new single mentioned here is their second "Stomp Stomp Stomp" which came out the following year in 1974. The LP didn't emerge until 1975, had 10 instead of 12 tracks, and did not include the mentioned instrumental "Achill Island". | | |


Discography:

• Guinness Rock / You Hate It To Turn
7" - Cromwell Records - WELL 001 - IRL 1973 - PS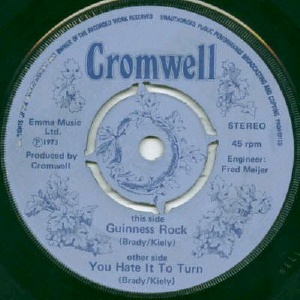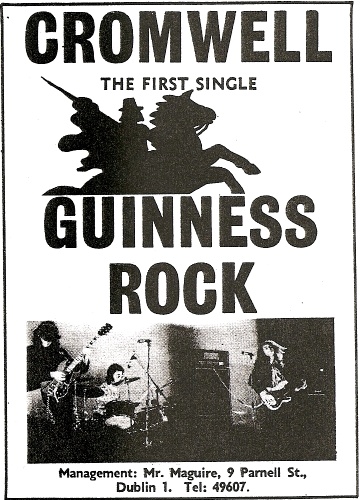 • Stomp Stomp Stomp / Nothing Left To See
7" - Cromwell Records - DOS 118 (WELL 002) - IRL 1974 - no PS
The DOS 118 catalogue number suggests this was pressed by Dolphin Records.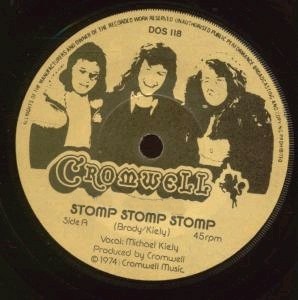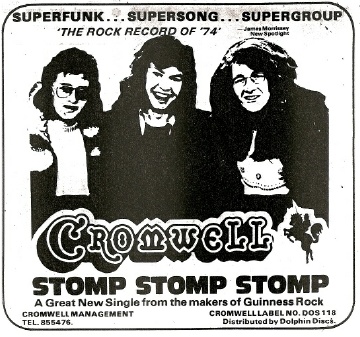 • Deal Me In / Hoodwinked
7" - Cromwell Records - WELL 003 - IRL 1974 - no PS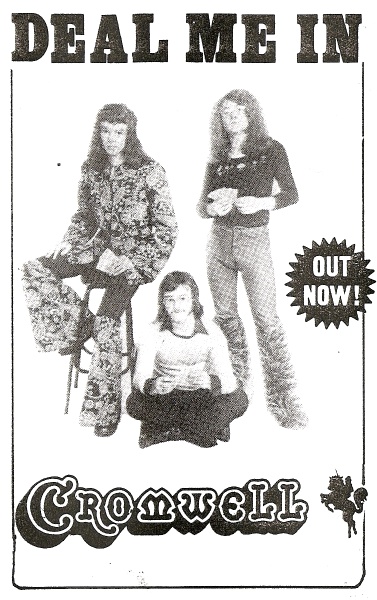 • You Got It Made (electric) / You Got It Made (acoustic)
7" - Cromwell Records - WELL 004 - IRL 1975 - no PS?


• At the Gallop
LP - Cromwell Records - WELL 005 - IRL 1975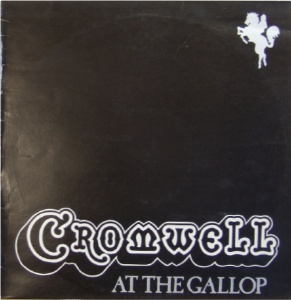 side one:
The Wild One
Down On The Town
First Day
You Got It Made
At The Gallop
side two:
Guinness Rock [re-recording]
Hoodwinked (instrumental)
Nothing Left To See
Deal Me In
Dawson's Fun Palace


• First Day / Down On The Town
7" - Cromwell Records - WELL 006 - IRL 1975 - PS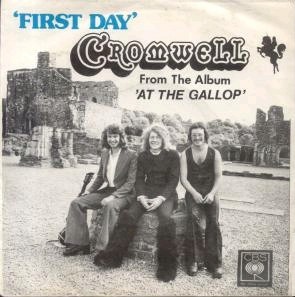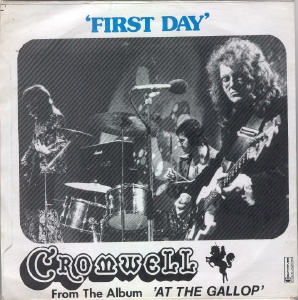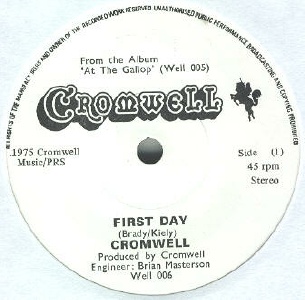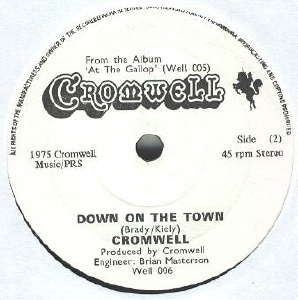 See also: The Establishment




Help!: We need your help to complete this entry. If you can tell us more about this band then please do! We welcome any corrections, missing details, connections to other bands, where are they now, etc. We also need photos, scans, copies of releases or live or demo recordings, and any other memorabilia gathering dust in the attic. If you can help, then please get in touch.

thanks to TP McLoughlin


---

A-Z Artist Index
Compilations
Record Labels
Media
Help Us!
Contact Us
Resources
Timeline
---