---


A-Z Artist Index
Compilations
Record Labels
Media
Help Us!
Contact Us
Resources
Timeline
---
From: Dublin

Active: early 70s

Style: Rock

Lineup:
Eamonn Gibney - vocals
Jimi Slevin - guitar
Gerry O'Donovan - guitar
Paul Duffy - Hammond organ
Paddy Freeney - bass
Brian Donaghy - drums
a.o.


Alice, left-to-right: Jimi Slevin, Gerry O'Donovan, Eamonn Gibney, Brian Donaghy, Paul Duffy.
Bio:

Soulful rock band formed in 1970 by Gibney and O'Donovan when their previous band the Purple Pussycat folded. Peter Carr (also ex Purple Pussycat) was the original drummer and was with the band for a short period during the summer of 1970. The initial lineup was Eamonn Gibney, Gerry O'Donovan, Paul Duffy and Peter Carr. They rehearsed somewhere in Ballsbridge, in a place owned by an American. Peter recalls finding the demo 45 with "Let Us Break Bread Together" on it that the band ended up recording later that year. Peter didn't see eye to eye with Eamonn and so he left. He emigrated to Australia but returned later, turning up in the late 70s incarnation of The Strangers before returning to Australia for good. Brian Donaghy became the drummer and Paddy Freeney joined on bass. Jimi Slevin joined on guitar from Crossroads. Olly Byrne became their manager.

The spelling of the band's name had changed from Alyce to Alice by the time their debut single was released in 1970 (on or after 31 July 1970). The A-side is a gospel song which has been covered by many artists (Gibney himself released it as a solo single in 1980). The B-side is the Creedence Clearwater Revival song and is much better. This single was the next release on Parlophone after Thin Lizzy's debut "The Farmer" (DIP513). It was warmly received but didn't sell as well as expected.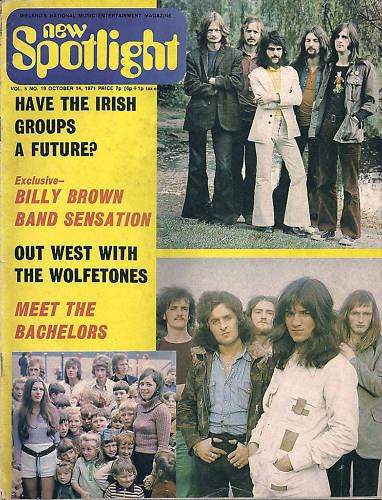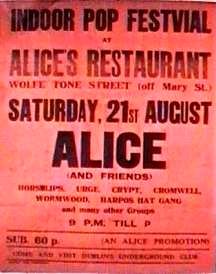 The band continued to gig in Ireland thoughout 1971. They headlined the Indoor Pop Festival at Alice's Restaurant in Wolfe Tone Street, Dublin on Saturday 21st August 1971 (poster above). The support bands were Horslips (mispelled Horselips), The Urge, Crypt, Cromwell, Wormwood and Harpos Hat Gang. They were guests on Ken Stewart's RTE radio show Ken's Klub in 1971 or 72. I don't have any more details but it's possible demo recordings were broadcast on this show.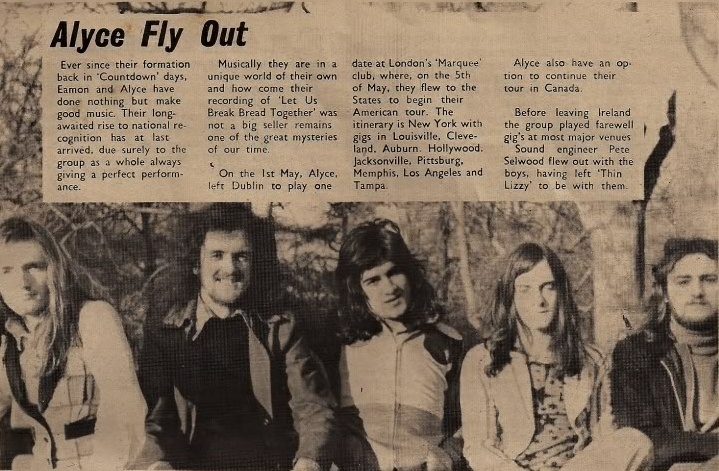 Alyce move to the USA story from Gun magazine 1972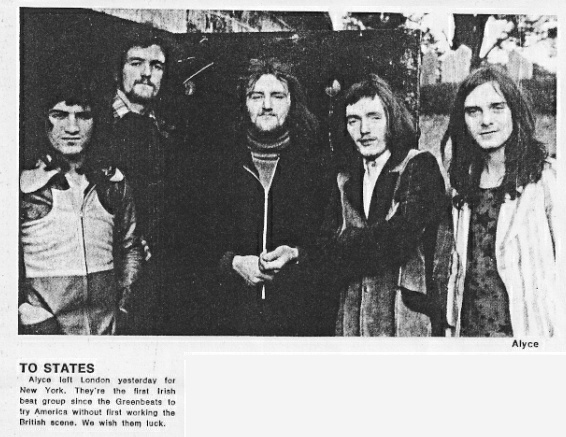 ..and the same story in Pat Egan's 'Where It's At' column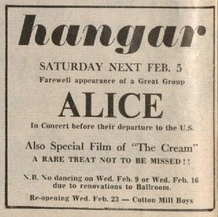 Farewell gig at The Hangar, Galway, 5 February 1972 "before their departure to the US"





Ollie Byrne became their manager in the early 70s. Convinced of their star potential, he took the band to New York to try to break into the bigtime without any forward planning. Booked on different flights and with one of those flights delayed, the band members plans to rendezvous at a certain place and time fell through, and it was some time before they managed to find each other again. Even then, they had no bookings, no instruments and no money. Through sheer good luck, a chance encounter led to an introduction to a production company called Wartoch, who handled several big names, including Stevie Wonder. This invaluable contact facilitated their entry into the music scene in NYC. They famously played Max's Kansas City with the New York Dolls as support. By September '72 they'd changed their name to Brogue to avoid any confusion with Alice Cooper.

Brogue reputedly did a good deal of recording in New York during 1972 in a small studio owned by Bob Washington (does anyone know the name of the studio?). An LP was discussed with Warner Brothers (tentative title: What The Experts Say About Your Driving) and the band planned a return visit to Ireland for christmas 1972. But then things fell apart before any of this came to pass and the band and manager returned to Ireland. They lost contact with Bob Washington and the tapes of the planned LP are now presumed lost.

A reformed band came together over Easter 1973 with Eamon Gibney, Tony Geraghty, Danny O'Keefe, Vincent Duffy, and Carl Geraghty. This lineup didn't last long and there are no recordings.

Eamonn Gibney and Gerry O'Donovan formed the Gibney & Donovan Band, still active in 1978; Gibney was also in the reformed Skid Row (1973-75), released solo material and was a member of The Allies in the 80s. Jimi Slevin was next seen in Peggy's Leg.

Brian Donaghy played with Crypt, The Gentry and Chips. Ollie Byrne opened the Countdown Club on Mary Street in Dublin which he ran for 10+ years.



Discography:

• Let Us Break Bread Together / Proud Mary
7" - Parlophone Records - DIP 514 - 1970 - no PS
A-side trad. arr.; B-side by John Fogerty


• Brogue - What The Experts Say About Your Driving
LP - Warner Brothers - ??? - US 1972 - unreleased





See also: Eamonn Gibney, Purple Pussycat, Jimi Slevin




Help!: We need your help to complete this entry. If you can tell us more about this band then please do! We welcome any corrections, missing details, connections to other bands, where are they now, etc. We also need photos, scans, copies of releases or live or demo recordings, and any other memorabilia gathering dust in the attic. If you can help, then please get in touch.

thanks to TP McLoughlin


---

A-Z Artist Index
Compilations
Record Labels
Media
Help Us!
Contact Us
Resources
Timeline
---