---


A-Z Artist Index
Compilations
Record Labels
Media
Help Us!
Contact Us
Resources
Timeline
---
Honey Records
last updated 19 Nov 2021
last updated 4 June 2018
last updated 22 May 2018
last updated 11 April 2013
last updated 8 May 2012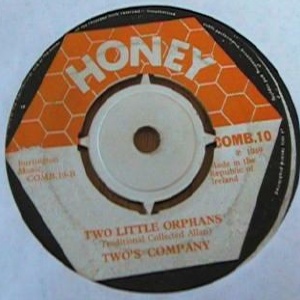 Launced by The Dixies showband in 1969, Honey was both a promotions company and record label. Though it lasted only a year, it released 29 singles (and 2 albums), over half of which entered the Irish charts. Simon King & The Visions' single is sought after by Golden Earring collectors. Distributed by EMI. Based in Cork.

This discography was completed thanks to an article in Eddie Kelly's Not Fade Away magazine published in 1988.





Singles
COMB.1	The Dixies - All Together / Honeytime [3/1969]
COMB.2	Michael O'Callaghan, Eleanor & The Big Band - Cuano Sali De Cuba / Coming Home [1969]
COMB.3	George Gibson & The Regal - Lindy Lindy / When Two Worlds Collide [1969]
COMB.4	Two's Company - Eileen McManus / Hearts of Stone [1969]
COMB.5	The Dixies - The Joys of Love / Land of Milk and Honey [7/1969]
COMB.6	Art Supple & The Victors - The Boys of Kilmichael / Big Chief Buffalo Nickel [1969]
COMB.7	Michael O'Callaghan, Joe O'Sullivan & Big Band - A Picture of Your Mother / The Power Game [1969]
COMB.8	Simon King & The Visions - Dong Dong Diki Diki Dong / Visionary [1969]
COMB.9	The Sandmen - 1365 Miles / I Lost My Mommy [1969]
COMB.10	Two's Company - D-I-V-O-R-C-E / Two Little Orphans  [1969]
COMB.11	The Philosophers - Hey Girl / Smile [1969]
COMB.12	Art Supple & The Victors - Showbands In Hippyland / My Grandfather's Clock [1969]
COMB.13	George Gibson & The Regal - Hello There, Santa / Dance And Sing [1969]
COMB.14	The Arrivals Showband - Sweet Caroline / He Don't Deserve You Anymore [1969]
COMB.15	Jim Tobin & The Firehouse - This Is It / I'm Beginning To Forget You [1969]
COMB.16	The Dixies - Tomorrow's Love / Peggy Sue / Peggy Sue Got Married [3/1970]
COMB.17	The Philosophers - Live Rock / Brazila [1970]
COMB.18	Simon King & The Visions - Knock Down Ginger / You've Lost That Lovin' Feelin' [1970]
COMB.19	Christy O'Connor (At O'Connor's Lounge) - Touch Me / San Antone Rose [1970]
COMB.20	The Tigermen - Waltzing On Top Of The World / Give My Love To Rose [1970]
COMB.21	The Dixies - It Is No Secret / Susan [8/1970]
COMB.22	The Concords - I'll Do As Much For You Someday / China Doll [1970]
COMB.23	Art Supple & The Victors - The Three Flowers / Pop Three [1970]
COMB.24	Jim Tobin & The Firehouse - You Are My Love / The Blue Side of Lonesome [1970]
COMB.25	Art Supple & The Victors - A Soldiers Farewell / Another Pop Three  [1970]
COMB.26	Tex Withers - Little Soldier / Streets of Laredo [1970]
COMB.27	Shea Cribben & Riveria - The Latchyco / Flame In My Heart [1970]
COMB.28	Brendan O'Brien & The Dixies - The Family (That Prays Together) / Go Lassie Go [12/1970]
COMB.29	Chuck Winter & Michael O'Callaghan Big Band - Once A Day / It's Almost Tomorrow [1970]



Albums
SHOW 1	V/A - A Taste of Honey LP [1969]
	feat. The Dixies, Victors, The Regal, Twos Company, Michael O'Callaghan

SHOW 2	The Dixies - The Dixies Are Irish LP [1970]



---

A-Z Artist Index
Compilations
Record Labels
Media
Help Us!
Contact Us
Resources
Timeline
---