---


A-Z Artist Index
Compilations
Record Labels
Media
Help Us!
Contact Us
Resources
Timeline
---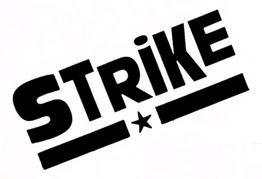 From: Belfast

Active: 1980-?

Style: Poppy Punk

Lineup:
Mark Nixon - vocals
Paul Kenny - lead guitar
Noel Rafferty - rhythm guitar
Laurence Sprott - bass
Davy Johnston - drums


Strike, left-to-right: Mark Nixon, Noel Rafferty, Paul Kenny, Davey Johnston, Laurence Sprott.
Bio:

Punk/powerpop band from Belfast. They played the Dandelion Market twice in 1980 (or was that a different Strike?), on Sunday 27 January and Sunday 16 March.

Strike recorded many demos thanks to Noel Rafferty's job in a recording studio and released an excellent single on the Shock Rock label which is well worth tracking down. They tourned the nothern circuit and supported the Boomtown Rats at the Ulster Hall in Belfast.

A&M Records liked the band's demos and were keen to sign them but internal wrangles led to the departure of Mark Nixon and Davy Johnston and A&M lost interest. The demos are now presumed lost.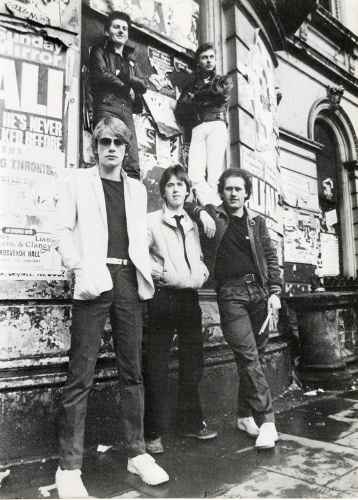 The band recruited new members Lesley Whitten (female vocalist) and Steven Drake (drums). This lineup recorded inferior versions of the 45 tracks for the Belfast compilation LP.

Mark Nixon continued as a solo artist from 1983-1995 and was also in Dublin-based band Act of Love. One of his songs "Loving You (Is Killing Me)" was used in Ken Loach's film "Riff Raff" (1991) playing on a radio in the background. It's not listed in the credits because it's inclusion was a last minute decision. He currently has his own photographers studio in Dublin.





Discography

• Radio Songs / Teenage Rebel
7" - Shock Rock - SRS 504 - UK - 1980 - PS, 500 copies pressed
7" - Sing Sing Records - SING 022 - USA - November 2010- PS


• various artists - Belfast
LP - Shock Rock - SLR 007 - UK - 1980
See Compilations section for full track listing.

tracks:
Radio Songs
Teenage Rebel


• various artists - Teenage Treats 2
LP - Xerox Records - MZE 7464 - 1997



Help!


We need your help to correct and/or complete this entry. If you can provide more information about this band, have scans, photos or any other memorabilia we can use, or spare copies of any releases, then please get in touch.



---

See Also:

External Links: www.marknixon.com


---

A-Z Artist Index
Compilations
Record Labels
Media
Help Us!
Contact Us
Resources
Timeline
---