---


A-Z Artist Index
Compilations
Record Labels
Media
Help Us!
Contact Us
Resources
Timeline
---
From: Dublin

Active: mid-1970s

Style: Singer-songwriter


Lineup:
Jamie Stone AKA Carl Corcoran - vocals, piano, keyboards


promo photo circa New Day LP 1974

Bio:

Born in North Dublin in 1952, Carl Corcoran began performing as a pianist/singer-songwriter in the clubs in Dublin in the early 70s, the same scene which gave Chris de Burgh his start. His biography says he was surprised to be offered a recording contract by EMI Records. The stage name Jamie Stone was chosen for him by producer John Drummond.

Before recording as Jamie Stone, Carl had already made his vinyl debut with the Dublin branch of the Crehan Family (as opposed to their West Clare cousins), a traditional music group who'd appeared on ITV's Opportunity Knocks in 1970 and signed to EMI Records. When recording their 1973 LP "The Green Hills of Clare", they decided they needed vocals on some tracks to prevent it from being an all instrumental affair, an so they asked Carl, a friend of the band, if he would like to guest on it. He performed on three tracks: the title track "The Green Hills of Clare", "Sally Free And Easy" and "Lord Franklin". I haven't heard the resultant LP but it has a good reputation. Carl reputedly does a very good job handling the traditional tunes in contemporary, slightly progressive settings incorporating acoustic guitar, bass and drums.

As Jamie Stone, Carl recorded three albums for EMI, "New Day" (1974), "Storyteller" (1976) and "Let It Shine" (1978). "New Day" is the liveliest and most varied of the three; "Storyteller" is dominated by mid-tempo piano ballads of little variety or distinction which suffer from a drabness and samey-ness across the album, making it his least interesting recording; and "Let It Shine" is the slickest, recorded in London with seasoned session musicians.

The first album spawned a hit single in Ireland "Gulliver" and Stone won several RMI awards that year the same year.

In 1976 he entered ITV's New Faces where he came second. He appeared again in a runners-up competition broadcast on 18 December 1976 but it was that well-known boy/girl duo from Portsmouth Koffy & Kreme who won the right to go on to the Grand Final. Meanwhile "I Believe in Love", the lead single off his second album, hit the #1 spot in Ireland in December 1976 and spent a total of 14 weeks in the Irish charts.

In 1977 he made a stab at Eurovision, entering the National Song Contest with "If I Give My Love" and finishing second. He tried again the following year with "Over Again" which finished 7th. His final LP for EMI "Let It Shine" came out the same year.

promo photo circa Let It Shine LP 1978

In 1978, he reverted to his real name Carl Corcoran and he and his wife, songwriter Rosemarie Taylor, emigrated to the USA where they stayed for 20 years. Both continued to publish songs. He finished 4th in the 1995 Irish National Song Contest with the song "Little By Little". Carl also began to work in radio in the 1990s which led to an opportunity after returning to Ireland when he joined the staff of Lyric FM. He continues to write and also performs on occasion.

Besides his pop recordings, Carl revisited traditional music material by recording a trad-flavoured solo CD for the US Rego label in 1995.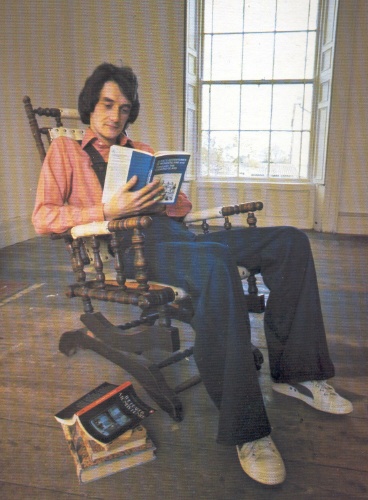 Storyteller LP cover photo, 1976



Discography:

• The Crehan Family with Carl Corcoran - The Green Hills of Clare
LP - EMI Aran Records - ISLE 3003 - IRL - 1973


• Gulliver / Daddy Long Legs
7" - EMI Records - IEMI 5009 - IRL - 1974 - PS


• Gulliver / Country Smoke-Out
7" - EMI Records - IEMI 5009 - IRL - 1974 - PS? - unconfirmed, probably mistake for the 1977 reissue
• Country Smoke-Out / Gulliver
7" - EMI Records - IEMI 5074 - IRL - 1977


• New Day
LP - EMI Records - IEMC 6001 - IRL - 1974 - lyric sheet
Produced by John Drummond in Trend Studios.







side one:
Madhatters Tea Party
The Woman Behind The Man
Super P.Aubrey
Daddy Long Legs
Birthday Boy
Sin City

side two:
Life Is For Living
Maggie Snows Lament
Gulliver
You've Changed
New Day
Notes: All tracks wrtiten by Carl and Michael Corcoran. Matrix: SKER 2004 A-1U/B-1U.



• Long Time Since Nazareth / My Lady In Blue
7" - EMI Records - IEMI 5034 - IRL - 1975
"My Lady In Blue" was a National Song Contest finalist.


• I Believe In Love / ?
7" - EMI Records - IEMI 5052 - IRL - November 1976
Irish #1 hit single. Entered the charts on 26.11.1976 for a 14 week run.


• Storyteller
LP - EMI Records - IEMC 6007 - IRL - 1976 - stickered PS, inner sleeve
The sticker reads "Including Hit Single I Believe In Love".





side one:
Alice In Your Wonderland (Stone/Mullen)
I Believe In Love (Stone/Abernathy)
Rags To Riches (Stone/Corcoran)
Music Man (Stone/Corcoran)
D.A.N. (Stone/Abernathy)
Silence, The Lonely Hunter (Stone/Abernathy)

side two:
Look At Me (Stone/Abernathy)
For Timothy Evans (Stone/Abernathy)
Into The Night (Stone/Abernathy)
Alone Again (Stone/Connolly/Goulding)
Belive In Me (Stone/Swift)
Country Smoke-Out (Stone/Corcoran)
Notes: All music by Jamie Stone. Lyrics by Pat Abernathy, Pat Mullen, Michael Corcoran, Jim Connolly & Fred Goulding and Carolyn Swift.
Record at Dublin Sound Studios. Arranged by Ed Welch. Engineered by Bob Harper. Produced by Bob Barrett.
Piano and vocals by Jamie Stone.
Guitars: Des Moore, Eamonn Campbell
Bass: John Drummond
Drums: Desi Reynolds
Banjo ("Country Smoke-Out"): Eamonn Campbell
Fiddle ("Country Smoke-Out", "Music Man"): Audrey Parks
Electric piano: Ed Welch
Backing vocals: Ann Bushnell, Pat Reilly, Des Smyth, Jack Bayle.



• Alice In Your Wonderland / D.A.N.
7" - EMI Records - IEMI 5056 - 1977
Both sides from Storyteller LP.


• One Good Reason / Free and Easy
7" - EMI Records - IEMI 5062 - 1977
Non-LP single. Both sides arranged and produced by Jamie Stone.


• If I Give My Love / ?
7" - EMI Records? - ??? - IRL - 1977
Runner up in 1977 National Song Contest. Possibly the same as the next single.

• I'd Give It All Away / Goodbye...The End Of The Line
7" - Rebel Records - REBEL 2 - UK - 1977
7" - Crystal/Rebel Records - 1M-006-CRY-61848 - Germany - 1977 - PS


• Let It Shine
LP - EMI Records - IEMC 6009 (0C 062-60 405) - IRL - March 1978
LP - Rebel Records/Harvest/EMI - REBEL 6009 (SHSP 4080) - UK - 1978
LP - Crystal Records - 064 CRY 60 405 - Germany - 1977
Irish promo/test pressing copy with white labels and SHSP 4080 matrix.



side one:
Hello Again (Stone/Abernathy)
Let It Shine (Stone/Abernathy)
It's Your Life (Stone/Abernathy)
Our Story (Stone/McGann)
Because I Mean It (Stone/McGann)
Breakout (Stone/Goulding/Connolly)


side two:
I'd Give It All Away (Stone/McGann)
Next Time I'll Sing For You (Stone/Abernathy)
Circus (Stone/McGann)
Who'd Believe It (Stone/McGann)
Goodbye... The End Of The Line (Stone/Abernathy)
Notes: All music written by Jamie Stone. Lyricists: Art McGann, Pat Abernethy, Fred Goulding.
Recorded at AIR Studio, London, September-October 1977. Mixed Nov-Dec 1977.
Music arranger and conductor: Dave Gold
Produced by Gavin Dare for Rebel Records Ltd
(p) 1978 Rebel Records Ltd

Guitars: Martin Kerslaw, Chris Rae, Kevin Stacey
Bass: Andy Pask, Colin Hodgkinson
Drums: Martin David
Perc: Brian Markham
Synth/Clavinette: Pete Lemer
Backing Vocals: Vicky Brown, Norma Winstone, Kim Daniels
Numerous strings and brass credits (omitted).



• Carl Corcoran - Dancing the Dublin Reel
CD - Rego Records - USA - 1995

tracklisting:
1. Malachy
2. Slieve Gallon Braes
3. My Own Sweet Bantry Bay
4. Little Girl of Mine
5. Waltzing's For Dreamers
6. The Minstrel
7. Eileen Og
8. I'll Remember You, Love, In My Prayers
9. Where My Eileen Is Waiting For Me
10. Whistling Wind
11. The Dublin Reel
12. Till We Meet Again
Notes: Recorded in Valley Cottage, New York in March-April 1994. Produced by Carl Corcoran and Rosemarie Taylor. Personnel includes Carl Corcoran (vocals, guitar, keyboards); Rosemarie Taylor (piano, keyboards); John Guth (guitar, banjo, bass); Kevin McCann (guitar); Winnie Moran (fiddle); Joanie Madden (flute, whistle); Matthew Fisher (flute, soprano saxophone); Jerry O'Sullivan (uillean pipes); Paddy Noonan (accordion); John Nolan (button accordion); Barry Wiesenfeld (acoustic & electric basses); Ricky Martinez (drums, percussion); Seamus Greene (bodhran, woodblock).



• Winter Storm Collection
K7 - demo cassette - 1998
Credited to Rosemarie Taylor, Mark Clinton, & Carl Corcoran





See also: Rosemarie Taylor




Help!: We need your help to complete this entry. If you can tell us more about this band then please do! We welcome any corrections, missing details, connections to other bands, where are they now, etc. We also need photos, scans, copies of releases or live or demo recordings, and any other memorabilia gathering dust in the attic. If you can help, then please get in touch.



---

A-Z Artist Index
Compilations
Record Labels
Media
Help Us!
Contact Us
Resources
Timeline
---