---


A-Z Artist Index
Compilations
Record Labels
Media
Help Us!
Contact Us
Resources
Timeline
---
From: Belfast

Active: 1980-87

Style: Anarcho-punk

Lineup:
Petesy - vocals
Joe - bass
a.o.

note Toxic Waste backdrop... is this in fact Toxic Waste?
Bio:

DIY/Anarcho-punk band inspired by Crass/Conflict, associated with the Anarchy Centre and the Warzone Collective in Belfast (see It Makes You Want To Spit! for more information about the centre).

Links with Crass and Conflict led to appearances on the Mortarhate label and an ill-fated tour of the UK in 1985. The same year they shared a split 12" single with Toxic Waste released on Conflict's Mortarhate Records in 1985 which helped establish the Warzone label.

1986 was their most successful year with several releases coming out including a 3-band Warzone Collective compilation album titled "We Will Be Free" and a successful 3 week tour of Europe. The band split the following year.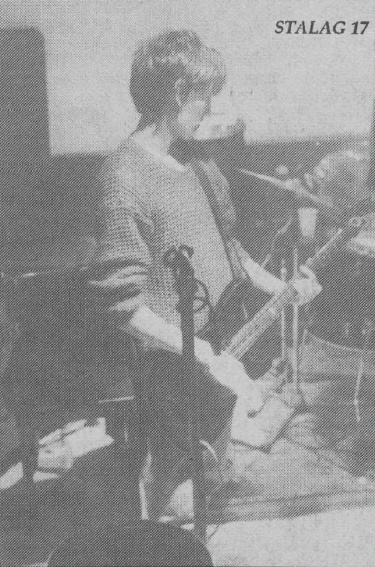 Petesy and possibly others later involved in FUAL.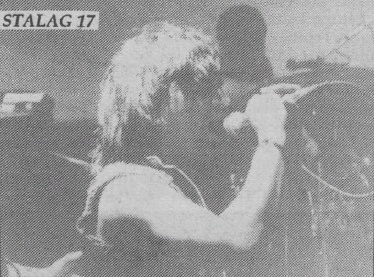 Discography

• Smash the Front
K7 - demo - 1981


• From Belfast With Love
K7 - Warzone Tapes - 1985



side one (Studio 1985):
Party Talk
Doomsday Machine
Life Of A Stillborn
Forgotten Victims
Sofahead
Societys Faitytale
Life Begins At 40
No More 84
Yet Another Love Song

side two (Live 1984):
Megolomaniac
Last Breath
Law And Order
Plastic People
No More 84
Doomsday Machine
Society
Smash The Front
Societys Fairytale


• various artists - We Don't Want Your Fucking War
LP - Fightback/Mortarhate Records - FIGHT5/MORT28 - UK - 1984




track: Society's Fairytale


• And All The Birdies Sang Fuck This For A Lark
K7 - self-released - 1985


• The Truth Will Be Heard
12" - Warzone/Mortarhate Records - 014 - UK - 1985 - inner sleeve
Split release with Toxic Waste
1300 copies pressed.




tracks:
Traditionally Yours
Forgotten Victims
Notes:
Recorded at Matrix Studios, Kircubbin in January 1985.
Lineup: Petesy (vocals), Gasky (guitar), Joe (bass) & Mickey (drums)



• various artists - We Are Not Alone
7" - Words Of Warning Records - WOW1 - UK - 1986 - PS




tracks: Harmless Fun


• various artists - We Will Be Free
LP - Warzone/Mortarhate Records - LP1 - 1987
3-band compilation shared with Toxic Waste and Asylum.
See Compilations section for full track listing.




tracks:
Ready When You Are
Sofa Head
Cause Without A War
Cornbread Peas And Black Molasses
Yet Another Love Song
Notes:
Recorded at Matrix Studios, Kircubbin on 31 January 1987 except "Yet Another Love Song" which was recorded at the same location sometime in 1986.



• various artists - Symptoms For The Disaffected
K7 - Beerbelly Tapes - ??? - UK - 19??
The "Station" Live Compilation


• Erection '87
K7 - self-released (Warzone?) - 1987
K7 - Red Alert Tapes - 092 - UK - 1987?


• 17 From 17 EP
K7 - self-released (Warzone?) - 1989
Posthumous release.


Help!


We need your help to correct and/or complete this entry. If you can provide more information about this band, have scans, photos or any other memorabilia we can use, or spare copies of any releases, then please get in touch.



---

See Also:


---

A-Z Artist Index
Compilations
Record Labels
Media
Help Us!
Contact Us
Resources
Timeline
---