---


A-Z Artist Index
Compilations
Record Labels
Media
Help Us!
Contact Us
Resources
Timeline
---
From: Tralee/Dublin

Active: 1976-82

Style: rock/soul/funk

Lineup:
Errol Walsh - guitar/vocals
Greg Boland - guitar/vocals
James Delaney - keyboards
Tommy Moore - bass
John Forbes - drums
with

Carl Geraghty - sax
Colin Tulley - sax/keyboards
Bio:

Soulful, funky rock band; Bill Withers-inspired style; formed by Errol Walsh (ex Rodeo) in Tralee in 1976, relocated to Dublin and self-released a single. "7 Year Itch" written by Errol Walsh. (Was anything else released on Exit Records?)

The band suffered many personnel changes. Other members included Victor McCullagh, Dave McHale (keyboards/sax, ex-Nightbus, who also worked with the Boomtown Rats), Eoghan O'Neill (bass), Gavin Hodgson (bass, joined mid-78), Paul McAteer (ex Supply Demand & Curve, drums) and Honor Heffernan (vocals). Stagalee supported Graham Parker on his 1978 Irish tour. All in all they were a popular live band.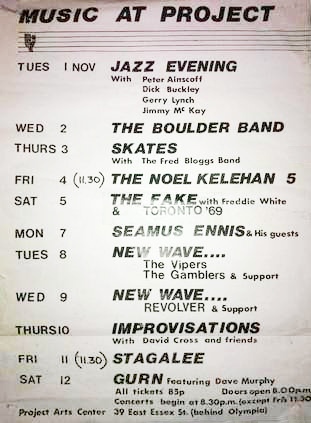 At The Project in November 1977



Stagalee collaborated with Maggie Riley (of "Moonlight Shadow" fame) and Gavin Hodgson (bass) from touring Scottish band Cado Belle as The Pumphouse Gang in mid-1979, recording a single. Stagalee may have already split at this point. The single was released on the obscure Little Black label in 1979. Maggie Riley left The Pumphouse Gang in January 1980. Note the three Pumphouse Gang singles on the Kitsch (1978) and Splash (1979+1980) labels from this period are by a different band from the Isle of Wight.

Errol Walsh was later involved with The Business in 1983 and formed a country rock band the Honky Tonk Heroes (1983-86) the same year with Brian Harris (guitar), Percy Robinson (pedal steel), Declan McNeilis (bass) and Davy Whyte (drums). James Delaney played with the Henry McCullough Band, Clannad, Rob Strong, and many others. John Forbes played with the Chicken Fisher Band in Switzerland.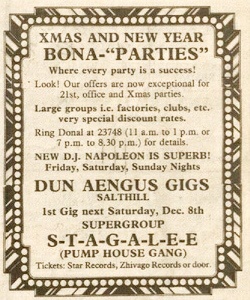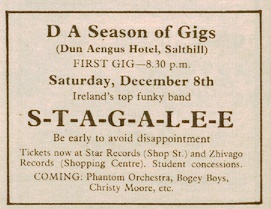 1979 gig notices


Discography:

• Give A Little Love / 7 Year Itch
7" - Exit Records - MGB 0051/0052 - February 1979 - no PS, 500 copies pressed
Recorded in 1978, labels dated 1978 and Hot Press reviewed it in September 1978 (vol.2 nr.7), but experts say released in 1979
Both tracks by Errol Walsh.





Hot Press review (September 1978) & mailorder advert (October 1978)


• The Pumphouse Gang - Welcome Back Into My Life / Just Good Friends
7" - Little Black Records - LBS-1 - October 1979 - no PS
A-side by Colin Tulley & Error Walsh; B-side by Errol Walsh.





See also: Rodeo




Help!: We need your help to complete this entry. If you can tell us more about this band then please do! We welcome any corrections, missing details, connections to other bands, where are they now, etc. We also need photos, scans, copies of releases or live or demo recordings, and any other memorabilia gathering dust in the attic. If you can help, then please get in touch.



---

A-Z Artist Index
Compilations
Record Labels
Media
Help Us!
Contact Us
Resources
Timeline
---