---


A-Z Artist Index
Compilations
Record Labels
Media
Help Us!
Contact Us
Resources
Timeline
---
From: Howth, Dublin

Active: 1978-80

Style:

Lineup:
Joey Barry - vocals
Gerry Leonard - lead guitar
Peter Leonard - rhythm guitar
Alex McGrath - bass
Gerry Daly - drums (1978-80)
Stuart McMillan - drums (1980)


The Dark pictured in In Dublin, Dec 1979 [photo: Patrick Brocklebank]
Gerry Daly bottom left.


The Spies, 1980. Gerry Daly top right.

Bio:

From Howth, Co.Dublin and originally known as The Dark. The Dark were influenced by The Doors (covering "Maggie McGill" and "Peace Frog" live), but also The Kinks, Dylan, Dr.Feelgood and B.B.King ("Four in the Morning" was in their live set). They played Sundays at the Summit Inn in Howth in September/October 1979. The band recorded a 4-song demo in late '79 which led to an appearance on Our Times (RTE) in 1979 and attracted record company interest, including Automatic Records in London. At some point they changed their name to The Spies, and their music became more consciously new wave. Gerry Daly left in 1980 and was replaced by Stuart McMillan.

Was there a pre Dark band called Wasp which included future Mercury drummer Johnny McCormick?

The Spies were a great pop punk/new wave band whose sole single is one of the essential Irish rock singles. Alex McGrath left just before it was recorded and so Jack Dublin (of Rocky De Valera, Deaf Actor, In Tua Nua and a Howth local) plays bass on both sides. Phaeton were keen to release a follow up single and a contract was signed for SPIN 4, with 'Saturdays' as the A-side and 'King And I' as the B. Although it was mentioned in the local press among forthcoming releases (including probably the Local Motions column in Hot Press) the single never materialised, and SPIN 4 does not exist in any form. There are no test pressings, as far as we know. Both tracks may have been recorded on the bands demo, which may also include "Letís Go Insane". Needless to say, these unreleased tracks should be tracked down and released.

Joey Barry was later in Above The Thunderclouds and Thee Amazing Colossal Men. Gerry Leonard was later in Above The Thunderclouds, Hinterland and now plays guitar for David Bowie among others. Peter Leonard lives in Paris.

Gerry Daly's first band Cemetery achieved a degree of exposure through their appearace in an episode of Radharc in the early 70s.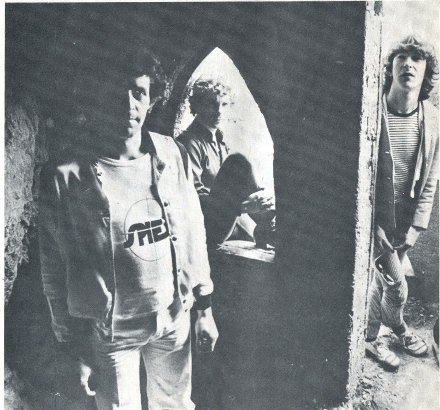 Discography


• Thinking About The Sun / Hippy Hangover
7" - Phaeton Records - SPIN 1 - IRL - 1980 - no PS


• Saturdays / King And I
7" - Phaeton Records - SPIN 4 - IRL - 1980 - UNRELEASED
A contract for this single exists in the Phaeton vaults, but the single itself was never completed.


• various artists - Shake Some Action Vol.3 - UK & Ireland
CD - SSA Records - SSA-003 - Spain - 2001?
See Compilations section for full track listing.

track: Thinking About The Sun


• various artists - The Low Down Kids Companion Volume 2
LP - Low Down Kids - ??? - NL - 200? - rubber stamped cover

track: Thinking About The Sun
---
Help!
We need your help to correct and/or complete this entry. If you can provide more information about this band, have scans, photos or any other memorabilia we can use, or spare copies of any releases, then please get in touch.
---

See Also: Above The Thunderclouds, Cemetery, Hinterland


---

A-Z Artist Index
Compilations
Record Labels
Media
Help Us!
Contact Us
Resources
Timeline
---