---


A-Z Artist Index
Compilations
Record Labels
Media
Help Us!
Contact Us
Resources
Timeline
---
From: Dublin

Active:1977-

Style: Rock

Lineup:
Pat Silke - vocals
Patsy Tracey - guitar
Tommy Keyes - keyboards
Christy Clarke - bass
Kieran 'Macker' McCoy - drums


Bio:

Sidewinder formed in Dublin in December 1977 and were active during 1978-79. Silke, Tracey & McCoy were all ex Zebedee and the Tomato Soup Band. Christy Clarke was ex Van Winkle; Tommy Keyes ex Randolf. They recorded a couple of demo tapes which were well received. Pay Kenny played their first demo on RTE radio. Their live set was mostly originals plus covers of Graham Parker, Ace and Bob Seger. They played the Dandelion Market on Sunday 24 June 1979 with The Haze.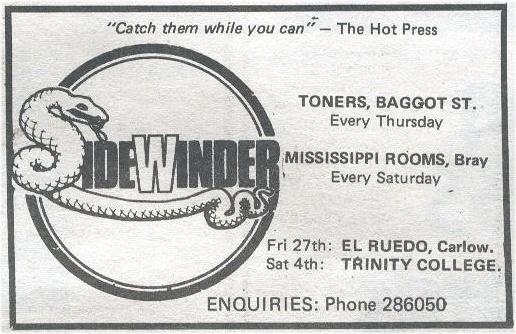 Discography:

• first demo tape [1978]
Recorded at Keystone Studios Dublin in 1978, 3 tracks.
tracks: This Is The Movies / Sailing Ships / Complications


• second demo tape [1979]
Recorded at Keystone Studios Dublin in 1979, 3 tracks.
Engineered by Johnny Byrne.
tracks: Think On It / Come On Home / Do You Come Here Often





See also: Zebedee




Help!: We need your help to complete this entry. If you can tell us more about this band then please do! We welcome any corrections, missing details, connections to other bands, where are they now, etc. We also need photos, scans, copies of releases or live or demo recordings, and any other memorabilia gathering dust in the attic. If you can help, then please get in touch.



---

A-Z Artist Index
Compilations
Record Labels
Media
Help Us!
Contact Us
Resources
Timeline
---