---


A-Z Artist Index
Compilations
Record Labels
Media
Help Us!
Contact Us
Resources
Timeline
---
From: Belfast

Active: 1978-81

Style:

Lineup:
Pater Gamble - vocals
Tony Scott - guitar
Richard Collett - bass
Ian Gault - drums


Bio:

Played the Dandelion Market in Dublin on Sunday 6 January 1980. Participated in the 1981 Battle of the Bands. Changed musical direction and image in late 1981 and renamed themselves Silent Running.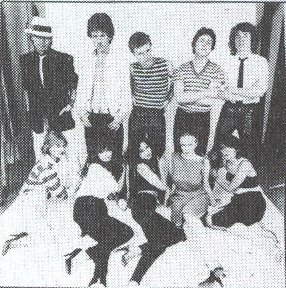 Discography

• Silent Running / The Setz - All The Kings Men / Until The Twelfth Of Never Comes
7" - Silent Records - SR-1 - June 1982 - no PS promo only [300]



Help!


We need your help to correct and/or complete this entry. If you can provide more information about this band, have scans, photos or any other memorabilia we can use, or spare copies of any releases, then please get in touch.



---

See Also: Silent Running


---

A-Z Artist Index
Compilations
Record Labels
Media
Help Us!
Contact Us
Resources
Timeline
---