---


A-Z Artist Index
Compilations
Record Labels
Media
Help Us!
Contact Us
Resources
Timeline
---
From: Bromley, UK?

Active: circa 1967

Style: psychedelic

Lineup:
Neville Wills - guitar
Tony Edwards - organ
Rocky Shan - bass & vocals
John Boswell - drums
Bio:

Psychedelic group responsible for a well known single who've been reported as Irish (in Tapestry of Delights among others), but I have my doubts. The following piece is from the British Psychedelia series published in Record Collector magazine in 1999 by David Wells: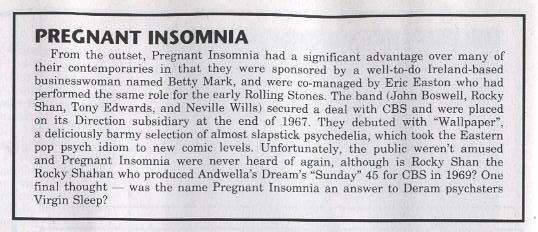 The credits on both sides are B.Mark/N.Wills (see below) which must be Betty Mark and (possibly) Neville Wills. Describing Betty Mark as an "Ireland-based backer/benefactor" is a bit mysterious but other than that there is nothing to suggest Pregnant Insomnia was Irish.

Rocky Shan is indeed Rocky Shahan (real name Chaudhari), originally from Pakistan, who produced Andwellas Dream's "Love & Poetry" LP and not just the 45 mentioned. He first encountered the band as The Method when they auditioned to be his backing band for a summer season on Jersey.

More recently, the same names from the Pregnant Insomnia lineup turned up in articles about The Konrads, the early 60s band from Bromley whose fluid lineup included one David Jones AKA David Bowie on sax in 1962-63. Wills & Shan were both Konrads during Jones/Bowie's tenure which included one recording session for "I Never Dreamed" at Decca Studios in West Hampstead, London on 30 August 1963. Edwards joined the band later. Boswell was never a Konrad. The most recent piece on the Konrads (the "full story" in RC278) says absolutely nothing about any later band activity by Wills, Edwards or Shan. It confirms Shan was Shahan but does not mention his production work for Andwella (assuming he is the same person) and there is no mention whatsoever of Pregnant Insomnia! Not of interest to Bowie scholars, obviously.

It seems highly likely to me that Pregnant Insomina was a post-Konrads project which led to Rocky Shahan working as producer at CBS (Pregnant Insomina's label Direction was a CBS subsiduary). He also recorded at least one solo single ("Vibeke" / "Cherry Tree") on Philips in 1970. I wrote to Record Collector about this but the complete and utter bastards did not reply. Shame on them! I stopped buying the magazine some time ago so I don't know if this subject was followed up in subsequent issues.

My conclusion is that there is nothing to suggest Pregnant Insomnia were an Irish band. If you know any more, please get in touch.





Discography:

• Wallpaper / You Intrigue Me
7" - Direction Records - 58-3132 - UK 1967 - no PS
A-side by B.Mark/N.Wills; Produced by Johnnie Hawkins.
A-side appeared on Rubble #18; B-side is as yet uncomped.



Help!


We need your help to correct and/or complete this entry. If you can provide more information about this band, have scans, photos or any other memorabilia we can use, or spare copies of any releases, then please get in touch.



---

See Also:


---

A-Z Artist Index
Compilations
Record Labels
Media
Help Us!
Contact Us
Resources
Timeline
---